iFunbox - Browse iPhone File System with Easily
Summary
This post could help you get some basic information about iFunbox, like what is iFunbox, what does iFunbox do, how to use iFunbox, is iFunbox free and does iFunbox need jailbreak.
Go to download this excellent software to transfer and manage contents on iOS devices. And read on this iMobie iFunbox Wiki page.
[Last Updated: July 7, 2017]
What is iFunbox? iFunbox is a favorable software made for exploring and browsing iPhone, iPad and iPod touch file system. With iFunbox you can freely manage iPhone data like music, Apps and ringtones with or without jailbreaking.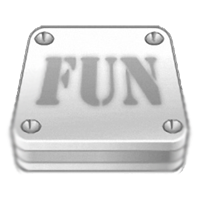 iOS (previously iPhone OS) is a mobile operating system developed and distributed by Apple Inc. Unlike computer operating system, iOS places each app (including its preferences and data) in a sandbox at install time for security reasons. So most of users don't care about the iOS file system since they don't have an access.
However, some software developers brought several options that allow you to browse and explore the iPhone iPad iOS file system just like viewing files in Windows Explorer. And iFunbox is one of our favorite iPhone Explorer software.
What Does iFunbox Do
1. Clean data and do other data management on iOS devices.
2. Turn iOS device into an USB.
3. Export and import data like music, photos on iOS device.
4. Access iOS root filesystem in jailbreak iOS device.
5. Serve as an App Store.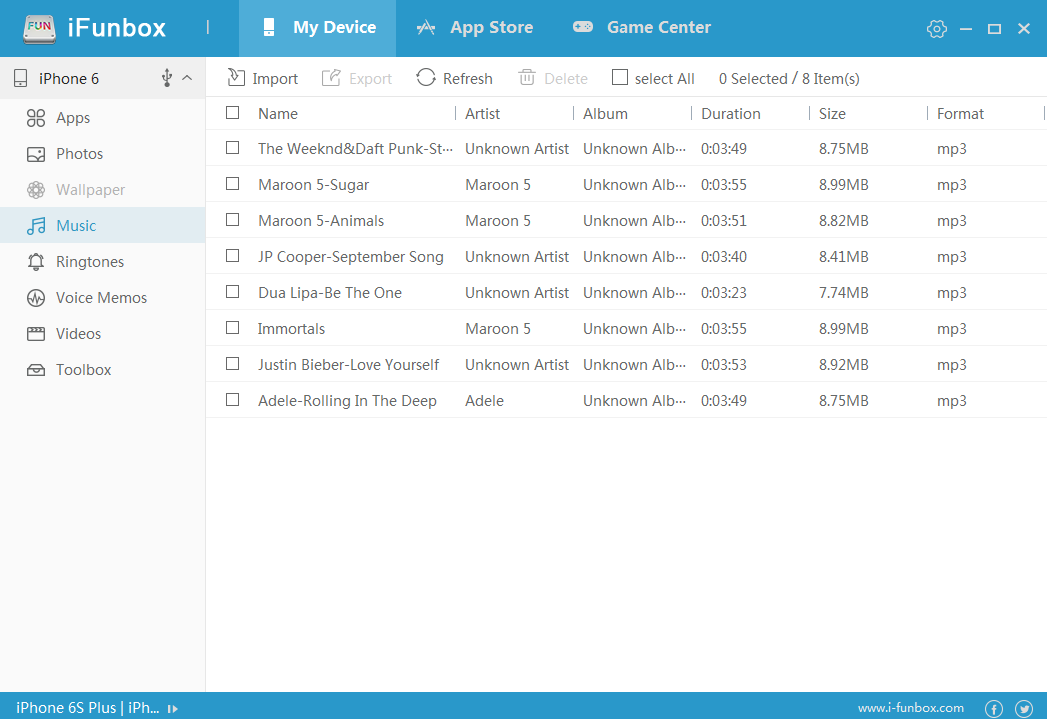 iFunbox Overview
How to Use iFunbox
iFunbox has so many functions that are hard to show one by one. However, there is are a few articles providing detailed steps to use iFunbox. Please check those articles below:
How to Use iFunbox to Import iPhone Music with iFunbox >
How to Reset iPhone Password with iFunbox >
How to Install iOS Apps on iPhone/iPad >
More Frequently Asked Questions about iFunbox
1. Is iFunbox free?
YES! iFunbox is totally free! What's more, on both Windows and Mac computers, it works!
2. Does iFunbox need jailbreak?
No! iFunbox doesn't need jailbreak to operate, however, as for iDevice running iOS 8.3, iFunbox can't operate App files.
More Features We Expect from iFunbox
Though iFunbox does a good job in importing and exporting data on iPhone/iPad, it couldn't transfer data between iDevices. If you just make a change from old iPhone to new iPhone and want to transfer data like contacts, music from the old iPhone to new iPhone, then there is nothing iFunbox could help. What's more, iFunbox doesn't support managing data on iCloud and iTunes.
For all mentioned above, AnyTrans is a better alternative. Just within a few steps, you can direct transfer data between iDevices and transfer data from iDevice to iTunes/iCloud with AnyTrans. Besides mentioned above, AnyTrans also supports importing and exporting data from iOS devices, turning iOS device into an USB just like iFunbox. Start to take a tour >
More Related Articles You May Like
Share Your Thoughts With Us