Summary
Don't know which iPhone iPad Can run iOS 10? Check this list of iOS 10 supported devices and if your iPhone iPad can run iOS 10.
PhoneClean – Free Up Space for Downloading iOS 10
Download PhoneClean on your computer, and then cleanup and remove all kinds of junk files from your iPhone iPad after reading this iOS 10 supported devices post.

Free Download
Apple has released the latest beta version of iOS 11, if you are working with an iOS 11 supported device, and want to update to iOS 11 to experience the new iOS, you can free up more space for updating.
Although iOS 10public version won't be released until this fall, so many posts are reporting the iOS 10's new features, like, background animations, bubble effects, rich links and other new functions are added to Message App, Maps and Apple Music are redesigned to better meet your needs, and QuickType keyboard also becomes smarter, etc. All of them make iOS 10 exciting, and most of us can't wait to perform an upgrade on our iPhone or iPad.
However, before installing iOS 10 on our iPhone iPad or iPod touch, an important thing needs to be done – check the list of iOS 10 compatible devices and see if your iPhone or iPad can run iOS 10.
1. Which iPhone iPad can Run iOS 10
If you have questions about iOS 10 capability, like, can iPhone 5/5s/5c/6/6s can run iOS 10, iPhone 4s still supports iOS 10, which iPhone/iPad can get iOS 10, etc. Just move on. We took a screenshot from Apple Official Website, and it shows all the info you want to know.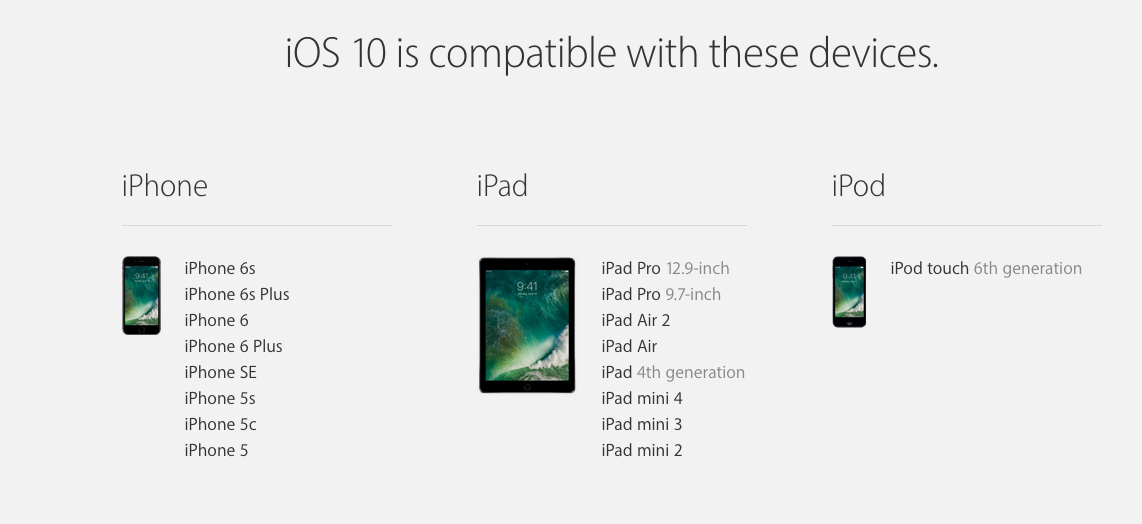 1) Which iPhones can get iOS 10:
iPhone 6s, iPhone 6s Plus
iPhone 6, iPhone 6 Plus
iPhone SE
iPhone 5s/5c/5
2) Which iPads can get iOS 10:
12.9-inch iPad Pro, 9.7-inch iPad Pro
iPad Air 2, iPad Air
iPad 4th generation
iPad mini 2/3/4
3) Which iPod touch can get iOS 10:
2. Which iPhone/iPad/iPod touch Can't Run iOS 10
You may have found that iPhone 4s is not the list of iOS 10 compatible devices. That's real, iPhone 4s has been abandoned by Apple, and can't upgrade to the new iOS 10, because it can't meet the iOS 10's system requirements. Last year, some iPhone 4s users had complained their iPhone work slowly after iOS 9 upgrade. Believe me, it must be much slower this year if it is still compatible.
Except iPhone 4s, iPad 3/2, the first generation iPad mini and iPod touch 5 don't supports iOS 10. If you are using any of them, you can consider upgrading to a new iPhone 7, or an iPad Pro.
3. If Your iPhone/iPad Supports iOS 10
If you find your iPhone or iPad still supports iOS 10, and it is an iPhone 5/5s/5c or iPad 4, please make a wise decision whether should you upgrade your iPhone iPad to iOS or not. If you are working with an iPhone 6/6s or iPad Air 2, why not make an upgrade at once? Here prepare you a complete guide to upgrade your iPhone iPad to iOS 10 smoothly.
How to Prepare for iOS 10 Upgrade >
How to Install iOS 10 on iPhone/iPad Over The Air or with iTunes >
How to Create More Storage for iOS 10 Upgrade >
The Most Common iOS 10 Problems and Solutions >
How to Make iPhone iPad Run Faster After iOS 10 Update >
How to Recover Lost Data During/After iOS Upgrade >
How to Downgrade iOS 10 to iOS 9 >
More iOS 10 Upgrade Related Articles:
Join the Discussion on iOS 10 Upgrade