Summary
In iOS 11, Apple adds a new feature called "cop button" that can easily disable Touch ID. Read this guide to get more information.

AnyTrans – Best iPhone Data Transfer
This powerful tool can help you transfer data between iPhone and computer. Why not give it a try after reading this what is iOS 11 cop button guide.

Free Download
Apple will release the final version of iOS 11 next month, and many users have already installed iOS 11 beta on their device to try the new features. All those functions make iPhone better than before. A few days ago, the iOS 11 beta 6 released with a new feature called "iOS 11 cop button" that can quickly disable Touch ID from the screen. Why Apple adds this feature and how to use it? Just keep reading to get the answer.
What is iOS 11 Cop Button
The Touch ID lets us unlock the iPhone quickly, we just need to put the finger on fingerprint sensor and the device is unlocked. To turn off Touch ID, you can use the wrong finder a few times to force it to lock out or you can go to Settings to make it. But both of these two ways are not that convenient, especially when someone force you to unlock your phone.
Now with iOS 11, Apple makes it quite easy for you to disable Touch ID. You just need to press the lock button five times, and you will enter the SOS screen. In this way, the Touch ID will not available until the valid passcode has been entered.
How to Use Cop Button in iOS 11
To try this feature, you need to update to iOS 11 beta 6 firstly.
Access the Medical ID from the lock screen > Dismiss the view > Then you'll find the passcode is required to unlock iPhone.
Press the power button five times > You will see a screen offers three options: slide to power off/Medical ID/Emergency SOS, and the Touch ID is disabled at the same time.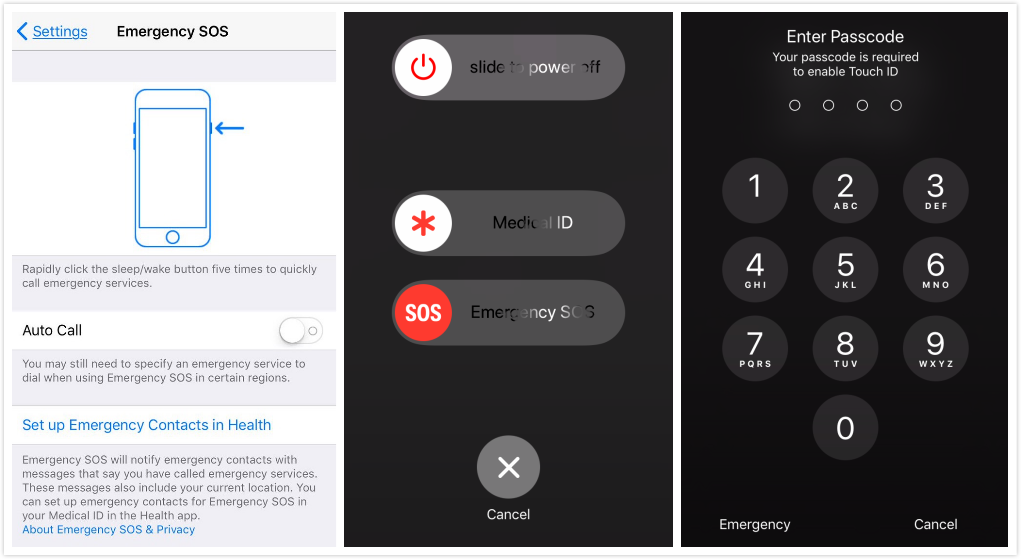 iOS 11 Cop Button
The Bottom Line
That's all about iOS 11 cop button. If you have any question, just leave a comment to join the discussion. If you like this guide, just share it with friends.
Join the Discussion on iOS 11 Cop Button
What is iOS 11 Cop Button