PhoneRescue – #1 iOS Data Recovery
This #1 iOS data recovery tool can help you recover almost all deleted or lost files from iPhone/iPad/iPod even without backup. Just have a try by yourself now.

Free Download
For Apple fans, the Worldwide Developers' conference (WWDC) held June 5–9 in San Jose, California is not at all inferior to Apple's product unveilings this autumn, as it brought the brand new iOS 11, and some other new products: macOS High Sierra, watchOS 4, new iPad Pro models, new MacBooks, new MacBook Pro models, and new iMacs.
To celebrate the tenth anniversary of the founding of Apple, iOS 11 has been equipped with lots of wonderful features and brought you some amazing changes, like new customization options, new App Store, improved Lock Screen and Notification Center, some system-wide design changes, etc. And here in this guide, we will give you a detailed introduction of those top 10 new iOS 11 features as well as some excellent iOS 11 hidden features so that you can make a choice whether you should update to iOS 11 or stick to iOS 10.
1. Control Center is Customizable
The control center menu is an essential part of iOS update and Apple has totally redesigned the Control Center this time. It is customizable now and offers users lots of options as well as a wider range of settings. You can add or remove shortcuts to work better for your needs.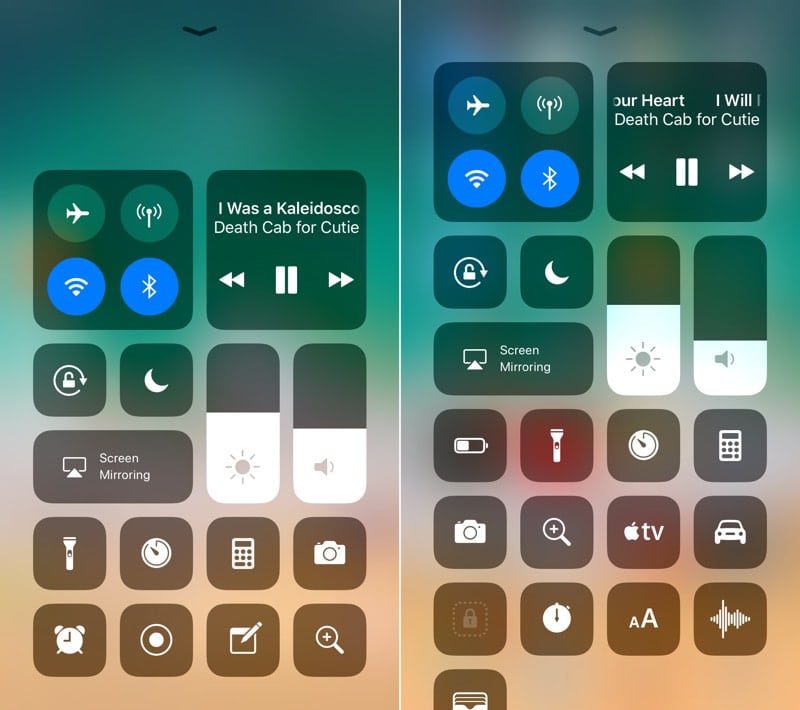 New iOS 11 Features – Customizable Control Center
2. Lock Screen & Notification Center
Lock screen has been merged with Notification Center and there's just no separate Notification Center anymore. If you want to get all your notifications, simply swipe it down like a cover sheet from the top of the screen. That's to say you will be able to see both your recent and missed notifications in one place with iOS 11.
3. Redesigned App Store
Apple finally answered the user's long-term request for App store. Besides beautify the look of the App Store, there are also two distinct sections for apps and games now. When you launch the app, you will see a new "Today" tab, which is designed to help you discover both new and popular apps & games. You can also have access to the new Collections, daily stories by experts, etc. What's more, the new Games tab enables you to see previews, tips and gameplay videos within the App Store.
4. Totally Redesigned Siri
With advanced machine learning and artificial intelligence, Siri is more intelligent in iOS 11 and it has a more natural voice. It will now use on-device learning to discover more about you as well as sync the information across your multiple devices, and then anticipate what you want and make suggestions before you even ask.
Siri also works well with Apple Music. When you tell Siri to play music, you'll hear a song you love. And it will suggest the songs you might like. Siri can answer some music trivia questions as well. Moreover, Siri have the ability to translate English into different languages now, such as German, French, Spanish, etc.
More than anything, with iOS 11, you have both options of typing and talking to Siri. In this way, it avoids the mishearing of Siri and you can turn to Siri for help in anywhere & anytime even in a quite place. To enable the typing feature in Siri, you can go to Settings > General > Accessibility > Siri and click on Type to Siri. If you want both options, just enable the "Hey, Siri" command by going to Settings > Siri & Search.
5. Do Not Disturb Driving Mode
With iOS 11, iPhone can detect when you may be driving and automatically silence notifications to keep the screen dark. Preventing you from being distracted by calls, messages, and kinds of notifications. Of course, you have the option of sending an auto reply to let the people know you are driving and cannot respond until you arrive at the destination.
6. Person-to-Person Apple Pay
Apple Pay will be added a new person-to-person payments feature within Messages in iOS 11, allowing you to send money to family and friends security & directly within a message. It is just as simple as sending stickers in a text conversation. In addition, you can use the money you received instantly to make a purchase via Apple Pay in stores or online.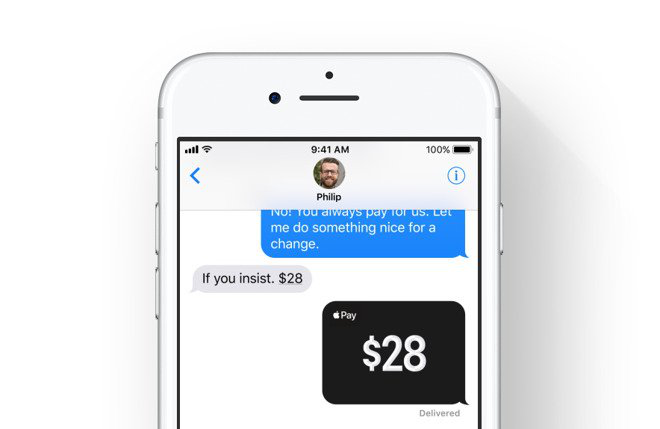 New iOS 11 Features – Person-to-Person Apple Pay
7. Improved Messages App
Besides the nice person-to-person Apple Pay feature in Messages mentioned above, Apple also added new features to Messages app including sync all messages across all of your Apple products and display app dock when open a conversation. Also, there's a redesigned App Drawer to allow you sharing stickers, emoji, and apps with your friends easier than ever. And the new QuickType keyboard enables you to type with one hand.
Furthermore, the new iOS 11 features in Messages let you store all your iMessages in iCloud, which means it will take up less storage space and make your iPhone backups smaller.
8. New Camera Features
Apple also made lots of improvements in camera software. Portrait Mode and Live Photos have been improved with new capabilities. Portrait Mode images feature optical image stabilization now. And with the next-generation compression technology, it makes it possible for you to take new photos with the same quality as before at half the file size. And now taking Live Photos can be even more expressive and creative. You can create a quick animation out of a Live Photo via just a few taps.
9. Indoor Maps and Lane Guidance
Maps in iOS 11 will bring indoor maps for malls and airports, lane guidance and speed limit information to make it easier for you to get around. The lane guidance in Maps is designed to help you avoid missing a turn or an exit by showing you which lane you should be in when you're navigating. Also, it will show you the speed limit of the road that you're on.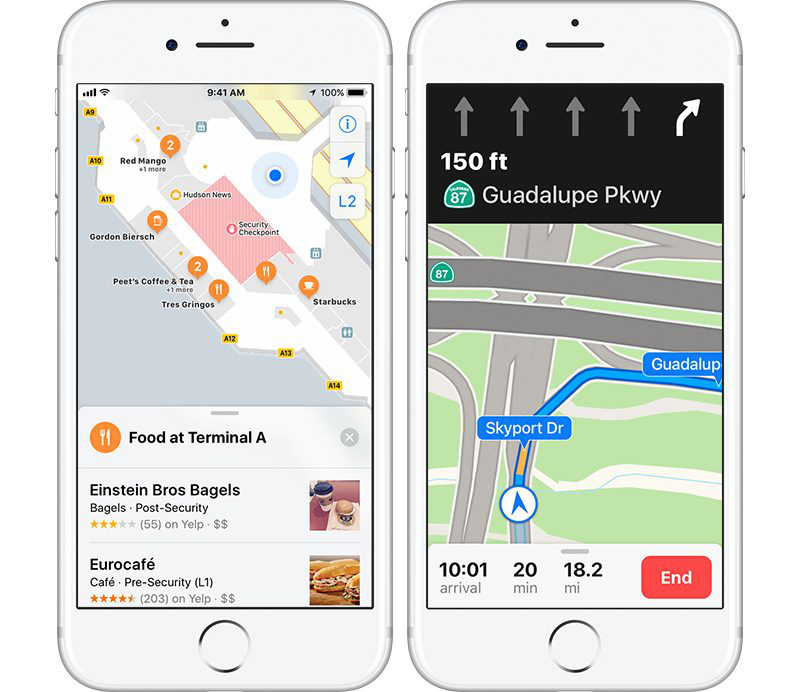 New iOS 11 Features – Indoor Maps and Lane Guidance
10. AirPlay 2 & Apple Music Improvements
With the new AirPlay 2, it will let you freely control your home audio system and play music to several speakers throughout your house the same time. Your music can be instantly sync on all your home speakers. Beside that, you can also adjust the volume in any room.
Apple Music is getting totally changes. Now you can discover new songs and artists via a more convenient way, as you will be able to see what your friends are listening to in Apple Music. In this way, you can create a better playlist by checking the playlists your friends shared as well as the albums they like most in Apple Music. Also, it supports you to set your own profiles to public or private as you prefer.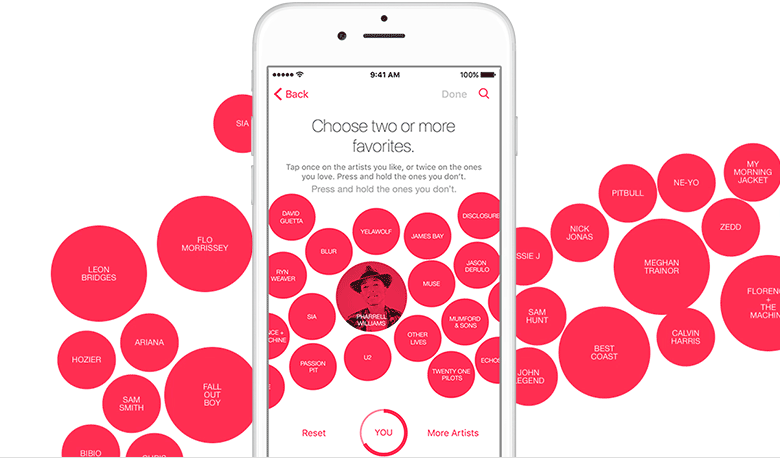 New iOS 11 Features – Apple Music for You
Top 5 iOS 11 Hidden Features – Apple Didn't Mention on WWDC
Besides above excellent features, iOS 11 also fitted with lots of other amazing hidden features that have been found so far. Just keep reading to get the hidden features of iOS 11 that Apple didn't mention on WWDC.
1. QR Code Scanning
The revamped camera app will come with a new feature to read QR codes within iOS 11. It makes great convenience for you to add someone to contacts, pick up your tickets, join a Wi-Fi networks, etc.
2. Built-in Screen Recording
Apple added a nice Screen Recording tool in iOS 11. This awesome tool allows you to record and narrate your iPhone or iPad screen. To enable the Screen Recording feature, you can go to Settings and select Control Center > Scroll down in the list and add Screen Recording > Swipe the screen from the bottom of the display to reveal Control Center > Tap the screen recorder icon and the recording will begin right away.
3. FLAC Media Playback
iOS 11 now supports FLAC playback. It means that you will be able to play FLAC files directly via the Files app on your iOS device. Also, the files can be synced with iCloud drive on iOS device and you can simply tap to play it. But it's still unavailable to iTunes or the music player.
4. App Offloading
iOS 11 will allow you to offload unused apps without deleting their settings and data. When storage is running low, the Offload feature will remove little-used apps to free up storage space on your device. Now, you can optimize your iOS device storage effortlessly. Of course, the deleted apps can be reinstalled via a simple tap. 
5. Instant Wi-Fi Sharing
iOS 11 is going to be added the ability to share Wi-Fi networks with your friends, colleagues, etc. who have an iOS device running on iOS 11. And the sharing process just needs one tap on the same network to finish the task.

The Bottom Line
After reading the new and hidden iOS 11 features, you may have made your decision to upgrade to iOS 11. If those features didn't impress you and you want to get more from iOS 11, remember to keep checking back to find more features. We will continually update the new & hidden iOS 11 features.
More iOS 11 Upgrade Related Articles:
Join the Discussion on iOS 11 New Features