Summary
This guide will introduce 7 common solutions to help you fix iOS 11/11.1/11.2 screen recording not working on iPhone iPad. Check the solutions one by one to see if they are helpful.

by Thea Follow @iMobie_Inc
AnyTrans - Best iOS Data Transfer Tool
After fixing iOS 11 screen recording don't work issue, download this iOS data transfer tool to export recording videos from iDevice to computer for a better preservation and free up space on device.

Free Download
Recording screen is one of the new features of iOS 11, after enabling Screen Recording on your iPhone or iPad that running in iOS 11, you can use it to record your screen easily rather than using third-party applications. However, sometimes you may encounter an annoying problem that is iOS 11/11.1/11.2 screen recording not working as expected. What is the mean of iOS 11/11.1/11.2 screen recording not working? It may means that screen record doesn't work at all, recording videos can't saving, recording videos no sound, and screen recorder crashes, etc. No matter what situations you may come across, you can try out following solutions.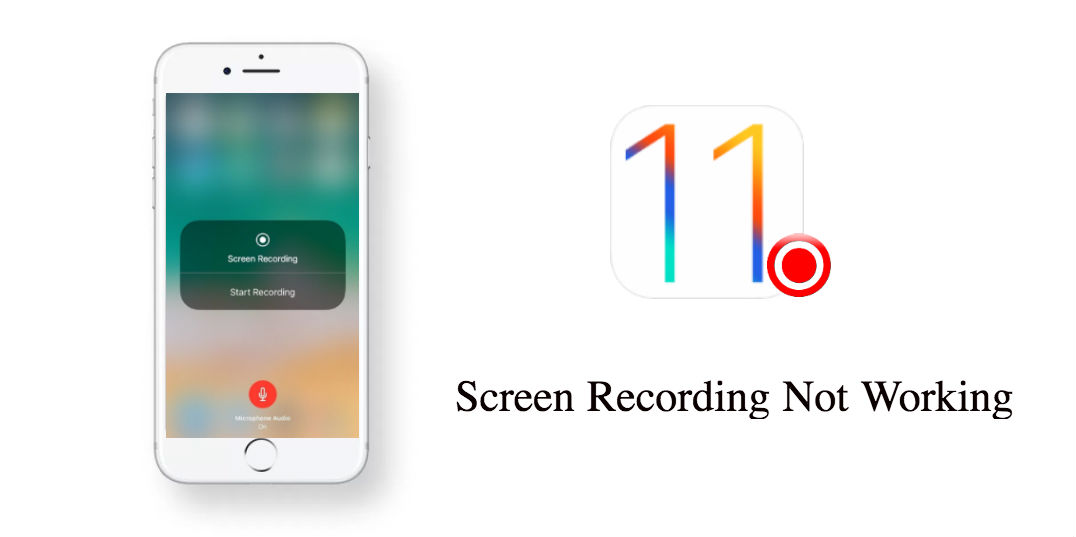 iOS 11 Screen Recording Not Working
Also Read: How to Fix iPhone iPad Keeps Restarting Randomly >
Potential Solutions for Fixing iOS 11/11.1/11.2 Screen Recording Not Working
1. Make sure Screen Recording is enabled. Before you use iOS 11 screen recorder to record your iPhone or iPad screen, you need to ensure that you've enabled Screen Recording on your device. You can go to Settings > Control Center > Customize Controls > Screen Recording, add it.
2. Reopen Screen Recording and restart iOS device. If you enabled Screen Recording and meet iOS 11 screen recording doesn't work problem, then you can have a try to turn it off and turn it on again. During this process, it's better to restart iOS device. To do this, you can go to Settings > General > Restrictions > Game Center and turned off screen recording, reboot your device, and then turn it on again. Sometimes, this also can fix Screen Recording won't start just icon blinking.
3. iOS 11 Screen Recording no sound. Some users reported that what they capture the screen display on their devices but without actual sound. Actually, this is a simple problem because it just due to the witch of Microphone is not been turned on. To fix it, simply reveal Control Centre and tap on Screen Recording icon, then hit the "Microphone" icon to turn audio on.
4. Screen Recorder crashes on iOS 11. Many test users feedback that some old iPhone & iPad models aren't good to go with iOS 11. And you know that iOS 11 is not compatible with iPhone 5/5c, iPad 4th and more earlier devices. So, if you forced the install but recording crashes on one of the above devices, what you can do is simply update to a new iPhone, such as update to new iPhone X/8.
5. Reset all settings. If above 4 methods can't fix your problem, then you can have a try on resetting your iPhone. This method won't remove any data from your iPhone. Simply go to Settings> General> Reset> Reset All Settings.
6. iOS 11 Screen Recording not saving to Photos app. If you fail to save iOS 11 screen recording videos after recording, please make sure that there is enough space in your iPhone storage. You can check by going to "Settings" > "General" > "iPhone Storage". If your iPhone Storage is almost full, and you don't want to delete anything, then you can try to upload screen recording videos to iCloud or export them to computer.
7. Upgrade to newest iOS version. If all above solutions can't help you fix iOS 11 screen recording not working issue, you can try to upgrade your iOS device to the newest iOS version. For every update will provide some bug fixes and improvements. Updating iOS may fix your problem without effort. Now, iOS 11.2 is available, you can have a try.
Bonus Tip: How to Export Recording Videos from iDevice to Computer
If your iPhone or iPad storage is almost full, and you want to save more screen recording videos, why not export these videos from iOS device to computer for saving, or export other data to free up more space? Here in this part, we're going to recommend you a best iOS data management and transfer tool - AnyTrans, which engaged in transferring & managing iPhone iPad iPod data in a simple way. With it, you can easily export recordings videos from iPhone iPad to Pc or Mac computer just in 3 steps. Let's see how it makes it for you.
Step 1. Download and install AnyTrans on your Mac or Windows computer and connect your device.
Step 2. Go to the category page and select Videos, and then select Photo Video.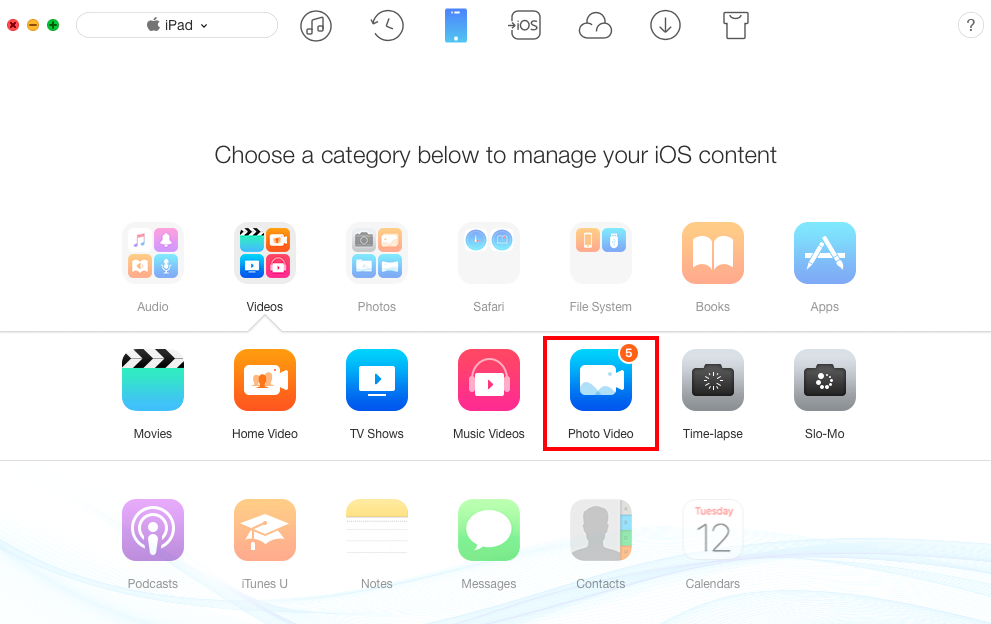 How to Transfer Recording Videos from iDevice to Computer - Step 2
Step 3. Choose the videos you want to transfer and click on To Computer button.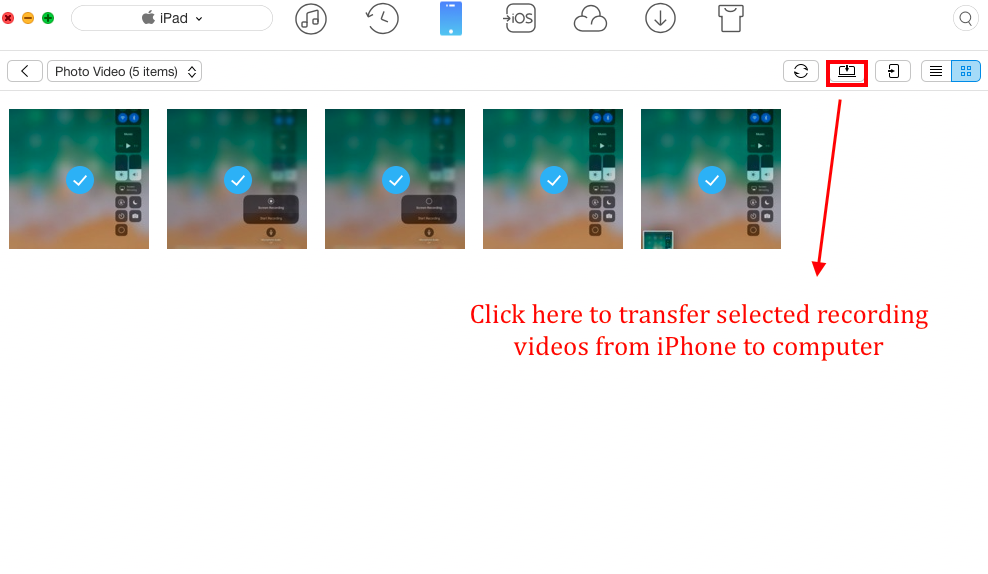 How to Transfer Recording Videos from iDevice to Computer - Step 3
1. Besides recording videos, you can also use AnyTrans to export other types of iOS data, such as photos, ringtones, music, movies, iBooks, contacts, notes, reminders, messages, and so on.
2. It not only allows you to export data from iDevice to computer, but also enables you to transfer data from computer/iTunes to device, from device to iCloud, from one iCloud to another iCloud, from any iOS device to another iOS device, and even from Android phone to iPhone.

The Bottom Line
That's all for how to fix iOS 11 screen recording doesn't work issue. Hope this guide can give you a hand on fixing this issue. By the way, if you meet other problems about Screen Recording in iOS 11/11.1/11.2, or you have any other solution on the topic related, please leave in the comments. Last, if you want to export recording videos or other data from your iOS device to computer, you can have a try on AnyTrans.
More iOS 11 Upgrade Related Articles: