Revamped Design & New Features on iOS 7
Summary
iOS 7 is an upcoming mobile operating system designed by Apple Inc. As the successor to iOS 6, it completely overthrow old looks by bring up revamped design and new features.
Get Started Now with AnyTrans, and enjoy its fantastic values before reading this Apple iOS 7 Wiki page.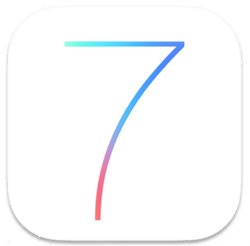 iOS 7 was unveiled during the opening keynote of Apple's WWDC on June 10, 2013. Billed as the "biggest change to iOS since the introduction of the iPhone", the most notable change is a complete overhaul of the user interface.
The designs of iOS 7 and OS X Mavericks (OS X 10.9) noticeably depart from skeuomorphic elements such as green felt in Game Center, wood in Newsstand, and leather in Calendar.
Don't Miss: How to Transfer Music from iPhone to iTunes >
In a promotional video shown during the keynote, Ive described the update as "bringing order to complexity", highlighting features such as refined typography, new icons, translucency, layering and gyroscope-driven parallaxing as some of the major changes to the design.
Apple Introducing iOS 7 - Official Video
Control Center
Control Center is available by scrolling up from the bottom of the screen and provides access to settings such as Airplane Mode and brightness, media controls, AirPlay and AirDrop, and shortcuts to several apps including a built-in flashlight, compass, calculator, and camera.
Multitasking
iOS 7 builds on the limited multitasking introduced in iOS 4 and provides full multitasking for all apps. The multitasking layer also provides for background updating of apps at the same time notifications are pushed to the device, and previews of all running apps.
Safari
Safari in iOS 7 integrates the smart search field first used in Safari 6 for OS X and Mavericks' iCloud implementation of Keychain. Other changes include infinite tabs, parental controls, and improvements to Twitter sharing and Reading List.
AirDrop
iOS 7 integrates Apple's ad-hoc WiFi sharing feature AirDrop for the iPhone 5, iPad 4th generation, iPad Mini and iPod Touch 5th generation.
More Related Articles You May Like
Share Your Thoughts With Us