iMobie Apple iPad Pro Wiki Page
Summary
Check this iMobie iPad Pro Wiki page, including its history, design, features and functions, new iPad rumors and iPad related tutorials
Download AnyTrans on your computer to transfer up to 20 + types of files from iPhone, iPad or iPod to computer
The iPad Pro is a line of tablet computers designed, developed, and marketed by Apple Inc., running the iOS mobile operating system. It is available in 2 screen sizes, 9.7 inch and 12.9 inch, each with three options for internal storage capacities: 32, 128 or 256 GB. It's an uncompromising vision of personal computing for the modern world.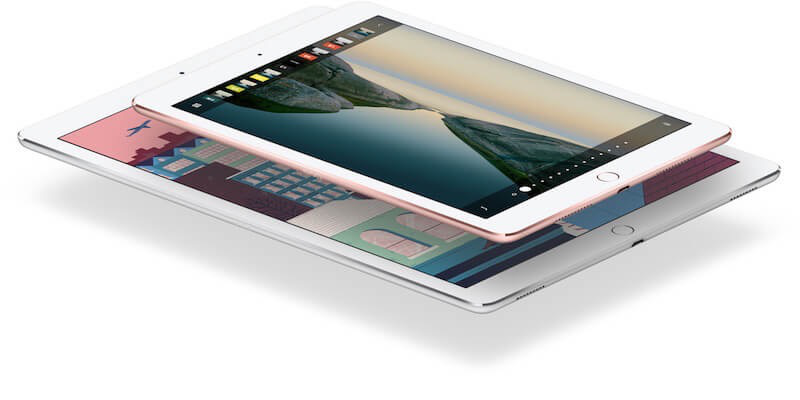 iPad Pro Wiki Page – Preview
iPad Pro - History
The first iPad Pro, the 12.9 inch version, was announced on September 9, 2015, and released on November 11, 2015. And then, the smaller 9.7 inch iPad Pro was released on 31, 2016 by Apple. It features with A9X chips, a 12‑megapixel iSight camera, True Tone Flash, Retina Flash and a new 256GB storage option. The 256 GB configuration making the iPad Pro the first iOS device to offer that storage size for storing.
Don't Miss: How to Transfer iPhone Data to New iPhone
iPad Pro – Design
The iPad Pro is identical to the smaller tablets in the range, and you can get the excellent Touch ID fingerprint scanner built into the home button, a power button and volume controls. Besides, its front and rear-facing camera can take high-resolutions photos (Learn: how to transfer photos from iPhone to Mac) you want, especially for 9.7 inch iPad Pro, its display uses the same color space as the digital cameral industry.
iPad Pro -Features
1. AX9 Chip - The 64-bit A9X chip gives iPad Pro the power to easily take on tasks once reserved for workstations and PCs. Not to mention tasks you'd never consider doing on a PC. Despite this barrier-breaking performance, the A9X chip's efficient architecture enables up to 10 hours of battery life (Learn more: how to save battery life on iPhone).
Don's Miss: How to Import Photos from iPhone to PC
2. Smart Keyboard - Whichever iPad Pro you choose, there's a Smart Keyboard that fits. By combining new technologies and materials, we created a portable keyboard that's unbelievably thin and even doubles as a lightweight yet durable iPad cover. And thanks to the Smart Connector, there are no cords, pairing, or plugs. Just attach and start typing.
You may Like: How to Transfer Contacts from iPhone to iPhone
3. iSight and FaceTime HD Cameras - iPad Pro has remarkable cameras on both the front and the back. The 12.9‑inch model's 8‑megapixel iSight camera lets you shoot beautiful photos (Learn: how to transfer photos from iPhone to iPad) and video (Learn: how transfer videos from computer to iPad). The 9.7‑inch iPad Pro comes with a 12‑megapixel iSight camera, which can capture 4K video, 240‑fps slo-mo videos, and Live Photos. It's also the first iPad with True Tone flash, so skin tones look great regardless of lighting.
Things are sharper on the other side of iPad Pro, too. The front-facing FaceTime HD camera's latest sensor makes video calls more lifelike. And on the 9.7-inch iPad Pro, the 5-megapixel FaceTime HD camera features Retina Flash with True Tone for gorgeous selfies.
Related Reading: How to Retrieve Deleted Messages on iPhone
The Bottom Line
In this iPad Pro Wiki page, we list the main features of iPad Pro 12.9 inch and 9.7 inch, you will learn more about them. If you have any troubles on transferring iPad, iPhone or iPod photos and music, you can check the following how-to tutorials to fix your trouble or don't heisted to connect us by joining our discussion bellow.
More Related Guides You May Like
Share Your Thoughts With Us