Summary
Want to keep your iPhone 7 running properly for a long time? Read this guide to get some useful tips and tricks to maintain your iPhone 7/7 Plus.

AnyTrans – Your Best iPhone 7 Content Manager
This professional and powerful iTunes alternative can help you manage iPhone 7/7 Plus content in a smart way. Always put your important data in the right place. Just give it a free try.

Free Download
The brand new iPhone 7 will hit the stores this September finally. Rumors about this brand new iPhone have been flying for monthly. You may couldn't wait to get one iPhone 7 or iPhone 7 Plus and also enjoy the new iOS 11. You definitely want to keep your new iPhone running properly all the time, just like the day you first picked it up. So here in this guide we collect several tips and tricks to guarantee your iPhone 7/7 Plus will be functional and efficient for a long time.
For those who want to transfer data to new iPhone 7, you can check Transfer Data from iPhone to iPhone 7 or Transfer Data from Android to iPhone 7. And if you own an Apple Watch, you also need to set up and pair your Apple Watch with your new iPhone again.
Basic Tips and Tricks to Maintain Your iPhone 7/7 Plus
1. Use a Case & Screen Protector
Any simple drop may lead to a big damage to your device. A case can help avoid physical and mechanical damage from the outside world. Although iOS devices have the highest quality scratch resistant screen, you'd better also pick up a quality screen protector for your new iPhone 7/7 Plus to protect it, especially if kids can access the device.
2. Protect Your iPhone 7/7 Plus Content
Use the Passcode Lock Function
As long as your iPhone is locked by the passcode, then anyone else cannot access your iPhone content. It is especially useful when the iPhone is missing. Just go to Settings > Touch ID & Passcode to set your own password or Touch ID.
Use Find My iPhone App
This app can be your good assistant when you lose the iPhone. It can help you locate the missing device on a map, play a sound, put it in Lost Mode and can erase all the data on the device. You can go to App Store to download it.
Backup Your iPhone 7/7 Plus Regularly
This is quite important and necessary. It can be your lifesaver if your iPhone 7 or iPhone 7 Plus run into any problem, like mistaken deletion or failed iOS upgrade. It will be very easy to get back the lost contents if you have backed up your iPhone 7 before otherwise you may say goodbye to your important contacts, messages, photos and more.
Backup iPhone 7 with iTunes: Download the latest version of iTunes and open it > Plug in your iPhone 7 > Click on Device tab > Choose This Computer on Backup column > Click on Back Up Now.
Backup iPhone 7 with iCloud: Connect your iPhone 7 to Wi-Fi network > Go to Settings > iCloud > Storage & Backup > Back Up Now.
Backup iPhone 7 with AnyTrans: It is one all-in-one and easy-to-use iOS content manager that can help you transfer 20 + types of contents to Mac/PC computer, including photos, music, photos, videos, messages, contacts etc. You can also view the backup files anytime you want unlike backing up your iPhone via iTunes or iCloud.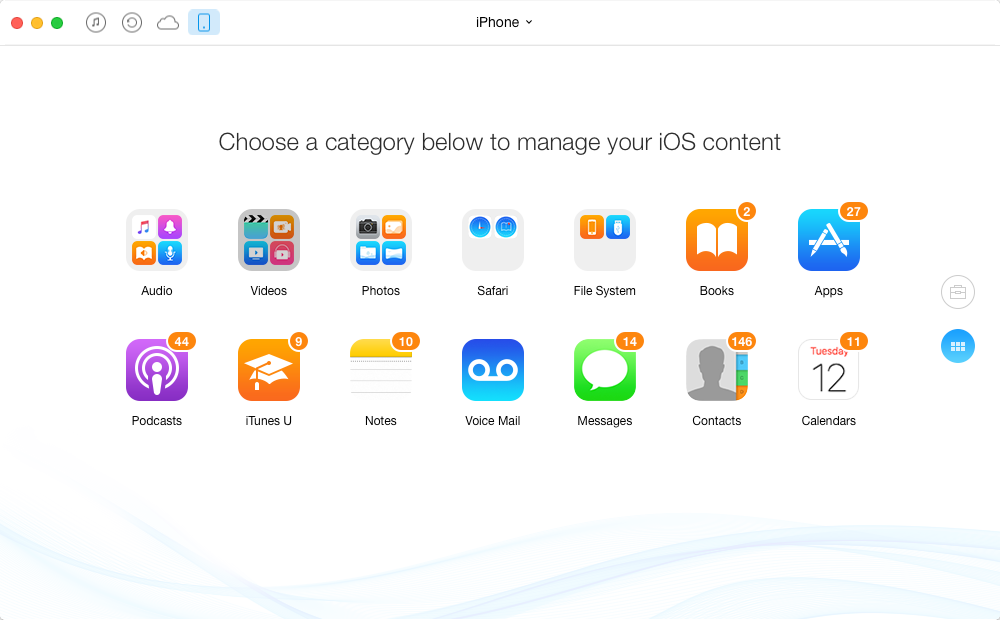 Backup iPhone 7/7 Plus to Computer via AnyTrans
You May Also Like:
How to Transfer Photos from iPhone 7 to Computer >
How to Transfer Music from iPhone 7 to Computer >
How to Transfer Contacts from iPhone 7 to Computer >
3. Take Care of Your Battery
Make sure to charge the battery to 100% and then empty the battery completely per month. It can prolong your iPhone 7 battery lifespan. More iPhone 7 battery tips: Save Battery on iPhone 7 >
4. Update iOS & Apps
Make sure your iPhone 7 iOS software is up to date. Each release fixes a lot of bugs, and it also introduces many new features. You can go to Settings > General > Software Update to have a check.
Your apps also need to get updated. Fixing various bugs of apps will let them run faster on your iPhone 7. You can go to App Store > Updates to make it.
5. Delete Unneeded Contents to Free Up Space
Although the new iPhone 7 will start at 32GB, it can easily run out of space if you do not clean your device regularly. First backup your iPhone 7/7 Plus in advance, and then delete some old messages, photos or seldom used apps to free up space. It can also make your iPhone 7 run faster.
You May Like:
How to Free Up Space on iPhone 7/7 Plus >
How to Speed Up Your iPhone 7/7 Plus >
6. Restart Your iPhone Regularly
Press and hold down the wake/sleep button, then drag slide to power off. Turn on your iPhone 7 after a few seconds. This is the most efficient method you can do to maintain your iPhone 7/7 Plus.
If you have any other tips and tricks to maintain iPhone 7, just share it in Comment Section. If you meet some annoying issues on your device running on iOS 10, you can go to The Most Common iOS 10 Problems and Solutions to get some methods to fix them.

Join the Discussion on iPhone 7