Summary
App store won't update? Having no idea what causes the issue? Don't worry. This guide will tell you how to easily fix it.

by iMobie Follow @iMobie_Inc
AnyTrans – All-in-One iPhone iPad Manager
Download AnyTrans free trial to transfer, manager and backup your iPhone iPad data in a quick and easy way. Supports iOS 7/8/9/10/11.

Free Download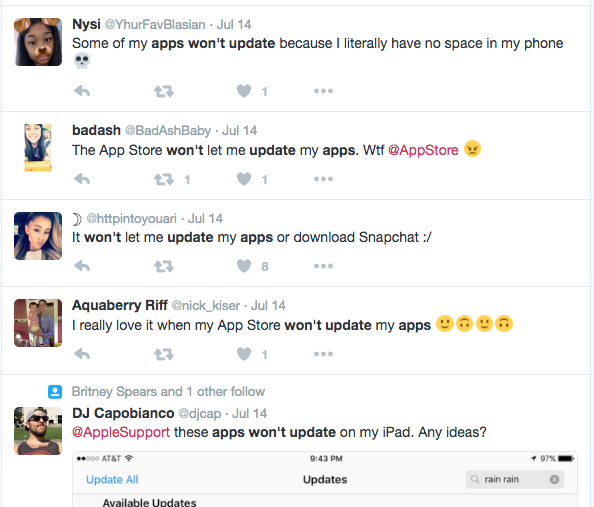 Apps Won't Update or Download on iPhone iPad
Have you ever dropped into some troubles that can't download or update apps on iphone? Recently, lots of iPhone users are getting the app store won't update issue. In July 14th, some twitter posts showed that they couldn't update and download iPhone apps, such as Pokémon Go and Snapshot.
Luckily, after several hours, all goes well. And this event seems related with Apple App Store server.
Actually, "App Store can't download or update apps on iPhone" is one of the most common iOS problems, especially after updating to the latest iOS 11. restoring device or syncing with iTunes. And in this post, we will give you some basic tips you can use to solve the app store won't download problem, no matter what iPhone you are using.
Tips You Can Have A Try to Fix App Store Won't Download/Update Problem
1. Network
Check whether you have a stable Internet network to download apps. You can test it by searching something on your safari app.
2. Restart
You can restart your App Store on your iPhone, or restart your iPhone directly. And you can even try to force restart your device to refresh your iOS operating system.
3. Apple ID
Make sure you are logging with your correct Apple ID and password to download/update apps.
4. Re-install apps
For some apps that you cannot update, you can try to delete these apps and then install them. Notice that this method may erase all data and settings on apps that you're going to remove.
5. Restore Device
You can restore your iPhone using the latest backup on your computer. Notice that you'd better backup your device before you do an update or restore.
6. Apple App Store Server Problem
If this problem is related to Apple's server, you can do nothing to solve it. So what you can do is just waiting for some times after Apple fixes it.
More iOS 11 Upgrade Related Articles: