Why My iPod touch Doesn't Appear in iTunes 11
Summary
When I connect my iPod touch to computer, why it doesn't appear in iTunes? Read on this troubleshooting to find out an iPod touch not appearing in iTunes solution.
Download this iTunes Alternative so that you can make use of it after reading this Why My iPod touch Doesn't Appear in iTunes guide.
Question: So I got an iPod touch from my friend. When I was trying to add my music to that iPod, somehow it's not appearing my iTunes! The iPod touch was charged and appeared in Windows Explorer. How could I let it show up on iTunes?
If your iPod touch does not appear in iTunes when you connect it to your computer, this article can help you get to the right place to resolve your issue.
Don't Miss: How to Transfer Music from iPod touch to iTunes
Tip 1: Make Sure Your iTunes is Up to Date
Make sure you have the latest version of iTunes. To check for available updates of iTunes on a Mac, go to iTunes > Check for Updates. On Windows, go to Help > Check for Updates.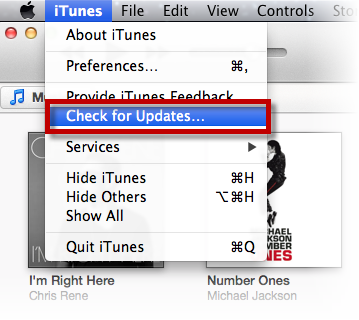 Check iTunes for Updates
Tip 2: Make Sure Your iTunes Can Find Other Devices
As iTunes is integrated with a set of independent components, it's very likely that one of them isn't working properly. If you are using a Windows PC, it may be necessary to completely uninstall iTunes and then reinstall the latest version of iTunes.
Tip 3: Make Sure No 3rd Party Software Conflicts
Some third-party software (such as security software and anti-virus software) may prevent iTunes from recognizing your iPod touch. You may have to update your software, adjust software settings, or temporarily disable the software.
More iPod touch Not Appearing in iTunes Tips
More often than not, your carelessness might also cause this iPod touch not appearing in iTunes problem. So give a check on if your iPod touch USB connection works well, if it runs out of battery, if the problem will be solved by restart the computer, etc.
More Related Articles You May Like
Share Your Thoughts With Us