The Common iTunes Store Problems & Solutions
Summary
Encounter some annoying problems when using iTunes Store? Read this post to find the corresponding iTunes Store issue, and learn about how to fix iTunes Store problems with some possible solutions.
This all-in-one iOS data transfer tool can help you transfer kinds of iOS data in an easy way, like ringtones, photos, music, videos, contacts, notes, messages, apps, etc. Download it to have a try.
The iTunes Store is a software-based online music, television, and film store platform operated by Apple Inc., which requires the connectivity of iTunes. It opened on April 28, 2003, and has been the largest music vendor in the United States since April 2008. It proved the possibility of selling music via the Internet.
Most iOS users will use iTunes Store to purchase and play music, videos, movies, etc. However, some people also complained with iTunes Store, and even some of them hate using iTunes Store for many reasons, it may due to many unfriendly functions, as well as lots of annoying iTunes Store problems. This article is trying to collect the most complete potential solutions for various iTunes Store issues you may come across when you using iTunes Store. We list them in the following with possible solutions, you can check one by one.
1. Can't Connect to iTunes Store2. iTunes Store Not Working3. iTunes Store Temporarily Unavailable4. Forget iTunes Store Password5. iTunes Store - Error 506. Change iTunes Store Location
Top 1 iTunes Store Problems: Can't Connect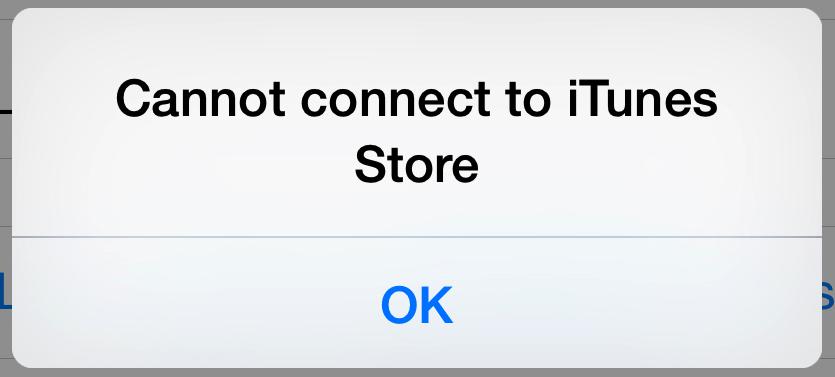 iTunes Store Issues - Cannot connect to iTunes Store
If you see this error message "Cannot connect to iTunes Store" on your iPhone or iPad, you can try these solutions to see if they're helpful:
1. Check your Internet connectivity: Check if the Wi-Fi signal is weak or not, or try to reset the Wi-Fi router.
2. Switch to 4G: If there are some problems with your Wi-Fi connection, you can switch to 4G cellular, and then reopen iTunes Store to try again.
3. Date & Time Zone: Please ensure that your data, time, and time zone are correct. You can check by going to Settings > General > Date & Time.
4. Software update: Update your iOS device to the latest iOS (Apple has released 11.0.3). Open Settings > General > Software Update.
5. Reboot: Sometimes simple restart your iOS device may fix this issue without effort.
Top 2 iTunes Store Problems: Not Working
If you're facing the iTunes Store problem that iTunes Store not working properly, then you can try following methods:
1. Close and reopen iTunes Store app: Some small glitches with the iTunes store can make it stuck on, try to quit the application and open it again.
2. Check the network: Also check if the network works normally. If you're using Wi-Fi, turn it off and turn it on to see if it works. If you're using Cellular Data, make sure that it's available.
3. Restart your iDevice: Also have a try on restarting your iPhone or iPad.
4. Reset all settings: If all above methods can't fix your problem, then you can have a try on resetting your device. Simple go to Settings > General > Reset > Reset All Settings. This won't remove data from your iDevice.
Top 3 iTunes Store Problems: Temporarily Unavailable
Many users reported that they always encounter such an annoying problem that iTunes Store "Temporarily Unavailable, This feature is temporarily unavailable. Try again later." If you are also meeting this iTunes error, you can refer to this guide directly, which sums up 5 methods for you to fix this issue.

iTunes Store Issues - iTunes Store is Temporarily Unavailable
Top 4 iTunes Store Problems: Forget Password
You need to sign into iTunes Store to purchase music, movies or other files. If you forget the password, you can reset it and regain access to your account. Apple provides you 3 methods to reset your password, by Email, password, and security question; Two-factor authentication and Two-step verification. These three methods are very simple, if you still have questions, you can follow this Apple support to make it with ease.
Top 5 iTunes Store Problems: Error 50
When you try to download something from iTunes Store, you may meet iTunes Store error code 50, it may occurs for many reasons, like Network problems, Firewall settings, Anti virus protection, etc. And you can try following solutions to see if one of them can help you out:
1. Reconnect your iOS device: Unplug and plug your iOS device to see if it works. Or try to change a USB port and use another USB cable.
2. Re-install iTunes: Sometimes, if iTunes been installed on your computer with faulty network settings may cause this error, so try to re-install iTunes. And you can go to here to download and install the latest version of iTunes: https://www.apple.com/itunes/download/
3. Check Firewall/Antivirus settings: Check the blocked software list to make sure that iTunes is not in the blocked list.
Top 6 iTunes Store Problems: Change Location
1. On your computer, you can change your iTunes Store location with steps:
Step 1. Open iTunes on your computer and go to iTunes Store page.
Step 2. Click on "Change Country or Region".
Step 3. Select a different location from all over the world. Than follow the prompts to finish it. Once you set a new location, you will be auto logged out of currently store location.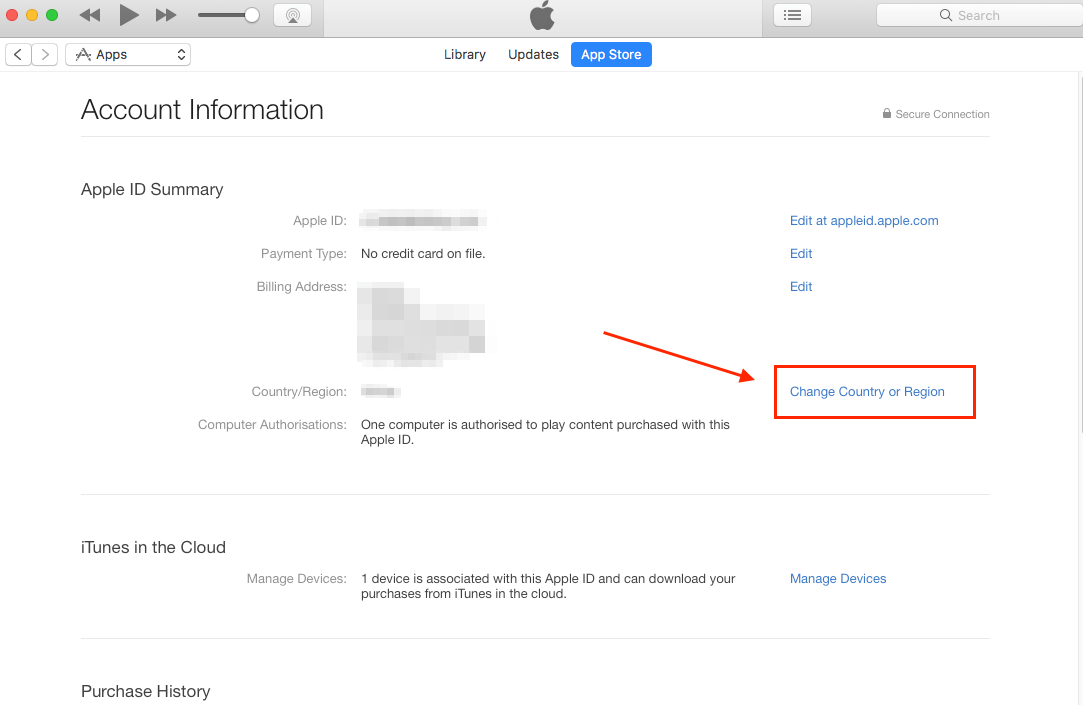 iTunes Store Issues - Change iTunes Store Location on Computer
2. On your iPhone or iPad, this post will show you step-by-step with pictures: How to Change iTunes Store Location on iPhone iPad in iOS 11 >
The Bottom Line
Currently, this post just list out some common iTunes Store problems, which has not covered all the problems. And these possible solutions may still can't fix your issue in the end because the specific situations are different. Well, you can just have a try. We will update problems and solutions as soon as possible for you, if you have other fixes, or meet other problems, welcome to leave your questions or solutions in the comment.
More Related Articles You May Like