iMobie iTunes Wiki
Summary
iTunes is a free music and media content download, purchasing and managing media player computer program.
Download and take a tour of AnyTrans, so that you can make use of it after reading this iTunes WiKi page.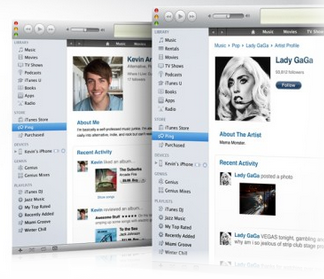 iTunes is a media player program, used for playing, downloading and organizing digital music and video files on personal computers. It can also manage contents on iPod, iPhone, iPod Touch and iPad.
It can connect to the iTunes Store to purchase and download music, iPod games, movies and movie rentals, and ringtones. It is also used to download application software from the App Store for the iPhone, iPad and iPod Touch.
Don't Miss: How To Move iPhone Music to iTunes
iTunes is functioning as:
iTunes Sync - a master syncing utility that seamlessly manages content on iTV, iPod, iPhone, iPad, Mac, iCloud AND Time Capsule (turning TC into a true NAS for media AND a backup device);
iTunes Store, iTunes Media Player;
iTunes Media Utility (a powerful, flexible media file management tool which would handle ripping and converting CDs, DVDs, mpegs, and the plethora of different esoteric media encodings)
Does iTunes need an Overhaul
It would genuinely glad to see iTunes a separate app - perhaps the resurrection of "iSync" - that could just run in the background and allow Home Sharing/streaming/syncing access without the whole UI.
Then, let's have the Mac App Store app just become "App Store" and provide purchasing and storage of Apps. iTunes can designate and control iPhoto for the purposes of streaming photos to Apple TV and syncing folders to devices, so it could do the same for apps.
Finally, let's see iTunes and QuickTime unify to make a beautiful new media player. Playlists, metadata scrubbing (even if it's just queueing from what's on iTunes like it does for music).
Latest iTunes Related Articles:
Create an iTunes Account without a Credit Card - On this iMobie Help page, we will show you how to create an iTunes account without a credit card?
Back Up iPod Music to iTunes - Any crash on iTunes library could be a disaster because this data base may contain a huge amount of media files. So How to back up and recover iTunes library from iPod? Read on to find the answer!
Windows Media Player & iTunes - It would be a trouble that you did not put all music in the same place, especially when you have Apple iPhone, iPad, iPod, and also have Microsoft Zune.
Transfer iPod Music to iTunes Library - Have you make a backup plan to prevent incidentally crash on your computer or iTunes library? PodTrans Pro allows you transfer music from iPod to iTunes library for saving media content in it.
Copy Music from Computer to iPod - Used to use Windows Media Player to listen to music and want to learn about how to transfer and copy music from computer to iPod without iTunes?
More Related Articles You May Like
Share Your Thoughts With Us