How to Keep Apps on iPhone Up to Date with the Latest Versions
Summary
iOS 7 can automatically download and install app updates, which give the info for recently updating and new features. Blow will guide you how to keep apps updating with the latest versions.
Firstly free download and install it, then use Quick Clean feature to eliminate 30+ types of junk files on iPhone to quickly update the apps.
Excited about the new app feature? Want to upgrade it in the first time? Here is a tip to keep your apps up to date. In the meantime, you should also know where to find the apps.
If you desire to explore the newest and popularized app in App Store with a quick time, simply type into the app's exact title or a keyword description of the app to display the list of relevant matches. You can enjoy more information about find an exact app, just visit the iOS users' tip of how to quickly find the apps you want.
How to Keep Your Apps Update to the Latest Versions?
As we all know, app developers will release their apps to the newest versions in a period of time. If you are an user of iOS 7, it will automatically update your installed apps when your iDevice has accessed to the Internet.
To get this auto-update option, you need to launch Settings firstly, and then, tap on the iTunes & App Store option. After doing in that way, you can set up automatic downloads for Music, Apps, Books and Updates in the menu. Besides, please make sure the virtual switch associated with the Updates option has been turned on.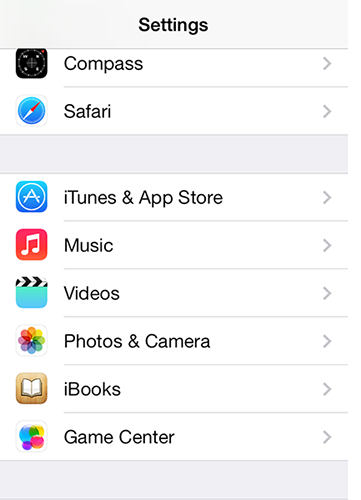 itunes & app store option
Next, slide down to the Use Cellular Data option. Then, choose whether you want apps to update through a cellular data connection to the Internet. One more essential thing, a WiFi connection is required when the apps require a large files size.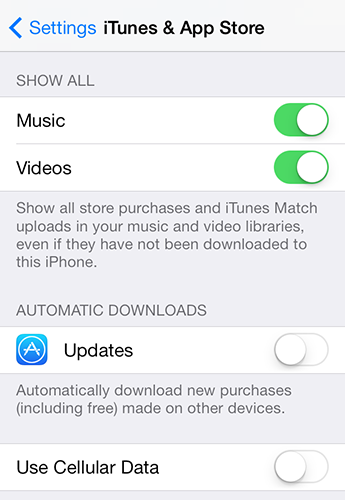 use cellular data option
If an app displayed on the Update screen with an Open button, it means the app has been updated associated with the date of the update. Tap on the app icon or its title to get more information about the update, such as functionality, features,etc. By clicking the Open button, you can launch it to use.
Supposing that an Open button is not showed on the Update screen, a progress meter indicates the app is being updated and downloaded to your device currently. If it shows an update but it hasn't been downloaded and installed, an Update button will present with that app, instead of an Open button. Near the top of the screen, pending updates will be displayed.
To ensure the fast speed of updating, PhoneClean will be a good assistant. It will eliminate 30+ types of junks, especially for "Other" on iPhone, iPad and iPod touch.
More Related Articles You May Like
Share Your Thoughts With Us