How to Keep iTunes Metadata When Re-ripping Your CDs
Summary
I would like to rip the CDs again in higher quality, but how could I keep the iTunes metadata when I re-rip these CDs? Kirk McElhearn will show you a method without too much hassle.
Take a tour of this awarded software so that you can make use of it after reading this How to Keep iTunes Metadata article.
Q: I have a standard-quality MP3 album on my Mac that I've listened to for several years, added lyrics to, and so on. Now, because I discovered the Apple Lossless format and still have a CD of that album in my house, I would like to rip the CD again in higher quality (learn How to Rip CDs with iTunes 11). However, I don't want to lose any of the metadata, because I have smart playlists that rely on the songs' play count. Is it possible to do this without too much hassle?
Don't Miss: How to Transfer Music from iPhone to iTunes
A favorable method is to launch iTunes, insert the CD into your disc drive, and then check to see that all the tags-Album, Artist, Album Artist, Name, Genre, Composer-are exactly the same as yours. When you rip the CD again in Apple Lossless format, iTunes will ask if you want to replace the existing tracks. When it does so, it will keep your other tags, such as album art and lyrics, and iTunes-specific metadata, such as Last Played Date, Plays, Rating, and so on.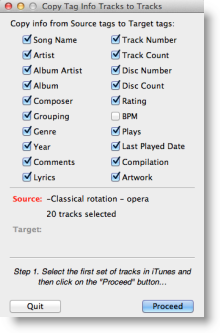 The Bottom Line
To keep iTunes metadata when re-ripping your CDs is not a challenge task indeed. However, importing unsupported music into an iPod requires more skills. At this moment, you need a versatile iTunes Alternative solution to settle down this problem.
Through the intuitive wizard, you are able to transfer music from iPhone, iPod to the iTunes library or to a folder on your computer. To ensure your iTunes can be perfectly restored, AnyTrans saves all your personal data, such as ratings, play counts, tags and art work. Start Taking A Tour >
More Related Articles You May Like
Share Your Thoughts With Us