How to Remove Yourself from A Group Text iOS 12/11/10
Don't know how to remove yourself from a group text on iOS 10/11 and even iOS 12? Read this post, which will guide you to leave group text step by step.
By
Stephen Wilson
|
Posted on: Apr. 02, 2018,
Last Updated: Mar. 18, 2019
Group text seems an efficient way that lets us talk and discuss all together in one place one time. It saves us a lot of trouble for we don't waste time to text people one by one. However it's also can be an annoying thing, sometimes the messages keep bothering you and won't let you get a moment peaceful. So if you want to remove yourself from a group text but you don't know how to do it. Just read this post and you'll find the answer. Applied to all the iPhone iPad models, including iPhone XS/XS Max, iPhone X, and iPhone 8/7/SE/6s/6/5s.
Also Read: How to Export Text Messages from iPhone 7 to PDF/HTML/TEXT >
How to Remove Yourself from a Group Text iOS 12/11/10
Step 1 Open your Messages app > Select a group text you want to delete.
Step 2 Tap Details > Scroll down > Tap Leave this Conversation.
However the Leave this Conversation option only works for the group text with four or more people, so if you happen to be in the group with just two other people, the leave option will be grayed out.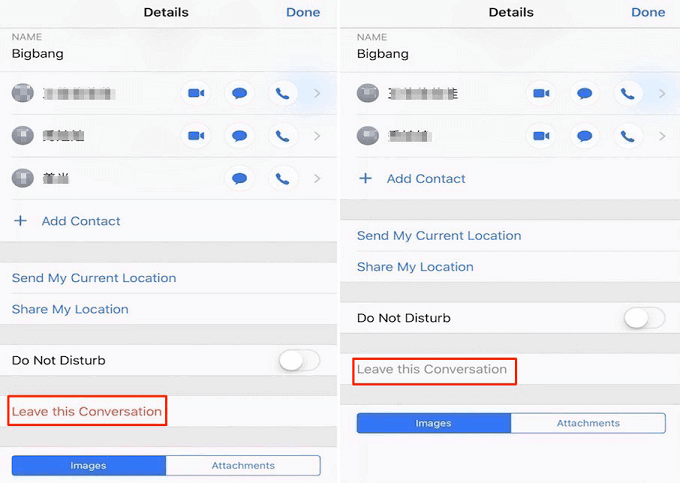 How to Leave Group Text iOS 12/11/10
If you are in a group text of 3 people and don't have the way to leave the group text, you can turn on the Do Not Disturb button to block group messages.
Bonus Tip: How to Recover Deleted Messages to iPhone
It's always a troublesome thing for us to get the deleted message back. But now things are different with a professional iOS data recovery tool – PhoneRescue for iOS. It can recover your lost message effortlessly just in 3 steps.
Step 1 Download PhoneRescue (choose Download for iOS) and launch it on your computer. Click Recovery from iOS Device.
Step 2 Select Messages and Message Attachments. Select Only list deleted option. Select the message you want to recover.
Step 3 Click To Device button to recover your deleted message to iPhone.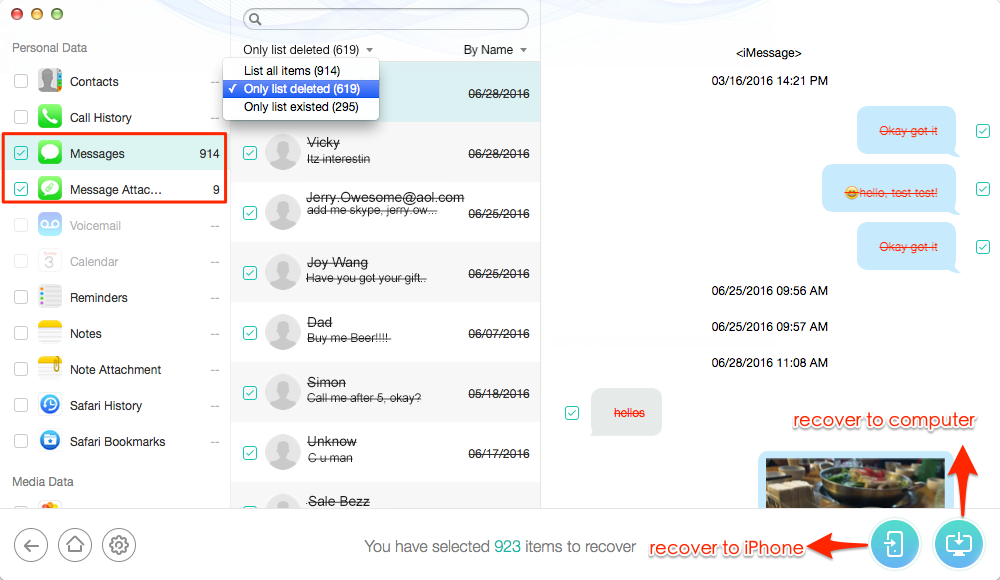 How to Recover Deleted Messages
1. You can also choose to recover your deleted messages to the computer by clicking the Recover to Computer button.
2. If your deleted messages haven't been listed on PhoneRescue screen, it means they have been overwritten by messages onto your iPhone. In this case, there are no other ways to get them back unless you have a backup that contains the deleted messages. PhoneRescue for iOS allows you to extract messages from iTunes or iCloud backup to recover. Follow the guide to know how it works.
The Bottom Line
Hope you can get the simple method to remove yourself from a group text or recover the deleted message after reading. If you have any question, welcome to let us know in the comments below.