Macbook Air - A Powerful & Extremely Portable Laptop
Summary
Macbook Air is a line of Macintosh portable computers designed and marketed by Apple. Read on this Macbook Air Wiki page to find out everything you want to know about it.
Download this iTunes Alternative so that you can make use of it after reading this Apple Macbook Air wiki page.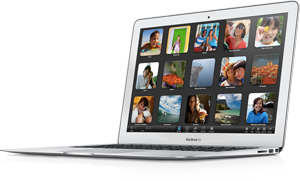 Image Credit: Apple.com
MacBook Air family is a line of ultraportable Macintosh notebook computers created by Apple Inc. The MacBook Air was designed to balance both performance and portability; it has a full-sized keyboard design and a machined aluminium casing with extremely low weight and thickness. The MacBook Air is available in two sizes: 11.6 inch and 13.3 inch.
Don't Miss: How to Transfer Music from iPhone to Mac >
There is a range of model choices with different specifications, but all models currently use SSD storage and Intel Core i5 or i7 CPUs. In Apple's product line, the MacBook Air previously slotted above the white MacBook (discontinued in 2012) and it occupies a position below the thicker and higher-performance MacBook Pro laptops. The MacBook Air inspired a competing range of Ultrabook notebooks produced by other manufacturers and running Microsoft Windows.
Competition on Macbook Air
A few years after the release of the MacBook Air, Intel developed a set of specifications for the Ultrabook, a higher-end type of subnotebook produced by various PC manufacturers and usually running Windows. Competing directly with the Air, the Ultrabook is intended to reduce size and weight, and extend battery life without compromising performance.
Macbook Air Review from C|net
The Good: New Intel fourth-gen CPUs help the updated MacBook Air achieve amazing battery life. The multitouch trackpad is still the industry's best, and even better, the 13-inch MacBook Air now starts at $100 less than the previous model.
The Bad: Newer features such as touch screens and higher-resolution displays are still missing. The ultrabook competition is catching up, in terms of design.
The Bottom Line: Apple keeps the latest MacBook Air updates on the inside, but greatly improved battery life and a lower starting price make up for a lack of flashy design changes.
More iPod, Music and Mac Related Articles You May Like
More Related Articles You May Like
Share Your Thoughts With Us