macOS Sierra – Apple's the 13th Generation Mac Operating System
Summary
macOS Sierra is the 13th generation desktop and server operating system for Macintosh computers release by Apple, and this guide is all about the new features of macOS Sierra.
Downloading AnyTrans now to get a simple way to transfer files from iPhone to computer and then continue reading this article.
macOS Sierra, the 13th generation Mac operating system, was unveiled by Apple at WWDC on June 13,2016. It is the successor to OS X El Capitan and the first version of the operating system issued under the June 2016 rebranding as macOS. Its major new features including Siri, Photos (Learn: how to transfer photos from iPhone to Mac), Optimized Storage, Messages, Apple Files System and more. Here we will introduce the main features that Apple users should know.c drive.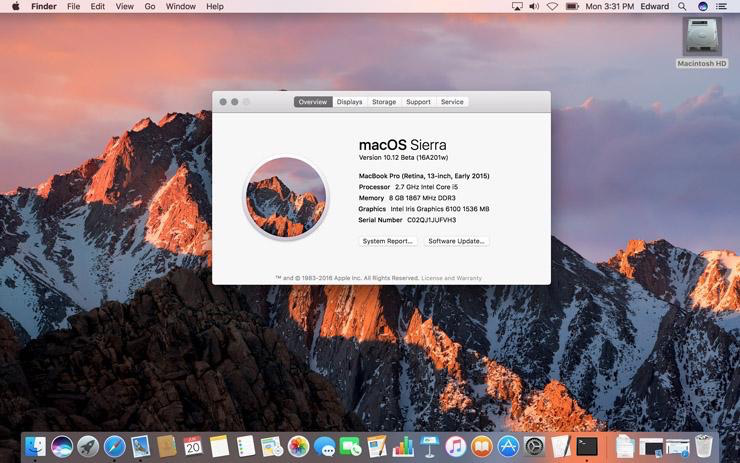 macOS Sierra – iMobie Wiki Page – Preview
Don't Miss: How to Transfer iPhone Data to New iPhone
Siri Integration
The main new feature in macOS Sierra is Siri integration, bringing Apple's personal assistant to the Mac for the first time. Siri offers many of the same capabilities available on iOS, like sending messages (Learn: how to retrieve deleted messages on iPhone), searching the web, finding files and adjusting settings. Users can access it via the Dock, the menu bar or a keyboard shortcut and results are shown with an interface in the upper-right corner.
Don't Miss: How to Transfer Photos from iPhone to iPad
Photos
According to rumors, the Photos app in iOS 10 and macOS Sierra is able to distinguish between seven different facial expressions including greedy, disgust, neutral, scream, smiling, surprise, and suspicious. When it comes to scene and object recognition, it appears Photos (Learn: how to transfer photos from mac to iPhone 7) is able to recognize upwards of 4,000 different items across a wide variety of categories.
The Photos app also features a new "Memories", containing picture slideshows with transitions and music selected by the algorithm, which can be modified to the user's liking. With Memories, you can also quickly generate little video (Learn: how to sync videos to iPhone iPad) montages of the photos (Learn: how to recover deleted photos from iPhone) from specific trips or locations, with the app automatically adding music (Learn: how to transfer music from iPod to iPhone), titles, and transitions.
Don't Miss: How to Transfer Photos from iPhone to iPhone
Messages
The Messages app adds aesthetic effects to messages (Learn: how to delete messages on iPhone 6), such as three times bigger emoji and tap back with hearts or thumbs-up on a message bubble, and the iOS 10 Messages features, including "Tapback" for quickly responding to messages with an icon like a heart or a thumbs up and bigger emoji, are available in macOS Sierra. The introduce of play YouTube videos (Learn: how to transfer videos from iPhone SE to Mac) and preview links in a conversation can make users view interactive content added to iMessage (Learn: how to recover deleted iMessages on iPhone) in iOS 10.
Optimized Storage
Optimized Storage can free up storage space (learn: how to free up space on Mac). When storage space is low, it automatically uploads old files, photos, movies (Learn: how to transfer movies from iPhone to iPad), and email attachments to iCloud and makes them available on demand. Files that are recently created and recent photos stay on the Mac to allow quick access. Optimized Storage also allows finding and removing files or apps.
Related Articles You may be Interested
Share Your Thoughts With Us