iPhone Maps App – iPhone Beginner's Guide
Summary
The Maps apps has been fine-tuned and added more features. Read the tip below to well know what's new on the Maps app and how to make full use of it.
Quickly download PhoneClean to scan your iDevice caches and other useless trashes. With one-click cleaning, it will gives a rapid running speed to orient your location.
Today, I would like to introduce some useful information about the Maps app. Compared with prior Maps app version, that app gives a new look and adds several new features in iOS 7. The Maps apps features in iOS 6, such as the capability to obtain detailed turn-by-turn spoken and displayed directions, interactive 3D map views, and a visually stunning Flyover map view, have been optimized by Apple Inc.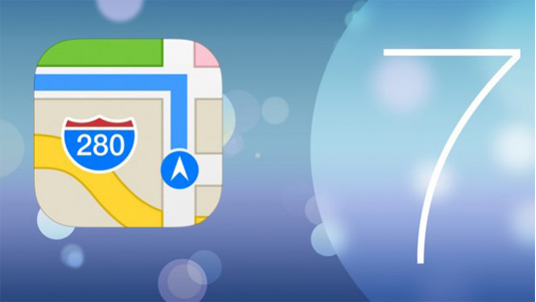 Image Credit: en.softonic.com
Please do not 100% reply on the turn-by-turn directions when using any GPS device. Forward with your common sense and pay attention as your're driving. Don't be the person who literally drives into a lake or over a cliff because the GPS told them to.
Real-time, color-coded traffic conditions presenting traffic jams and construction can be displayed graphically onto maps. In addition, the Maps app has perfectly integrated with Yelp! to show detailed information about specific location for a business, restaurant, landmark etc. A lucky news that Yelp! information screen for each location like a business or restaurant can be reached if using an iPhone to initiate a call. (The Maps app will direct you to download when appropriate if there's no Yelp! app.)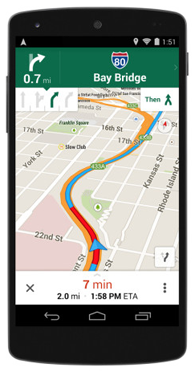 Image Credit: gottabemobile.com

Yelp! contains more than 30 million reviews for local business, stores, restaurants, hotels, etc. The reviews from it are created by everyday people, who share their own experiences, thoughts and photos. Apart from that, it also offers details about many business and restaurants.
Although Maps is a standalone app with series of functionality, it also works with other apps. For example, when tapping on an address in the Contacts app, the Maps app automatically launches and gives a specific address on a map. Then, you will know the directions from current location to that place.
Plus, voice commands and requests from Siri gives a handy way to utilize features built into the Maps app. For example, it's possible to activate Siri and say, "Where is the closest hotel?" or "How do I reach to bus station from here?". With the Maps app provided information, you can get the place the want.
The Bottom Line
To quickly orient your location and find the directions for local business, landmark or other places, PhoneClean could give a rapid speed. How? By cleaning the caches, tempt files, and other useless files on your iOS devices! It can reclaim your iPhone, iPad, iPod touch storage up to 60%, which definitely ensures a fast speed for the Maps app.
If you prefer to learn more iPhone and iPad tips, just feel free to visit our iMobie Daily Tip to better use your iOS devices.
More Related Articles You May Like
Share Your Thoughts With Us