How to Permanently Delete Contacts on iPhone
Summary
When you delete a contact from your iPhone, it is just invisible and can be recovered. This guide tells you how to permanently delete contacts from your iPhone.
Download PhoneClean to clear unwanted data on iPhone safely after reading this post on how to permanently erase contacts on iPhone 5/5s/6/6s.
Q: "So I'm trying to permanently delete my ex's number off my iPhone 6. I deleted him off my contacts but I notice when I create a new text message and type in the first two letters of his name in the bar where you input the contact you are texting, his name and number still pops up in the drop down menu along with any other contacts I have that have a similar name starting with those two letters."
-- A User from Yahoo Answers
Have you noticed that even if you delete a contact from the Contacts app you can still see it when you type in the first letters or numbers of the deleted contact. The deleted contacts are just become invisible but still stored in the iPhone, so it is very possible to recover them with some professional iPhone data recovery software. In addition, if you plan to buy an iPhone 6s/6s Plus instead of the current old iPhone, you will need to erase the contacts permanently before selling it. In this guide, we will show you how to permanently delete contacts from iPhone 5/5s/6/6s.
Can't Miss: How to Delete Messages from iPhone Completely >
The Program We Need
The updated PhoneClean adds many new improvements, which becomes more powerful on cleaning up and protecting your privacy. It helps find out the deleted contacts on your iPhone, and also manages to permanently delete contacts, messages, notes, call history, etc. What's more, it optimizes your iPhone by removing various types of junk files like Safari caches, browsing history, app temp files, app leftovers, etc. This will also free up more storage space on your iPhone. Download PhoneClean to take a tour >
How to Permanently Delete Contacts on iPhone with PhoneClean
Step 1. Open PhoneClean from your computer, and plug in your iPhone with USB cable.
Step 2. Choose Privacy Clean, and click the Scan button. Wait for PhoneClean to finish the scanning.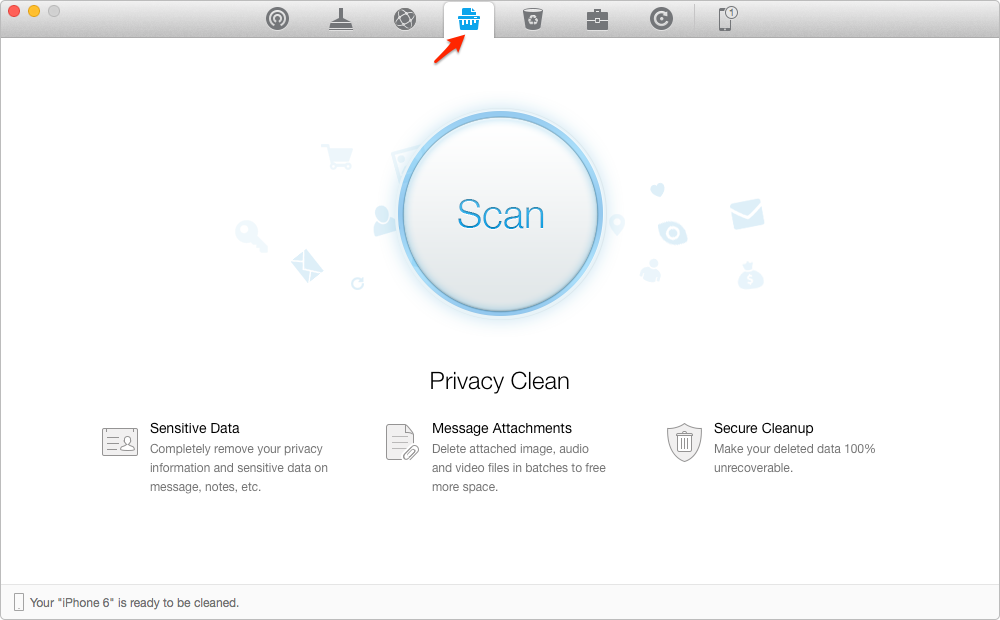 Permanently Delete Contacts from iPhone
Step 3. After it is done, click Secure Cleanup, and choose deleted contacts to see the deleted but still existed contacts on your iPhone. Select the items you want to permanently remove, go back to the result page. Click on the Clean button.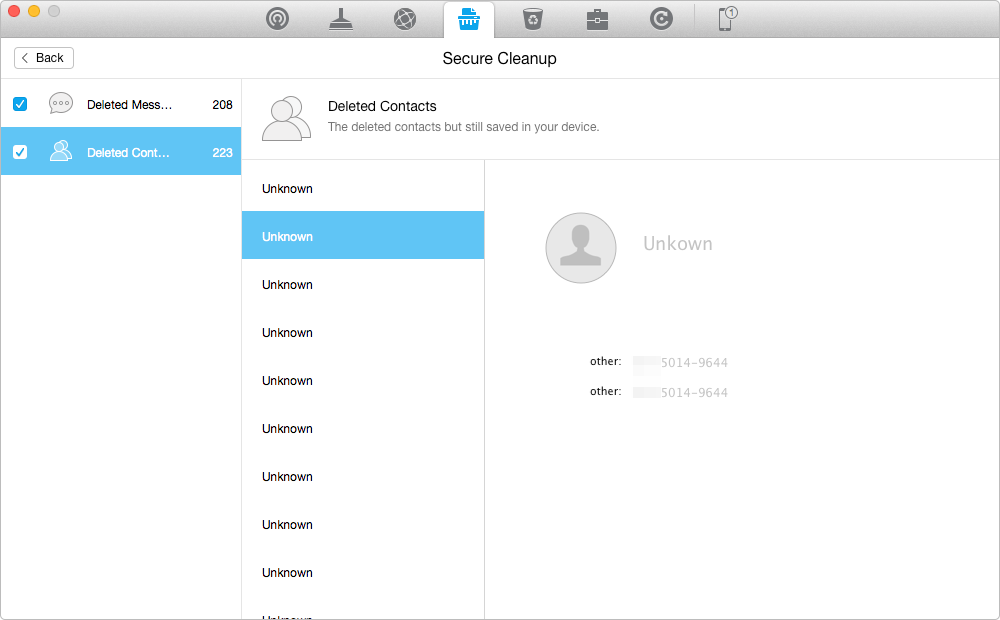 Delete Deleted Contacts from iPhone
Also Read: How to Permanently Remove iPhone Call History >
The Bottom Line
PhoneClean gives a hand on cleaning up, optimizing your iPhone system as well as protecting your personal info. The newly added Silent Clean feature manages to clean your iPhone automatically without connecting. Now Download PhoneClean to Have a Try >
More Related Articles You May Like
Share Your Thoughts With Us