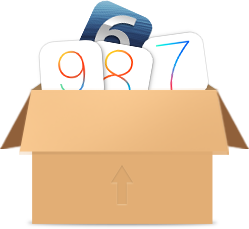 How to Fix New iOS Update Problems
Apple typically releases the major update once a year that coincides with the new iPhone hardware. The new update of OS is always eagerly anticipated by the world, and every big update gives users a lot of new features, enhancements, and new default apps.
However, new updates always come with new problems. Whenever a new update for OS rolls out, it generally brings some serious bugs, as well as some new problems. From the first release of iOS 8 to the latest iOS 8.4, every update seems to be both a blessing and curse for some Apple users, and they have begun to flood Apple's online support forums to voice their complaints and problems.
iOS update problems various from different users, and there are some common new iOS update problems like upgrade package is huge, iDevice is running slow after update, battery drains fast, or Wi-Fi or Cellular can't work etc. Here we will talk about the common iOS problems you may meet and provide you with some possible fixes.
Part 1. Common iOS 8 Update Problems: How to Fix It
It has been nearly one year since the first release of iOS 8, the biggest problem of iOS 8 is the update package problem which requires at least 5 GB free storage space OTA (over the air), many 16/8 GB iPhone users have to delete almost photos, apps, videos from the device to free up enough space. The following updates (iOS 8.1- iOS 8.4) fixed some previous problems, but also bring some new issues. Here is a list of iOS 8 problems you may meet, check out it and then refer to The Most Common iOS 8 Update Problems and Solutions to get the detailed fixes.
Don't Have Enough Free Space to Upgrade iOS 8
Get Stuck during iOS 8 Download and Installation
Data Loss After Updating to iOS 8
Stuck on Apple Logo
Backup Problem in iOS 8
Frozen, Slow Touchscreen or Keyboard
Apps Crash or Won't Load
Can't Send and Receive Text Messages
iPhone Won't Turn on After iOS 8 Update
Charger or Cable Won't Work
An Error Occurred While Downloading iOS 8
iOS Wi-Fi and Bluetooth Connectivity Problems
Stuck on iTunes Logo
Long Download Time of iOS 8
Slow iPhone on iOS 8
How to Turn QuickType Text on and off
How to Add Third-party Keyboard
How to Send Voice Messages in Messages App
How to Silence a Group Chat in Messages
Continuity Calling or Handoff not Working
Spotlight Suggestions Doesn't Work After iOS 8 Update
Sound not Working After Updating to iOS 8
Can't Make Calls After iOS 8 Upgrade
How to Make iPhone 4s Perform Better on iOS 8
How to Fix iOS 8.2 Cellular Data Problem
iOS 8.3 Touch ID not working in App Store
Part 2. The Next OS Update: Possible iOS 9 Problems and Solutions
iOS 9 will be the next update for Apple iOS in this fall. There are new features, new apps, and a bunch of improvements, including the ability to perform multitasking on iPad, an improved Note app, more intelligent Siri, a new iCloud Drive app, and some other cool hidden features.
On the basis of past iOS 8 update experience, no one dares to promise there won't be any problems or bugs after downloading iOS 9 on your iPhone or iPad. To get well prepared for iOS 9 update, it is necessary to check the Possible iOS 9 Problems and Fixes(By now you can get the latest iOS 11 problems and solutions). Here is a list for iOS 9 update problems you may meet:
Software Update Failed Error Messages
Don't Have Enough Space for Downloading iOS 9
Stuck on Apple Logo During iOS 9 Update
Cellular Data Doesn't Work
iPhone Stuck on Verifying Update
Stuck in Recovery Mode/iTunes Logo
Wi-Fi Issues
Bluetooth Problems
iOS 9 is Running Slow on Old iPhone iPad
iOS 9 Battery Life Issues
Data Loss After iOS 9 Upgrade
iMessages Failing to Send on iOS 9
The bugs and issues caused by new OS update is always a big complaint among Apple users. Besides that, many people also feel uncomfortable with iTunes and iCloud, and want to find some alternatives to sync data.
Have you updated your iPhone, iPad or iPod touch to new iOS and are experiencing issues or bugs with the update? Have you found any fixes for the issues? Please share with us in the comments below. 
Join on Discussion on iOS Upgrade Problems