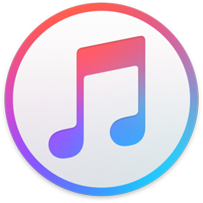 4 Reasons Why I Hate iTunes/iTunes Store
iTunes is one application created by Apple Inc in 2001, and the newest update version is iTunes 12.2.2 that was released in Aug 13, 2015. This software is amazing because we can use it as one media player on Mac/PC, iOS manager for iPhone/iPad/iPod, and digital media organizer for iTunes store. In addition, with its online store service – iTunes store, we can download and enjoy more songs, apps and games in this world.
However, if you focus on what Apple users are saying on forums and review sites, you could find some words just like "I hate iTunes", "iTunes driving me crazy". So why don't these users like iTunes? After searching and collecting data on several online platforms, we list some of the reasons below. And we also offer some related solutions to the problems people may meet when using iTunes/iTunes store.
Reason 1. "I Hate iTunes" Because Sync is User UN-Friendly
For many new iPhone/iPad/iPod touch users, using iTunes to sync data can be a difficult task. They don't know how to start to transfer files/data between computer and their iOS device with iTunes. One user said in Apple forum, you have to spend a lot of time to read related Apple Support posts to learn how this managing software works.
And the fact is that you wouldn't like to read iTunes instruction until you lose something on iOS device or face some other tough problem when using iTunes to sync. Some users think it's not users' fault, but the iTunes itself – It is an application with a complicated process to sync and the sync is one-way (computer to device).
Related Solutions:
What you have to do is just to know iTunes sync better by reading related tutorials or discussing your problems on related iTunes forums. Or you can choose some iTunes alternatives to managing your iPhone/iPad/iPod touch. When facing iTunes sync problems, the below guide may be helpful: The Most Annoying iTunes 12 Sync Issues and How to Fix.
Reason 2. "I Hate iTunes" Because Unreasonable/Improper Charges
iTunes users complained about iTunes store charges unreasonably or improperly. Barbaba said she purchased two $9.99 games on iTunes store, but iTunes charged her $206, and even didn't refund the improperly charged fees in time.

iTunes Charges Incorrectly – Data from Consumeraffairs.com
Related Solution:
There is no some good solution to this problem, but contacting iTunes support by visiting iTune Support Online . Or you can report the problem to Apple by visiting the page of Report a Problem .
Reason 3. Payment Info Needed When Firstly Using iTunes Store
You have to add your payment info to your Apple account when you use Apple ID to login iTunes store and download apps at the first time, which people think is useless and time-wasting if they just want to download some free apps. Although Apple offered ways to remove payment information in iTunes, the process seems a little complicated and some users said they couldn't see and select the item "None" to remove their credit card detail in iTunes.
Related Solutions:
Only Apple can set up the process to download free apps without payment info. What you can do now is just to remove your Apple ID payment info in iTunes after your downloading. If you can't find "None" item, you can read this iTunes support: Why Can't I Select None When I Edit Payment Info in iTunes.
Reason 4. "I Hate iTunes" Because It Has Bad Customer Support
There is no available phone number Apple officially offers for its users to directly get iTunes support. If you have questions about iTunes, you have to category your question by yourself and find the suitable solutions on official site. Some users said they have to wait for a long time to have their questions or issues dealt with by iTunes support center.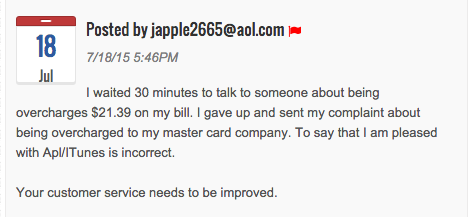 Apple User Complained about iTunes Customer Service
Related Solution:
This solution depends on what Apple does to improve its iTunes/iTunes store and related customer services. And what you have to do is to find the right way to contact iTunes support and feedback the problems you dropped into.
Don't Miss: Apple customer service review and how to contact Apple support
The Bottom Line
We just list only several reasons why people don't like iTunes. Maybe you have some different idea about this topic. Just share and discuss it with us in the comment section.
Join the Discussion on iTunes Problems