How to Reinstall Apps Already Downloaded?
Summary
With an Apple ID of App Store, you can re-download purchased apps to install them on other iOS devices or computer. All the app purchased information will be kept with an accurate date.
Simply free download AnyTrans to transfer all app personal information to make app as normal after reading this article.
Almost every iOS user knows App Store - a place to buy iOS device items. For an iOS user to reuse the items bought from App Store, how much do you know about it? Today, we'll discuss how to reinstall apps your've already downloaded from App Store.
For the fresh App Store users, please refer to How to Use App Store >
How to Re-download App Already Purchased or Downloaded?
To re-download the app purchased from App Store, simply click the Purchased icon at the bottom of the screen in the App Store app. If you are an iPhone user, please choose the Update button. Then, click on the Purchased icon showed near the top of the Updates screen. It will display all your app purchased from App Store with accurate date. Since an apple ID is required, it provides great handy for iOS users re-downloading apps to your other device, like iPad Air, or iPod touch.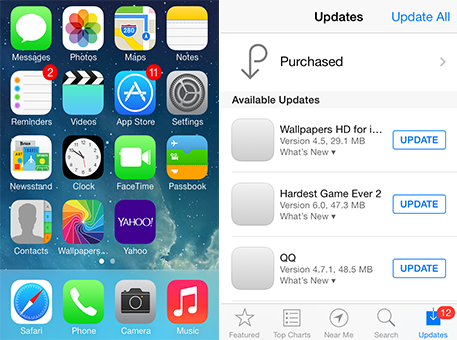 app store purchased screen
If you want to pause the process during downloading an app, just tap the Download button in the app description or app preview box in App Store. Alternatively, if the app icon is installing on Home screen, click the app icon to break off.
Taping on the All tab at the top of Purchased screen on iPhone or iPad, all apps purchased before will be displayed with date. It is also optional to view the apps not installed on the current iOS device by clicking Not On This iPhone/Not On This iPad.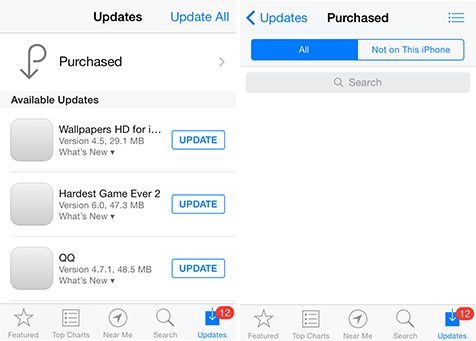 purchased app displayed screen
You may heard that app purchased from App Store is available on iCloud. Right? Absolutely right! An iCloud icon will be showed with a Free or Price icon as well as the app description. Since you have paid before, simply tap on the iCloud icon to download apps. However, please be careful that only purchased apps that are compatible with current iOS device can be installed.
You should also read: What Does iCloud Backup >
How to Automatically Download and Install Purchased App, Music, or eBooks?
It is a time-saving process that iOS devices provide the feature of automatically downloading and installing any new and compatible apps, music and ebooks by using your Apple ID. To make this function workable, please follow these steps: > Launch Setting > Select iTunes & App Store from the Settings menu > Turn on Automatic Downloads option for corresponding items. iOS devices also offer the automatic download feature working with a cellular data Internet connection or a Wi-Fi connection.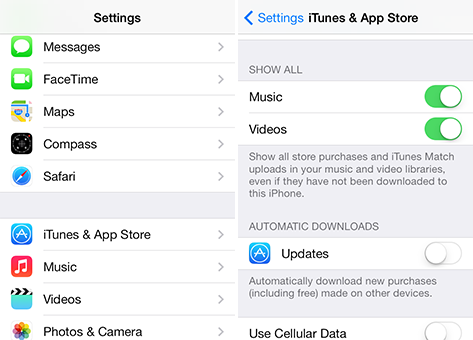 turn on automatic download icon
Note: This automatic feature won't transfer personal settings, playlist or other. If you want to transfer all personal information of app, music or ebook, AnyTrans guide would give you a big favor.
The Bottom Line
To reuse the app purchased before, all the app information will be lost, like personal setting, game score, or other. If you want to keep all the records as normal, AnyTrans would be your great assistant. All the personal information will be saved while transferring app to another iOS device. Just now, take a tour for AnyTrans >
More Related Articles You May Like
Share Your Thoughts With Us