How to Remove Safari Plugins or Extensions on Mac in 2 Ways
Want to remove Safari extensions or plugins on a Mac? Get two quick solutions after reading on this guide about how to uninstall Safari extensions on Mac.

Joy Taylor
Last Updated: Jan. 19, 2022
Mac Tips & Issue Fixes
Mac Related Tips
Every Mac comes with a Safari browser that offers users a wide range of extensions, or plugins to customize their Internet experience. However, have you ever installed an extension or plugin only to wish you hadn't? Or found out that it just not the one you need?
In this tutorial, we give you two options to remove extensions or plugins in Safari on your Mac.
Method 1. How to Remove Safari Extensions or Plugins with MacClean
MacClean is the best Mac cleaning & maintenance utility made to optimize your Mac. It helps manage all plugins, extensions, and add-ons on Mac all in one place.
It is capable of enabling, disabling and removing Safari plugins, Chrome plugins, Spotlight plugins, Login plugins, Internet plugins, Preference panes, etc.
It cleans up various types of junk files from Mac, including Internet junks (cookies, caches, browsing history, download history in Safari, Chrome, Firefox, and Opera), system junks, development junks, user junks, and app leftovers.
It keeps your Mac safe by removing malicious cookies and any other viruses.
It provides you 9 utilities like extension manager, old & large file finder, duplicates finder, file eraser, iPhoto cleaner, language cleaner, etc.
Also Read: How to Remove Duplicate Files on Mac >
Step 1. Free download & install MacClean on your Mac computer. Open it, and select Optimization Tools and then choose Extension Manager.
Step 2. Choose Safari Plugins, and find the item you want to delete and click Remove.
Don't Miss: How to Delete iMessages on Mac Permanently >
Method 2. Remove Safari Extensions from Safari Browser
Step 1. Open Safari on your Mac, select the Safari dropdown menu and click the Preferences button.
Step 2. Choose Extensions, and find the plugins you want to remove, click the Uninstall button.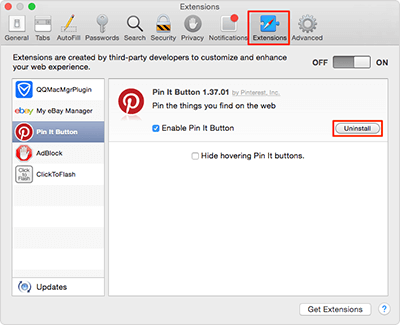 You May Like:
Why Is My Mac So Slow and How to Fix It >
The Bottom Line
Besides extension management, MacClean also helps you clean up junk files, remove useless files, clean iPhoto, etc. It is the best way to optimize your Mac, why not download it to have a try now?