How to Restore Contacts on iPhone 6s/6s Plus
Summary
Looking for a method to restore your iPhone contacts including the phone numbers, email address? You can get a solution by reading this guide.
PhoneRescue is a powerful iPhone data recovery. Get the free trial of it to find your lost iPhone data after learning about how to restore contacts on iPhone 6s/6s Plus.
No matter how closely you keep guard of your new iPhone 6s, accidents happen at any time. One day, you scroll down the contact list on your iPhone and only to find the contact names you need are not there. Then you realize that you may delete them mistakenly, and a software update (like the coming iOS 9.3 upgrade) or jailbreak can also cause the contacts loss on your iPhone 6s.
One way to restore iPhone 6s contacts is restoring your iPhone form iCloud or iTunes backup, but you may not really want to do that. It may not worth to restore only few contacts by replacing your whole iPhone content. Here, we will show you how to restore only selected contacts on your iPhone 6s/6s Plus with a smart iPhone contact recovery.
The Tool We Use to Restore iPhone 6s Contacts
PhoneRescue is an amazing iOS data recovery as well as iPhone backup extractor that works for all iPhone and iPad. The "Recover from an iDevice" mode allows you to restore deleted iPhone contacts directly; the "Recover from iTunes/iCloud" modes helps extracts contacts in iPhone backup without device restoring. In a word, it is easy to restore contacts on your iPhone 6s with PhoneRescue.
The iOS files PhoneRescue supported including Contacts, Notes, Photos, Messages, Call History, Safari Bookmarks/history, etc. Give it a shot right now!
Don't Miss: How to Retrieve Deleted Text Messages on iPhone
How to Restore iPhone Contacts with PhoneRescue
Step 1. Open PhoneRescue > Plug in your iPhone.
Step 2. Select Recover from iOS Device > Click on Right Arrow to scan your iPhone.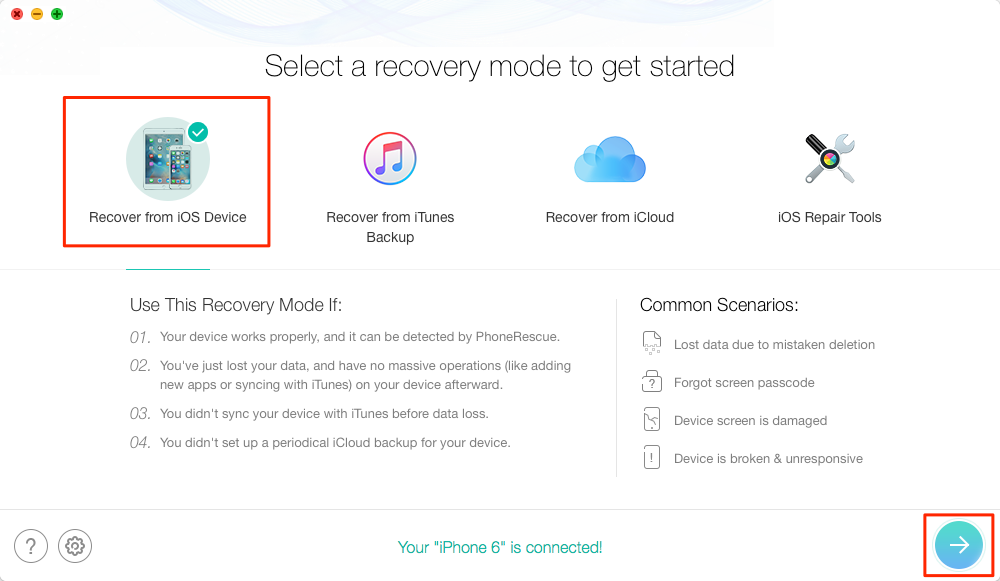 How to Restore iPhone Contacts – Step 2
Step 3. Select Contacts > Preview and select the contacts you want to retrieve > Click on To Computer button or To iDevice button to get them back.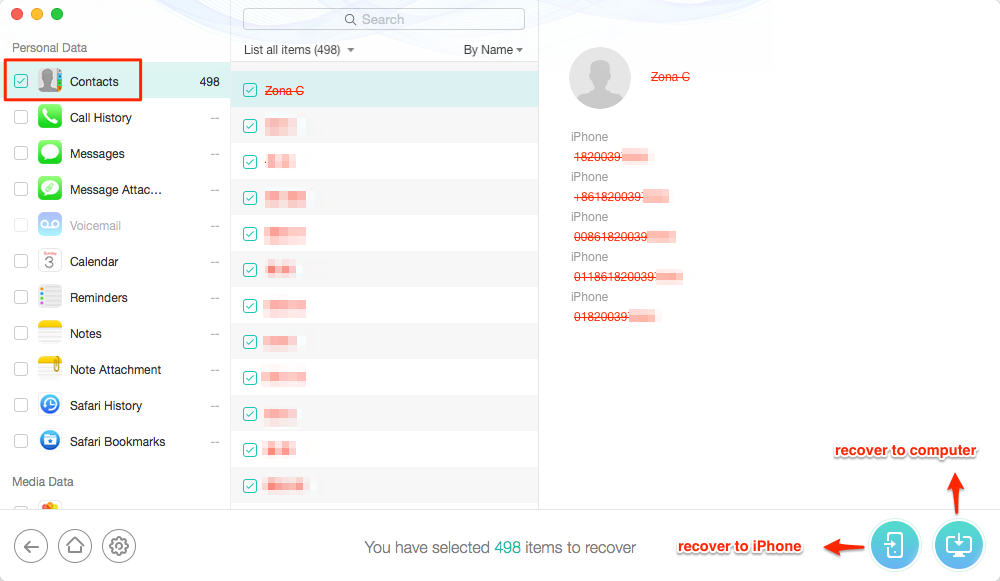 How to Restore iPhone Contacts – Step 3
This superb iOS data recovery tool excels at recovering deleted contacts from iPhone. You can recover your deleted or lost iPhone contacts at once. Start Taking A Tour >
Notes:
Losing important contacts is a major pain. Although they're recoverable, it does emphasize the importance of regular backups, back up to a computer and back up to iCloud. It's advisable to keep a habit of backing up regularly, and don't let it happen again!
The Bottom Line
After reading this post about how to restore iPhone contacts, if you find this post helps you a lot, share it to more friends. Have any problems? welcome to share them in Comments Section below.
Top Posts on Recovering iPhone Lost Data:
More Related Articles You May Like
Share Your Thoughts With Us