How to Restore Messages from iCloud Backup to iPhone 7 (Plus)
Summary
This tutorial tells you one method to restore only text messages and iMessages from iCloud backup to your iPhone 7 or iPhone 7 Plus.
Download PhoneRescue and follow this tutorial to easily restore messages from iCloud to your iPhone. Supports iPhone 7/6s/6/5/5s/4/4s.
"I am going to buy an iPhone 7 in this fall. And plan to restore my messages conversation from my iCloud backup directly to my iPhone 7. I know that I can get messages to my new device by setting up my new iPhone 7 with the iCloud backup, but I don't plan to get all data and settings back. So I want a way to restore only messages."
After buying a new iOS device, Apple users would like to restore with iCloud backup to bring some valuable info to their new device. However, in this way, all data including some useless files will be transferred to new device. So how to restore only messages from iCloud?
Luckily, some professional recovery tools enable you to access iCloud backup and get messages, or contacts in it without restoring all contents. And below we show you how to user one iOS recovery tool to make it.
Tool We'll Use to Get Messages from iCloud to iPhone
There are so many iCloud backup viewers, but do you know some tools you can use to directly restore what you see on iCloud to your iPhone. PhoneRescue – iOS data recovery is the one you can use to make it.
It allows you to view contents on iCloud and helps you to selectively restore messages, contacts, photos, WhatsApp Messages, etc. to your iPhone without restoring the whole backup.
How to Restore Messages from iCloud to iPhone 7 or iPhone 7 Plus
iPhone 7 will be released in this autumn with iOS 10 installed. And now PhoneRescue for PC is completely compatible with iOS 10 beta, and PhoneRescue for Mac and PC will support iOS 10 final version after the release of this new iPhone 7. Normally you can follow the steps below to restore messages after you getting your new iPhone 7.
Step 1. Download and install PhoneRescue(choose Download for iOS) on your computer.
Step 2. Run PhoneRescue and connect your iPhone 7 to computer with data cable. Choose "Recover with iCloud" and click "Next".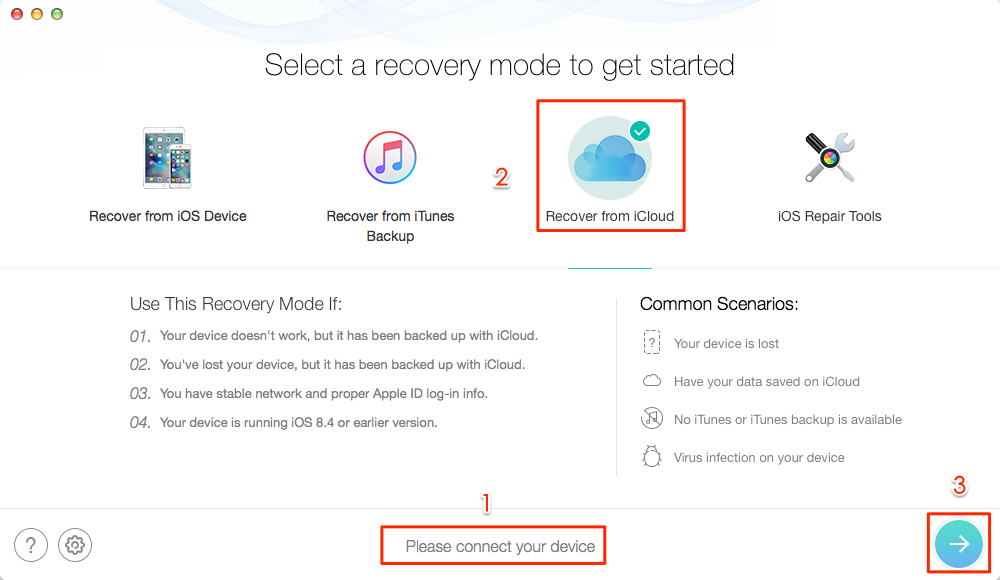 How to Transfer Messages from iCloud to iPhone 7 – Step 2
Step 3. Login your iCloud account to access all iCloud backups. Download the backup you want to restore. After downloading, select the backup and click forward icon to scan data on the backup.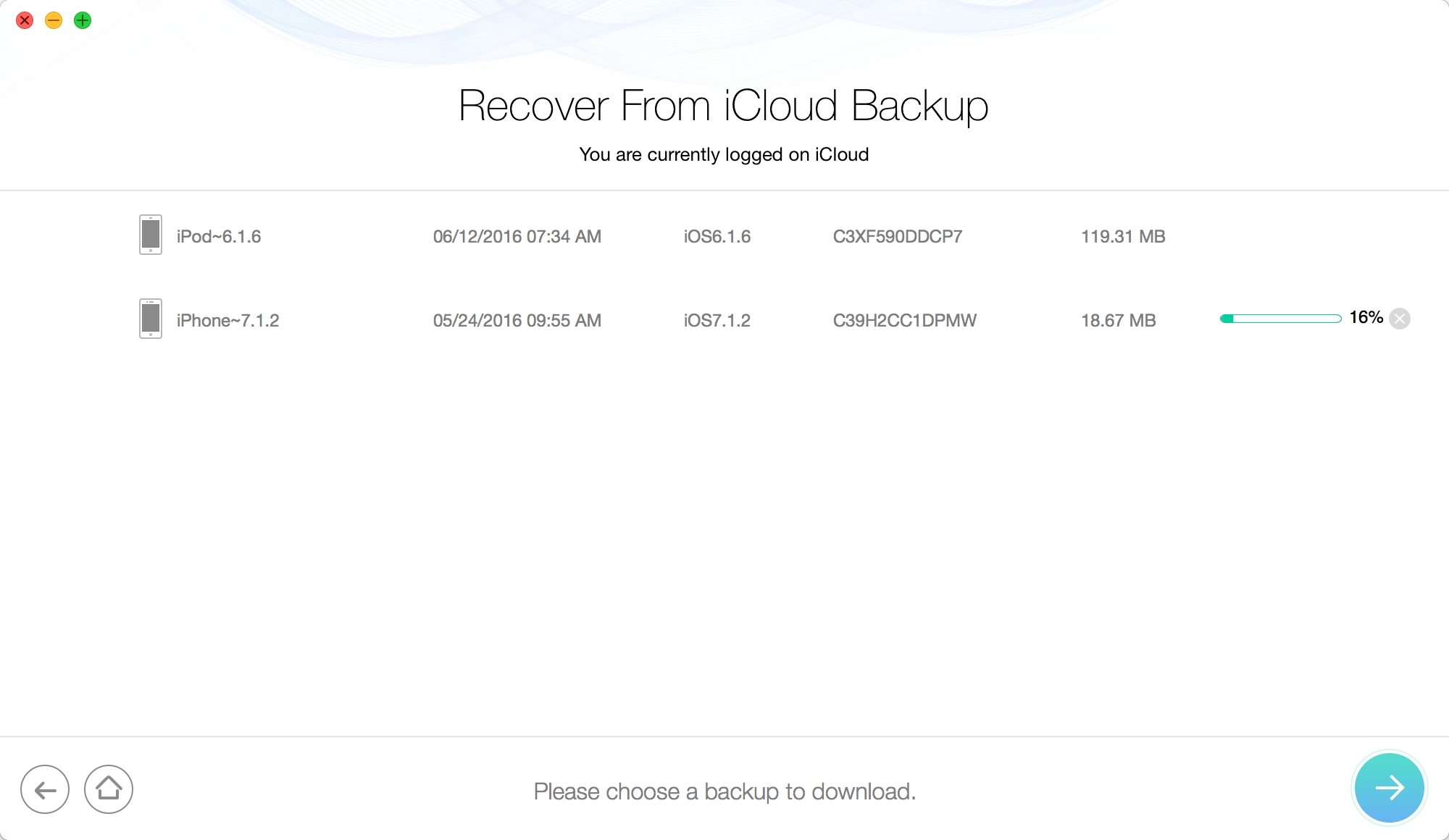 How to Transfer Messages from iCloud to iPhone 7 – Step 3
Step 4. After scanning, select Messages to preview all text messages and iMessages. PhoneRescue will list all messages conversations with attached files on the right panel. Just select the items you plan to restore and click "Recover to Device" button to restore select message conversations to your iPhone 7.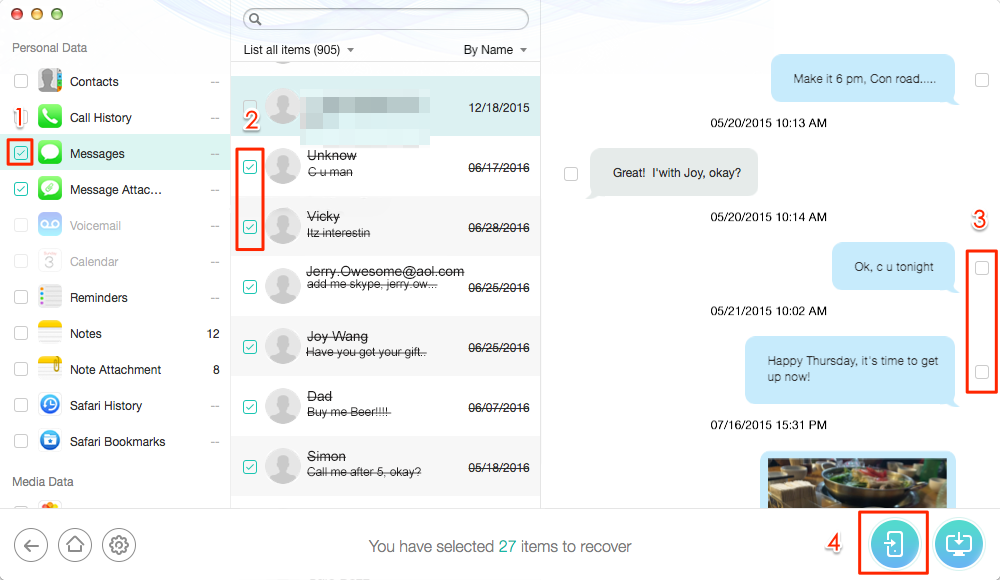 How to Transfer Messages from iCloud to iPhone 7 – Step 4
The Bottom Line
If you have iTunes backup, you can also use PhoneRescue to access and extract messages, contacts or some other files in the backup. Download PhoneRescue and Try It >>
View and Access Data or Content from iCloud (Backup)
More Related Articles You May Like
Share Your Thoughts With Us