How to Save Email Attachment to iCloud Drive in iOS 9
Summary
iOS 9 allows you to save email attachment in mail app to iCloud Drive directly. Read this guide to know how to finish it.
Have a try on PhoneRescue so you can retrieve deleted data on iPhone or iPad. Now read on this guide on How to Save Email Attachment in Mail App to iCloud Drive in iOS 9.
By the nature an iPhone is always in danger of getting damaged, lost or stolen. How about your important iOS data? To help you recover your lost or mistakenly deleted photos, messages and other data on your iPhone, we collected 5 top best iPhone Data Recovery Software and evaluate them carefully to provide valuable references for you.
iOS 9 adds a bunch of new apps & improvements includes a new feature that allows you to save attachment received in mail apps to iCloud Drive. iOS 8 currently allows you to save email attachment to third-party Cloud storage like Dropbox or Google Drive, and you need to export the files to iCloud Drive. Now iOS 9 lets you save attachment from an email to iCloud Drive or add attachment to an email from iCloud Drive in the Mail app. Here is how to save email attachment to iCloud Drive in iOS 9.
Step 1. Open Mail app on your iPhone or iPad.
Step 2. Find the email with attachment you want to save. Simply tap and hold on the attachment you want to save to iCloud drive.
Step 3. It will open the Share sheet. Tap the Save Attachment icon. This will open up iCloud Drive.
Step 4. It will open iCloud Drive document picker. You can select the folder you want to save that attachment and then tap on Move to this Location at the bottom.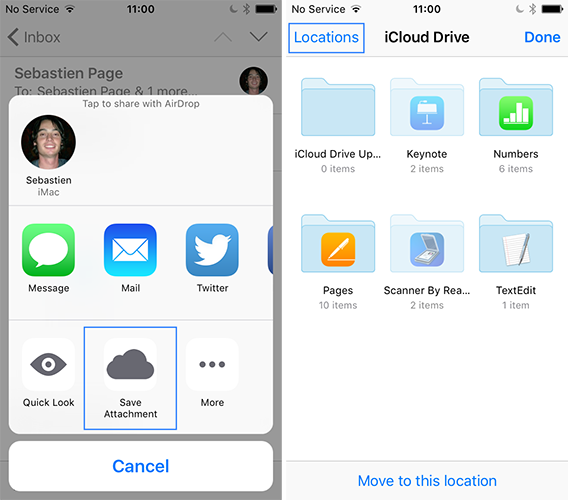 Image Credit: idownloadblog
Important Note: If you meet any problem when or after updating to iOS 9, you can refer to Common Update Problems & Solutions of iOS 9. If your iPhone or iPad is running out of space after iOS 9 upgrade, here are Five Ways to Make Room on iOS 9 Devices.
Data loss is one of the most common problems of iOS update. If you lost some photos, messages, notes, or contacts from iPhone or iPad due to iOS 9 update, you can download a professional iOS data recover PhoneRescue to get them back
The Bottom Line
To get iOS 9 installed smoothly on your iPhone or iPad, you should get well prepared for the upgrade. At the same time, don't forget to have a try on PhoneRescue.
More Related Articles You May Like
Share Your Thoughts With Us