How to Search App Store Online
Summary
Not clear about searching apps in App Store online? This post will shows you how to search apps on iPhone, iPad and how to use App Store to find apps you may be interested.
Download it now and transfer app without losing App data between iPhone, iPad and iPod touch before reading this post.
Apple's iPhone 7 is expected to launch in 2016, have you prepared well for the new round of iPhone to iPhone Upgrade? If not yet, you can take a minute to read our comprehensive and detailed How to Transfer Data from Old iPhone to New iPhone tutorial.
After accessing to the App Store by tapping on the App Store app icon on your iPhone or iPad's Home screen, you can easily find, purchase, download and install apps directly from your iPhone or iPad. Here's how to shop with the App Store app.
Steps for How to Search App Store Online
If you already know the app name or keyword, firstly you can directly search it in the search field, which is located near the upper-right corner of the screen on iPad, and at the bottom of the App Store app's screen on iPhone. Then tap the Search key on your virtual keyboard to begin the search. In a few seconds, matching results are displayed on the App Store screen in the form of app previews.
Must Read: How to Transfer App from iPhone to iPad without Losing App Data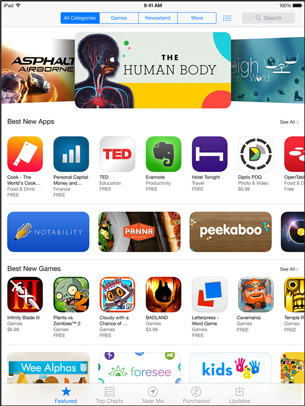 The App Store Main Screen on iPad
While, if you don't know the exact name of an app you're looking for, command icons, which are at the bottom center of the main App Store screen on iPad, and along the bottom of the screen on iPhone, will help you browse the App Store and discover apps that might be of interest to you. And command icons on iPad include Featured, Top Charts, Near me, Purchased, and Updates. Command icons on iPhone includes Featured, Top Charts, Near me, Search and Updates.
Here, we'll mainly talk about the Featured and the Top Charts command icon on iPhone or iPad. As to other command icons, you can explore them yourself. And you'll find more there.
The Featured Command iCon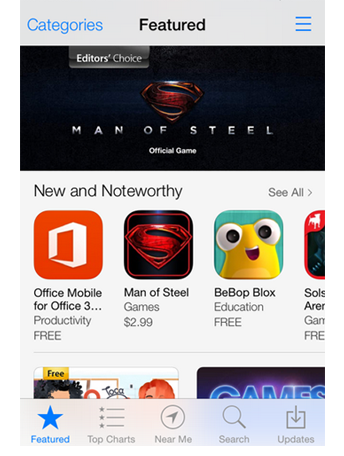 Featured iCon in the App Store on iPhone
Featured icon shows you a listing of what App considers "Featured" apps. You can see a handful of categories in it no matter you flick your finger from right to left or tap on the See All option that's displayed to the right of the category heading.
The Top Charts Command iCon
When you tap the Top Charts command icon, a listing of Paid, Free, and Top Grossing apps are displayed. You can first tap on the Charts button, then tap on the Categories button to choose a category to view charts related to a specific app category, such as Business or Games.
You Can't Miss: Four Types of Apps in the App Store
More Related Articles You May Like
Share Your Thoughts With Us