Should I Switch from Android to iPhone
Summary
The new iPhone is coming soon, and should I switch from Android to iPhone? Read this guide to help you make a decision.


Free Download
If nothing else, Apple will release the new generation of iPhone this fall. Rumors about the iPhone 8/X have been flying for months. The new iPhone is running iOS 11, the new system that will be available to public next month. Apple says that the iOS 11 is the most advanced operating system that makes iPhone better than before.
These days, you are thinking of getting a new phone to replace the old one. As a long time Android phone users, you may ask: should I switch from Android to iOS to have a try? Android and iOS are both very mature operating systems, and there are many similarities & differences between them. To help you make a decision, this guide we list the most important things you should take into consideration when asking yourself should I switch from Android to iPhone.
1. Should I Switch to iPhone – Different Operating System
1 > The Operation of Software
Compared with Android, iOS is more stable. The iPhone can run smoothly just like new after two or more years. As for Android phone, you may meet crash problems after some time. Apps always work well on iPhone, and app crash issue seldom happens.
2 > The Customization
You can customize your Android phone freely, like the look of the icons, the typeface, the ringtone and more. But on iPhone, you cannot change the look of the icons, you need more operation to set your favorite song as ringtone.
3 > The Consistency
The Android operating system is complex, hardware manufactures can develop their own product based on the software that Google provides. You can find the differences easily, like one feature is available on Samsung but it is missing on Sony.
As for iPhone, from the old iPhone to the new iPhone 7, you can easily control the entire experience, because Apple makes it remain consistent. That's to say, the iPhone is made to run iOS and the iOS is made to run on iPhone. If you also have an iPad, they will work together seamlessly.
4 > Software Update
Apple controls both the hardware and software, so it is able to push out software updates to all of the devices at once. You can easily update your iPhone to the new iOS that contains new features and also bug fixes. However, Android users have to wait for at least several months.
Should I switch from Android to iPhone? If you feel tired of Android operating system, just give it a try. Every software update brings you the new feature. If you want to customize your phone, just keep on Android.
2. Should I Switch to iPhone – Different Data Management Way
As an Android user, you can easily add music to your phone or extract photos from phone to computer for further use. However, if you switch from Android to iPhone, you have to manage your iPhone data in a new way. Apple won't let you drag contents to iPhone directly as well as extract iPhone data.
iTunes, you may have already known before, is a Mac/PC based app that helps iOS users manage the iPhone/iPad data. It lets you sync music, photos, ringtones etc. to iPhone, but you cannot use it to transfer iPhone data to computer. iCloud is also Apple's service that lets you backup iPhone data wirelessly.
As for iPhone newbies, syncing data with iTunes or iCloud may be a little complicated and time-consuming, and it can lead to data loss for improper operation. If you prefer an easier way, you can choose other iPhone data management tool like AnyTrans for iOS. Besides that, AnyTrans can also help you transfer data from Android to iPhone freely. Get it by clicking here.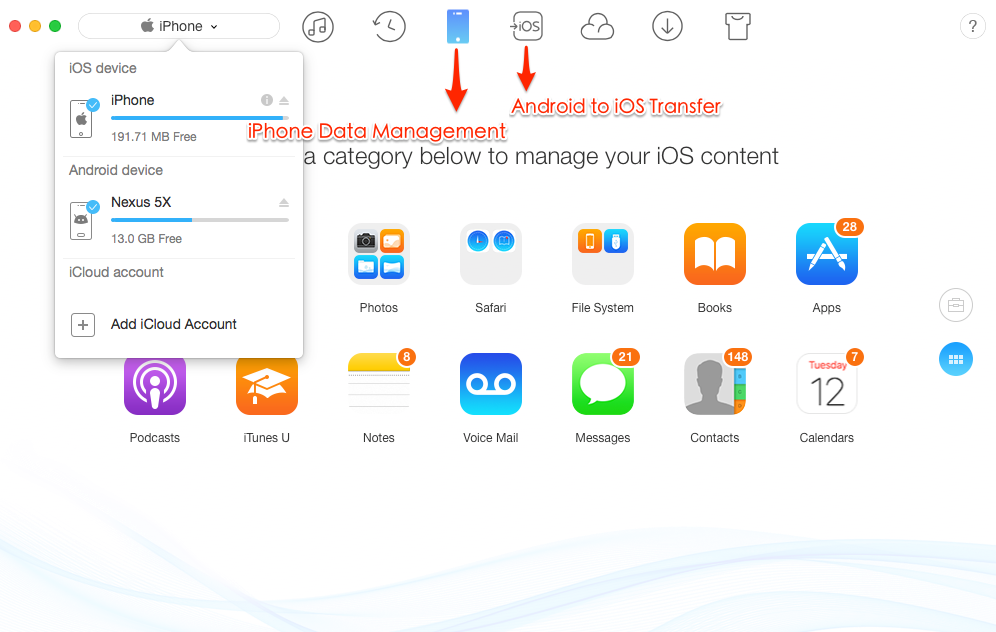 Should I switch from Android to iPhone? If you dislike changing the transfer way you have got used to, then keep on Android. If you want to switch to iPhone but dislike iTunes, there are also quite a few management tools that can help you with it.
3. Should I Switch to iPhone – Security and Privacy
Compared to Android, iOS security is better. There are a series of vulnerabilities in the Android OS that have been revealed to public, and those bugs let it possible for hackers take control of your phone. Google plans to release the patches to its hardware partners, but the monthly security updates have no guarantee. As for iPhone, Apple can easily push out security update to everyone immediately when there is a security update.
Apple always concern users privacy and try their best to protect your information from leak. At least, it doesn't sell ads to make money. Google may use your information unknowingly.
Should I switch from Android to iPhone? If you care about security and privacy, iPhone is a good choice.
4. Should I Switch to iPhone – The Little Things
1 > Apps Come to iOS First
The developers tend to develop iOS apps first, and the Android version takes a while to get out. If you switch to iPhone, then you can try the new apps in advance.
2 > You Cannot Record Phone Call with iPhone
For privacy protection or other reasons, Apple doesn't allow you record a phone call with iPhone, there is no call-recording function. If you use this function now and then, maybe you should keep on Android.
3 > Why Not Get the Anniversary iPhone
It's the 10th anniversary of Apple smartphones this year, so it's going to be a big update. The new iPhone 8 will feature an edge-to-edge display, a whole screen that is more stylish. The OLED display can bring you more vibrant colors. 3D camera is also cool. So why not buy one for yourself, after all it's the 10th anniversary iPhone.
Conclusion
As you can see, Android phone and iPhone running on different operating system. There are things Android can do that iPhone can't and things iPhone can do that Android can't. You can make the decision based on your needs. If you have already decided to switch to iPhone, you can go to this How to Transfer Data from Android to iPhone guide to move your files.
More Android vs iPhone Related Articles:
Join the Discussion on Should I Switch from Android to iPhone
Should I Switch from Android to iPhone