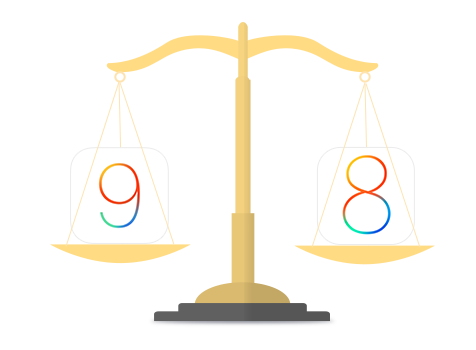 Should I Update My iPhone/iPad to iOS 9
[Last Updated: Aug. 21, 2017]
iOS 9, the 9th operating system for iPhone, iPad, and iPod touch, was publicly released on Sep.16, 2015. Compared to iOS 8, iOS 9 brings some new features to the iPhone and iPad including improved multitasking, the new News app, and a bunch of other enhancements. Now you've probably got two questions rock in your brain: should I upgrade my iPhone or iPad to iOS 9 and how can I get iOS on my devices.
This article is aimed to help you make a final decision about whether you should update your iPhone or iPad to iOS 9. What's more, you can refer to this Common iOS 9 Problems and Fixes guide to get some useful tips if you have decided to upgrade to iOS 9 right now.
The release of new iPhones is another big event in September. Should you upgrade to a new iPhone 8/8 Plus, or iPhone X? If your answer is "YES", here we offer you a compete guide to upgrade to iPhone 8/X, including how to backup old iPhone data, activate new iPhone 8/X, transfer data to new iPhone, make new iPhone run faster, and top tips for saving battery on iPhone 8/X, etc.
Part 1. Should You Update Your iPhone/iPad to iOS 9: Pros
Getting a new operating system is always full of surprises. iOS 9 is full of enhancements you'll appreciate every day, as Apple says. The biggest pro for you to downloading iOS 9 is that you will get a load of new features. Of course, there is some other things benefit you by updating to iOS 9.
Optimized Install Size: As Apple reclaims, iOS 9 is aimed to give you a smaller and more convenient updates. Last year, it really drove users crazy for iOS 8 update required at least 4.6GB of storage space. This year, the size of iOS 9 is expected to be around 1.3 GB. Moreover, iOS 9 allows to temporarily delete some apps in order to make room for the update, and after the update is done, the deleted app will be automatically restored.
Brand-new Apps: iOS 9 comes with some default apps like a new News app, a dedicated app for iCloud Drive, the Move to iOS app allows you move data from Android to iOS, and Find My Friends and Find My iPhone are both default apps in iOS 9 now as well.
New Improvements: iOS 9 adds a bunch of new features and improvements to it like a new and intelligent Proactive Siri; new low power mode to extend batter life; enhanced Security; pubic-transport directions Maps app; an overhauled Notes app etc.
iPad Multitasking: The split screen multitasking is limited to the iPad in iOS 9. When using an app on the iPad you can swipe left from the side screen to pull up a SlideOver window. You can position two apps on one screen at the same time and use them both.
Keyboard upgrades: The keyboard's shift function is always been confusing for iPhone iPad users because it's difficult to know when shift is activated or not. Now the new iOS 9 introduces a simple fix. Now, when you tap shift, all of the letters on the keyboard will change to uppercase, and when shift isn't activated, they'll appear in lowercase. For iPad, there's a new QuickType keyboard that allows you to use the keyboard as a trackpad by placing two fingers on it and moving them around.
Part 2. Should You Update Your iPhone/iPad to iOS 9: Cons
There are some things you should take into consideration before you decide to update to iOS 9. In other words, some cons for you to update to iOS 9.
Slow Speed on Old iPhone/iPad: Generally speaking, the new operating system always runs smoothly on your devices, however, for those who own an old iPhone 4s or iPad 2, things may not come out this way. It is said that the past iOS 8 updates have both slowed down older iPhones and iPads, so the same could be true for iOS 9.
No Major Changes in Visual Design: There are no major changes in the visual design compared iOS 9 with iOS 8. If you are expecting to get a span-new visual enjoyment on iOS 9, you might be disappointed because iOS 9 looks very much like iOS 8 on the whole. This can also be a good thing for it takes much time for users to get used to iOS 7/iOS 8 with the radical graphical redesign compared with iOS 6.
Downgrading Isn't Easy: You should bear in mind that it's always not an easy task to downgrade to the previous version after updating to iOS 9. It's a time-consuming process and one that could pose problems like data loss or device got stuck during the downgrading.
Lose Your iOS 8 Jailbreak: If you have jailbroken your iPhone, once you installed the latest iOS 9, you are going to lose your iOS 8 jailbreak. And even if you decide to downgrade to the previous iOS 8, you may still fail to get your iOS 8 jailbroken on iPhone again.
Also Read: How to Backup Your Jailbroken iPhone in Three Ways >
Conclusion
Upgrading your device is never out of risk, so you should make sure that you have been well prepared for iOS 9 update. If you are not dealing with an old iPhone or iPad, we recommend you to get the new OS on your device for a better and newer iOS experience. All in all, you should probably think by yourselves otherwise.
If you have made your decision to download iOS 9, you can refer to this guide to optimize your iOS 9 devices: How to Speed up iOS 9 Devices and How to Free up Space on iOS 9.
When you get an iPhone 6s (Plus) with iOS 9 in the near feature, you may want to get some best apps on your new iPhone, and also want to know some maintenance tips & tricks to iPhone 6s/6s Plus.
Join the Discussion on iOS 9 Upgrade