Summary
Should you upgrade to iPhone 8/8 Plus or iPhone X? Make your final decision after reading this guide.

AnyTrans – Best iPhone Data Transfer
This powerful tool can help you transfer data from iPhone to new iPhone easily and quickly. You can give it a try after upgrading to new iPhone.

Free Download
Since the release of iPhone 5 in 2012, Apple has launched new iPhone in September every year. And this year, it's the 10th anniversary of Apple smartphones, so it's going to be a big update. It is expected that Apple will release 3 new iPhones, iPhone 8, iPhone 8 Plus, and the 10th anniversary model called iPhone X. Then should you upgrade to new iPhone X/8 or keep your current iPhone? Read this guide to help you make the decision.
As for Android phone users, if you are also struggling with this should I upgrade to iPhone 8/X question, you can refer to this guide: Should I Switch to iPhone >
Part 1. Should I Upgrade to iPhone 8/8 Plus
Should you upgrade to iPhone 8? Let's first take a brief look at the rumors about the new iPhone 8, iPhone 8 Plus.
1 > The Design
There are two different sizes in recent generations, 4.7-inches & 5.5-inches. As for iPhone 8 and iPhone 8 Plus, Apple may stick to those two sizes. Waterproof of course. The iPhone 8 may have a glass back instead of a metal one. Or it may be reserved for the new iPhone X.
2 > The Specs
OLED display: One of the rumors that we keep hearing is the iPhone 8 may have an OLED display, rather than the LCD.
A11 chip: We are likely to see the A11 chip this time, which may make iPhone 8 perform better than its predecessors.
Camera and battery life: We can also see the dual-camera in this year's iPhone. Up to now there are nothing about iPhone 8 battery life, but we are hoping that the 10nm chip can improve the performance.
3 > The Release Data & Price
The iPhone 8 is expected to be released this September and its price may be as expensive as the iPhone 7 or a little pricier.
Conclusion
From the above, we can see that there are not many new designs for iPhone 8 compared to iPhone 7. It is kind of improved model of the iPhone 7/7 Plus. Even so, it will preform better with the new A11 chip. Then should I upgrade to iPhone 8?
If you own a relatively old one, like iPhone 4s, iPhone 5/5s or iPhone 6/6s, it's worthy to upgrade to iPhone 8/8 Plus. The new iPhone is more functional in performance than your old phone. If you have an iPhone 7 or iPhone 7 Plus, you may not need to waste your money. The new iOS 11 can also let your iPhone 7/7 Plus perform better just the way it should have on iPhone 8/8 Plus.
Part 2. Should I Upgrade to iPhone X
As the 10th anniversary iPhone, the iPhone X is different to some degree. Should you upgrade to iPhone X? Below are some rumors about the new iPhone.
1 > The Design
The whole screen: The size might change on iPhone X, 5-inches that between the existing 4.7-inches and 5.5-inches. At the same time, it seems like the iPhone X will feature an edge-to-edge display. No top bezel or home button below, a whole screen that is more stylish than iPhone 6/6 Plus. Since there is no physical home button, then how to unlock the iPhone with Touch ID? It may be located on the back, or on the side sleep/wake button or use 3D face unlock.
Glass design: We will see the glass back again in the new iPhone. It also makes it possible for iPhone X to wireless charge.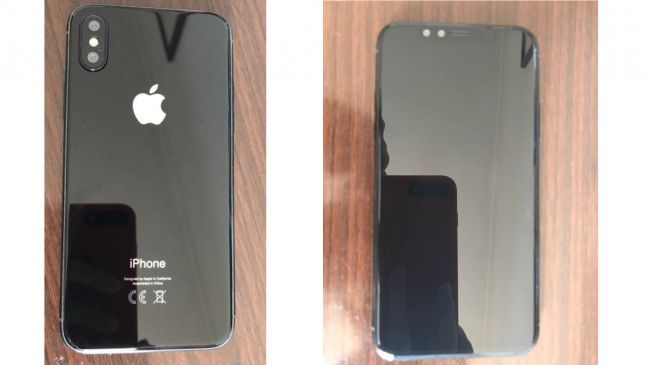 More waterproof: The iPhone X will be more waterproof, for it may jump from IP67 to IP68. That means the new iPhone would be able to survive 1.5 meters in water, while iPhone 7 can last 1 meter in water for 30 minutes.
New color: It may offer 4 colors for you to choose. It may release a new color called blush gold. Some also say that an all-white iPhone X is possible.
2 > The Specs
A11 chip: The new A11 fusion chipset will definitely make iPhone X run faster. The iPhone X may also have the 3 GB of RAM that setup in iPhone 7 Plus.
OLED display: It has been used on the Apple Watch. Compared to LCD, it is tend to sport superior contrast. It is also suited to being curved, and we also heard the new iPhone X might be.
Camera: You will see a new vertically-oriented dual-camera lens on iPhone X. There's also a possibility of 3D camera that can add augmented reality functions. With AR, you can point out your iPhone X at an object and have it recognized.
Battery: The new OLED display is better in power preserving, so it can make iPhone X have a more battery life. It may also enable fast charging for the switching to USB-C.
3 > The Release Data & Price
The release data of iPhone X may a little bit later, probably not in September. October or November may be the official release data. As for its price, it may cost around $1,100, since there are many new designs like the OLED display.
Conclusion
Should I upgrade to iPhone X? As you can see, the edge-to-edge display is stylish; the OLED display brings you more vibrant colors as well as battery saving; the improved camera lets you take better photos and for better AR functionality.
For iPhone 4s/5/5s/6/6s users, iPhone X is a good choice, it offers you a different stylish as well as quite a few new functions, which is quite distinct from your old iPhone. For iPhone 7 users, if you like the glass design or the new-added function like 3D camera, and your budget is enough, why not get it, after all it's the 10th anniversary iPhone.
The Bottom Line
If you have already decided to upgrade to iPhone 8 (Plus), or iPhone X, you can refer to this How to Transfer Data from iPhone to New iPhone guide to help you transfer contacts, photos, music and more.
More Android vs iPhone Related Articles:
Join the Discussion on Should I Upgrade to iPhone 8/X
Should I Upgrade to iPhone 8/X