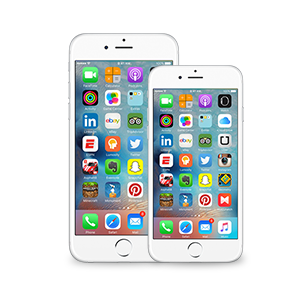 Should I Upgrade to iPhone 6s/6s Plus
[Last Updated on Sep. 14, 2016]
Apple is expected to announce its next iPhones on Sept. 9th at a press event in San Francisco. Rumors about the release date and changes of the new phones have been flying for months. The new models, likely called the iPhone 6s and 6s Plus, can be regarded as an upgrade for the existing iPhone 6 and 6 Plus. Moreover, the new phones will come with the newest operating system iOS 9, which brings about a myriad of new features and enhancements. Like those Apple users who asked Should I Update to iOS 9, one question may rock in your head - should I upgrade to iPhone 6s or 6s Plus.
There will absolutely no doubt be many of you hesitating whether to upgrade from a relatively old iPhone 4s, or even an iPhone 6 to the latest phone. Of course, many non-iPhone users, say, Android users, are also struggling with this question: why should I upgrade from Android to new iPhone 6s/6s Plus?
Now it's time to make the final decision and plan about whether you should change your phone to the new Apple handset or not. No matter you are an old iPhone user or an Android phone user, follow us to see what Apple brings to the table.
The new iOS 10 has been released as expected, bringing a bunch of new features. If you want to update your iPhone 6/6s (Plus) or iPad to new iOS 10, please make sure you've made a complete backup. To help you update smoothly, we also offer you the possible iOS 10 update problems you may meet with solutions.
Part 1. Should I Upgrade to iPhone 6s/6s Plus: YES
There is no doubt that a wealth of improvements are added to iPhone 6s and iPhone 6s Plus, which can become your great motivation to upgrade the latest iPhones.
Larger & Thicker in Size: The new iPhones will not go back to smaller screen, which is a good news for those who have used a large screen phone. Leaked from MacRumours that iPhone 6s and iPhone 6s Plus will be slightly larger and thicker than its processers. iPhone 6s will measure 138 x 67 x 7.1 mm (0.2mm fatter than the iPhone 6). One of the possible reasons for this slight size increase is to gain some weight and resist bending.
A9 Processor and 2GB RAM: iPhone 6s (Plus) will come with A9 chip which will perform better, faster, and more efficient than the A8 in the iPhone 6 (Plus). The new iPhones will also double the RAM to 2 GB. This means iPhone 6s and iPhone 6s Plus would have the same amount of memory as the iPad Air 2, which launched last year. The difference in RAM is especially noticeable when you are playing games on your device.
12 Megapixel Camera: This will be a great news for those photo enthusiasts. Apple has used an 8 MP camera for multiple generations, and this time it will increase the camera to 12 Megapixel for iPhone 6s and iPhone 6s Plus. In addition, the increased sensor size will enable you to take 4K videos. If you're an iPhone 4s user, you'll notice a huge jump on camera when upgrading to iPhone 6 or 6 Plus, let along the iPhone 6s/6s Plus.
Also Read:
How to Transfer Pictures from Computer to iPhone 6/6s >
How to Transfer Photos from iPhone 6/6s to Mac >
Force Touch: Force Touch allows users to trigger a range of controls through varying levels of force. This feature is originally announced as a key feature of Apple Watch, and it can also be found in the latest MacBook and MacBook Pro models. Now Force Touch will be added to the iPhone 6s (Plus). As 9to5Mac revealed, there are some possible uses for Force Touch on the new iPhones: when using Maps, Force Touch on the destination to start turn-by-turn directions; in the Music app, using Force Touch on a listed track would bring up a menu with the options to add the song to a playlist or save it for offline listening etc.
Improved Touch ID: According to reports, Touch ID in new iPhones will be even faster and more reliable. The upgraded fingerprint sensors will be more accurate, and give users a better experience of unlocking and in-store Apple Pay by reducing reading errors.
Color Options: It's been heavily rumored that there will be a rose gold iPhone 6s and iPhone 6s Plus in addition to the traditional Gold, Silver, and Space Gray of iPhone 6. Rumors also reveal that iPhone 6s and iPhone 6s Plus will come with a darker shade of Space Gray.
Part 2. Should I Upgrade to iPhone 6s/6s Plus: NOT YET
No one will deny that iPhone 6s and iPhone 6s Plus will be beautiful, functional, and efficient, however, we have to say, there are still possible reasons that you won't want to upgrade to the new iPhones.
Identical Appearance: The general design of iPhone 6s and 6s Plus will be very identical to the current iPhone 6/6 Plus. Besides the slightly size increase and the possible color options, there would be no distinct changes on the new iPhones compare to the previous models (iPhone 6/6 Plus).
Same Display Size & Resolution – The 4.7-inch 750p and 5.5-inch 1080p panels will be unchanged in the iPhone 6s and iPhone 6s Plus. Moreover, with 2k and even 4k smartphones now on the market Apple's so-called Retina Displays are now falling behind.
The Improvements Not Worth for the Price: The new iPhone is always expensive. Considering that there is no distinct change between iPhone 6s and iPhone 6, some of you may think the improvements not support the extra cost. Waiting can save a lot of money because the iPhone 6s will probably see a 30% to 50% price drop when the iPhone 7 comes out in 2016.
Strong Android Competition: There are some Android phones that are popular and have a great performance. You can buy various high-end Android smartphones that are cheaper than iPhone 6s/6s Plus. If you are not an Apple huge fan, an upmarket Android phone is a cost-effective choice.
You May Like:
How to Free up Space on iOS 9 Devices >
What Is the Other on iPhone and How to Remove It >
Part 3. Should I Upgrade to iPhone 6s/6s Plus: CONCLUSION
Should I upgrade to iPhone 6s/6s Plus? After learning about the merits and possible bad stuff for upgrading to the latest iPhone 6s (Plus), it's time to make your final decision. We believe that all this comes down to your personal needs and preferences, and hope this article can help you make a choice to some extent.
For Old iPhone 4s/5/5s/5c Users: If you own a relatively old iPhone like iPhone 4s, iPhone 5 or even iPhone 5s, it's worthy to upgrade to the new iPhone. First of all, it offers you a bigger screen size and a different stylish design, which is quite distinct form your old iPhone. Most importantly, the new iPhones is powerful and more functional in performance than your old iPhone.
For iPhone 6/6 Plus Users: As we mentioned that the new iPhones are kind of improved model of the current iPhone 6/6 Plus, and they share very identical design. So if you are not addicted to Apple new devices, you may not need to waste money, after all, the new iPhone is not cheap for most people. Moreover, iOS 9 should make your iPhone 6 or iPhone 6 Plus perform much better, and almost just the way it should have on iPhone 6s/6s Plus.
For Android Phone Users: If you have never used an iPhone and plan to switch from an Android phone to Apple iPhone, iPhone 6s or iPhone 6s Plus would be a nice choice. Apple has made it very simple to switch from Android to iPhone with its Move to iOS app, which will be available in iOS 9. The Move to iOS app allows users to wirelessly transfer contacts, message history, camera photos, videos, web bookmarks, mail accounts, calendars, wallpapers, and DRM-free media to their new iOS device. It will also automatically suggest that users download the iOS versions of any free Android apps from the App Store.
At last, to help you smoothly upgrade to a new iPhone, we provide you a Complete List for iPhone 6/6s (Plus) Upgrade. Meanwhile, if you are planning to update your iPhone iPad to iOS 9 this fall, you can refer to the Most Common iOS 9 Update Problems and Solutions to get some help.
Join the Disscussion on iPhone 6/6s (Plus)