Summary
What are the similarities between iPhone and Android? Read this post you will know the iPhone and Android similarities.

AnyTrans - Excellent Android to iOS Data Transfer Tool
Have a try on this powerful iOS data recovery PhoneRescue to help you get back lost but valuable data on iPhone iPad. It is fully compatible with all iDevices.

Free Download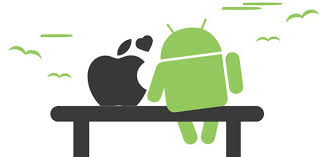 Mr. John has recently been troubled by his newly-bought Android phone - Vivo X9. Everywhere he goes, people would ask: did you just buy another iPhone?
This is not a rare issue. Many Android phones now are quite similar with iPhone in appearance. Besides appearance, there are many other similarities between iPhone and Android. Let's have a look.
Part 1. Similarities between iPhone and Android - Interface
The interfaces of both iOS and Android share a lot in common. You can do swiping, taping and pinch-and-zoom on both iPhone and Android screen. Besides that, both iOS and Android operation systems boot to a homescreen. Moreover, there is a status bar on the top on both iOS and Android devices, offering information such as the time, WiFi, battery life.
Part 2. Similarities between iPhone and Android - Functions
It is undeniable that there are things that Android could do but iPhone can't, and things that iPhone could do, Android can't, but Android phone and iPhone are all can be called smart phones, their functions are pretty much alike. Below is a list of things that both Android and iPhone could do.
- Call
- Messaging
- Video Chat
- Voice Commends
- Maps
- Web Browsing
- Mobile Payments
Part 3. Similarities between iPhone and Android - Apps
Majority of Android users get apps from Google Play, (some Android devices use separate app stores that may offer less apps) and the Apple app store is the main app source for iOS devices. At present, many iOS-only apps are also available for Android device and vice versa. That is to say you can basically get the same app on both Android and iOS.
Part 4. Similarities between iPhone and Android - Cellular Network
Cellular network is crucial for surfing the Internet. It is no doubt that after years of development, users can enjoy the 4G cellular network on majority of iPhone and Android phones.
The 5G cellular network will soon be available. However, most of Android phone and iPhone can also work well with it.
Part 5. Similarities between iPhone and Android - Privacy
Information leakage was a mutual problem for iOS and Android. Any app could read and get the list of all other apps installed on the same device. Luckily, now on both Android and iOS, when installing apps, the users are presented with the permissions that the app is requesting, the user could choose decline the request or not to install the app, this reduces the chance of information leakage.
The Bottom Line
That's all for the similarities between iPhone and Android. Hope this post is helpful. Besides similarities between iOS and Android, there are also differences. (Learn More: Differences between iPhone and Android >) In your opinion, which is better and what to buy, iPhone or Android phone? Share your ideas with us by leaving comments below.
More Android vs iPhone Related Articles:
Join the Discussion on Similarities between Android and iPhone