How to Speed Up iMac in Three Ways
Summary
How to speed up my iMac? If you are stuck on the same question, read on this iMobie guide to get three useful solutions.
Free download MacClean and install it on your Mac computer to safely remove junk files from it after reading this How to Speed Up iMac tutorial.
Question: "So I recently bought a new iMac and I love it. Since I am a movie editor, I download a lot of stuff which means I lose storage space and of course slow down my computer. Is there anything I can do or buy to speed it up?"
--A User from Yahoo Answers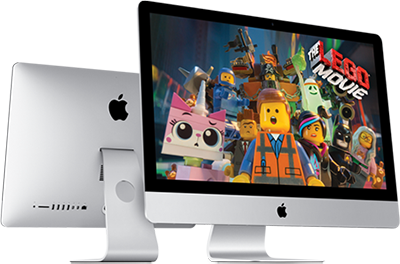 How to Speed Up My iMac
Despite your best efforts, your iMac is getting a little bit slow with time and use, say, hard disk space is at the edge of filling up and applications are getting sluggish. Don't wallow in worry, and read on this iMobie guide to get 3 fast & safe solutions to speed up iMac.
Solution 1. Speed Up Your iMac by Freeing Up Hard Drive Space
Getting too much on your hard drive is the main reason to slow down your iMac. Besides deleting the old movies or pictures files on your iMac, you will need to remove the large volume of junk files from your iMac. A free and professional Mac cleaning software named MacClean is the best option to go. It knows what and where to clean, and is incredibly easy to use. Click here to download it free >
Largely speeds up your iMac by removing kinds of junk files – Internet junks (Safari/Firefox/Chrome/Opera), system junks, user junks, app leftovers, etc.
Finds out and removes the old & large files to speed up your iMac.
Clears duplicate files on your hard drive that will free up space on your iMac.
Removes malicious cookies and malware, spyware, Trojan to protect your iMac.
Step 1. After finish the installation, open up MacClean.
Step 2. You will see two modules on the left – Cleanup and Utilities.
By using the Cleanup Module, you can scan and clean up most of junk files and viruses that slow down your Mac, such as Safari junks, app leftover and various of viruses.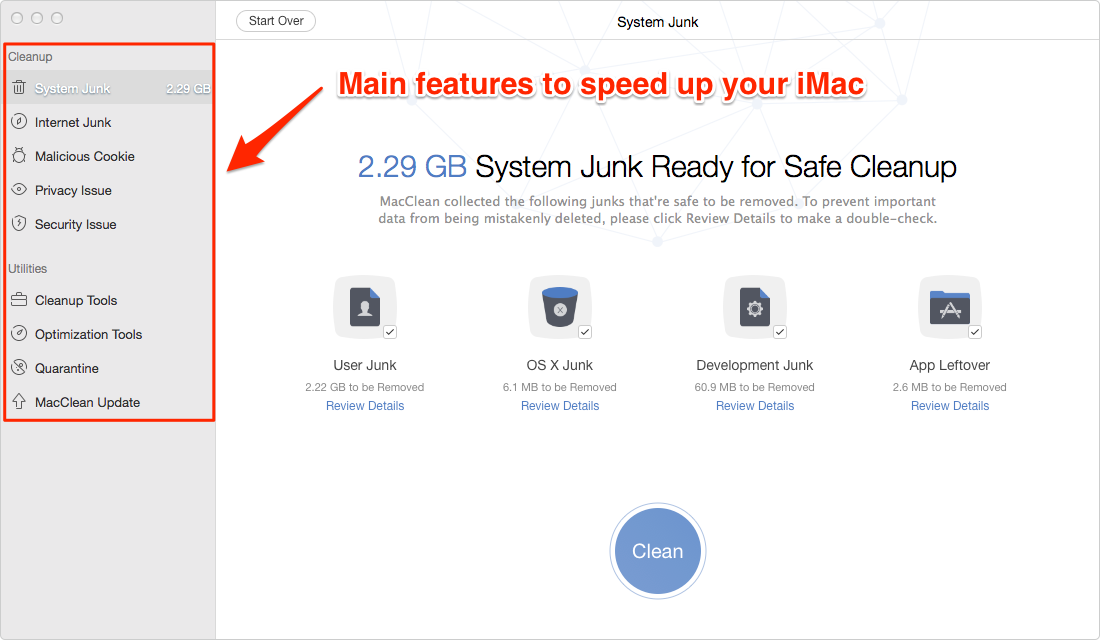 How to Speed Up iMac with MacClean – 1
By using the Utilities Module, you can free up your iMac by deleting duplicate files, old and large files, iPhoto Photo caches and so on, which is also helpful to make your iMac run faster.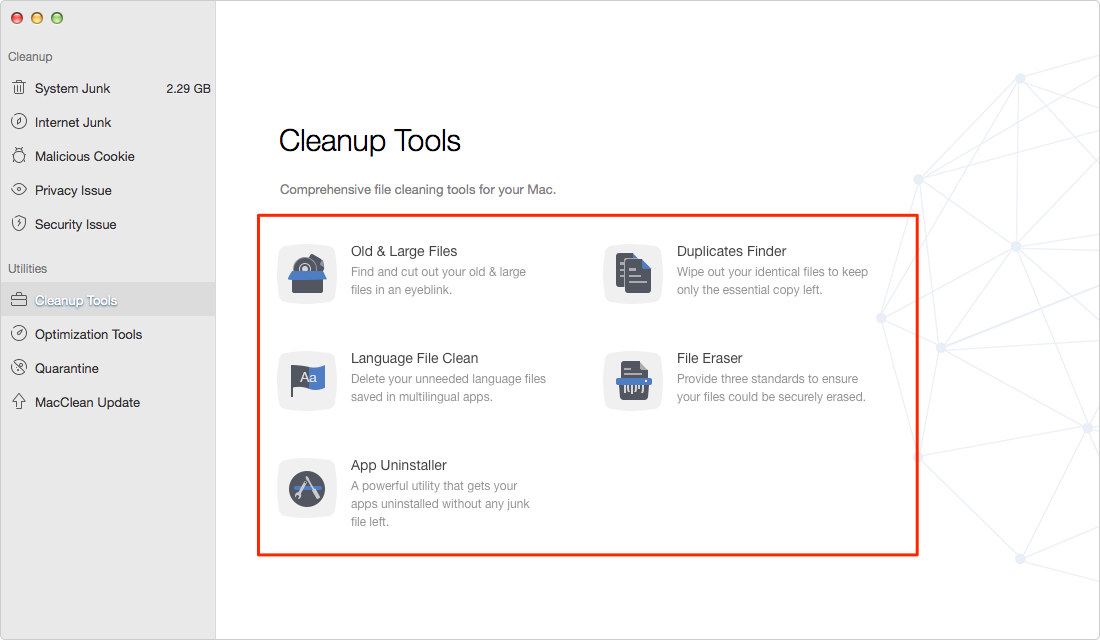 How to Speed Up iMac with MacClean – Step 2
Also Read: Three Ways to Optimize Your Mac >
Solution 2. Remove Unneeded Startup Items
When you start up your Mac, programs you use very frequently can be set to automatically launch at startup, Safari, for example. However, if you configured some programs you seldom use to launch at startup, they may slow down your iMac to some extent.
To remove the unnecessary startup item: First visit System Preferences > Users & Groups > Click the Login items tab. Here you'll see a list of items set to launch automatically when you boost up. Select the item you want to remove, click the "-" button.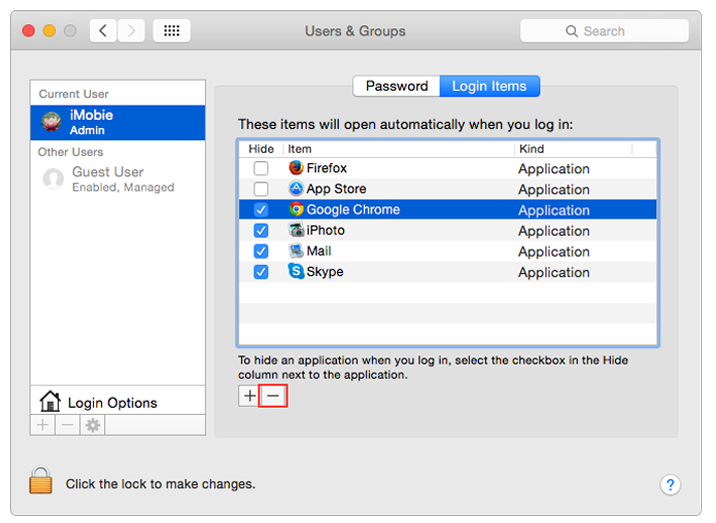 Speed Up iMac – Solution 2
Solution 3. Check and Install OS X Updates Regularly
Upgrading your software and operating system to the latest version will make sure that your iMac is running at its best. Generally speaking, when your operating system is updated, oftentimes the performance can be improved to some degree. The latest operating system od Mac is Mac OS X 10.11 – El Capitan.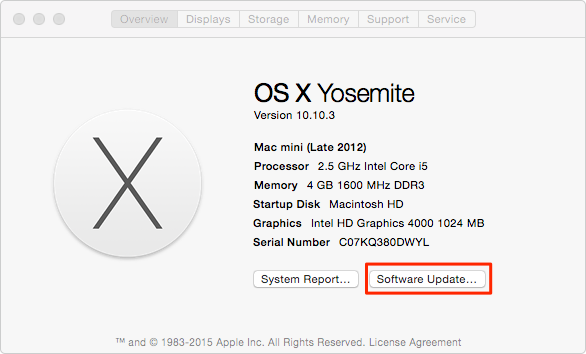 Speed Up iMac – Solution 3
a). Open the Mac App Store > Choose "Updates" tab alongside the top window. This will allow you to check for available updates for your operating system and any applications that you've installed through the App Store.
b). On older Macs, click the Apple menu and select "Software Update". The program will check the Internet for any available updates for your installed applications and your operating system.
c). Or you can go to System Preferences > Software Update > Show Updates.
You May Like: How to Check Hard Drive Space on Mac >
The Bottom Line
If you are working on an old iMac which is getting slower than slower, then you can speed up your iMac with the above solutions. Any problem on this guide or MacClean is welcomed, please let us know in the comment section. Now free download MacClean to have a try on it.
Top Posts on Cleanup and Speed Up Mac Computer
More Related Articles You May Like
Share Your Thoughts With Us