Spotify VS iTunes - Which Music Service Should You Choose
Summary
Spotify or iTunes, which music service is preferred? Follow this article to make the reasonable choice.
Download this iTunes Alternative so that you can make use of it after reading this Spotify VS iTunes article.
Apple's iPhone 7 is expected to launch in 2016, have you prepared well for the new round of iPhone to iPhone Upgrade? If not yet, you can take a minute to read our comprehensive and detailed How to Transfer Data from Old iPhone to New iPhone tutorial.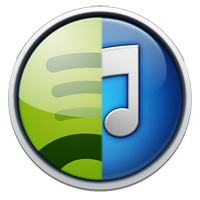 Back to 90', it is so easy for music lovers to get their dreamed new albums from CD stores. But now, with the growth of cloud computing and streaming services, enjoying the music became a much harder job since you have to make the decision among so many choices.
Spotify arrived in the U.S. a few years ago, and soon became the primary opponent to iTunes. Spotify and iTunes each have individual benefits making it often difficult to choose between the two.
Don't Miss: How to Transfer Music from iPhone to iTunes
---
Spotify VS iTunes Round 1 - Song selection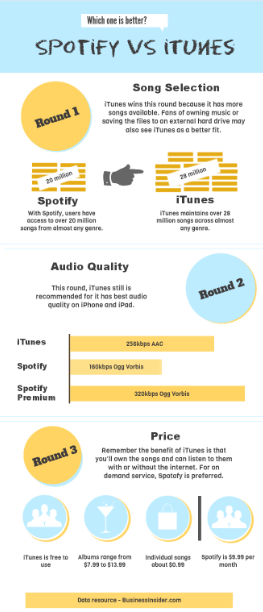 iTunes Store has the best library of available out there by around 28 million tracks in all. The iTunes Match service allows you to create a 25,000-song personal library as well as anything you buy from the iTunes Store itself.
Also with a big music collection wherever you are at any one time, Spotofy has a very impressive offering.
Spotify VS iTunes Round 2 - Audio Quality
The iTunes music files themselves are bought as AAC encodes at 256kbps. Anything of your own that you choose to add through iTunes Match is, by default, upgraded to this file type. See an iTunes Alternative to Manage iPhone Music >
The AAC type should out-perform MP3s at the same bitrate, so you cannot look forward better audio quality with Spotify except you describe its premiere number.
Spotify VS iTunes Round 3 - Price
The price of track and album downloads is a little bit more on the iTunes Store. There are $0.99 and $1.29 downloads. The other cost to consider is iTunes Match and that comes in at $25.9 a year.
Spotify Premium service comes in at $9.9 per month. You can pay half as much for the Spotify Unlimited service but there's no offline playlists and no mobile access at all to enjoy. Over time, it gets quite expensive but that's what 20 million tracks in your pocket costs.
The Bottom Line
So Spotify or iTunes, which one is better? Before making the choice, keep in mind that none of these services is perfect. For better music streaming service, Spotify for sure gives you more reasons to believe in. While for the pay-per-track download services, iTunes is better with no doubt.
More Related Articles You May Like
Share Your Thoughts With Us