Sync Music to iPhone without Copying Entire iTunes Library
Summary
How to sync music onto iPhone from iTunes without syncing entire iTunes library and deleting existing music on iPhone? Read on this guide for specific solution.
Have a try on this easy-to-handle iOS data transfer AnyTrans after reading this guide on how to sync music to iPhone without copying entire library.
Are you ready for iPhone 7 – Apple's latest flagship smartphone, with upgraded cameras, water resistance and a longer battery life? To have a smooth and pleasant "Upgrade to new iPhone" journey, please have a check on this How Do I Transfer Everything from Old iPhone to New iPhone tutorial to have a quick start.
So my previous laptop is completely damaged and recovering any data from that laptop is hopeless. Just got a new Macbook Air, downloaded a mixtape into the itunes library. Problem is, most of the music on my phone is from my previous laptop which was mostly comprised of music not downloaded through iTunes and therefore not retained in my mac iTunes library. Is there a way to put this mixtape on my phone without iTunes deleting all of the music from my phone?
--Asked on Reddit
Also Read: How to Sync Photos from iPhone to iPad >
iTunes is the default iPhone music manager software that lets you easily sync content from computer to iPhone and other Apple devices. Although serving this purpose for more than decade, iTunes still has some shortcomings, like the one mentioned above. At this moment, it's suggested to have a try with an iTunes alternative utility.
The Program We Need
AnyTrans is a comprehensive iPhone, iPad and iPod content manager that allows you to transfer, backup and manage your iOS data in a smart way. AnyTrans is capable of transferring music between any iDevice and any iTunes so that you can sync music with multiple iTunes libraries. Moreover, it is also possible to transfer songs from iPhone/iPad to iTunes or computer, and vice versa.
How to Sync Music to iPhone without Copying Entire iTunes Library
Step 1. Open AnyTrans, and connect your iPhone to computer. Go to the toolbox page of your iPhone.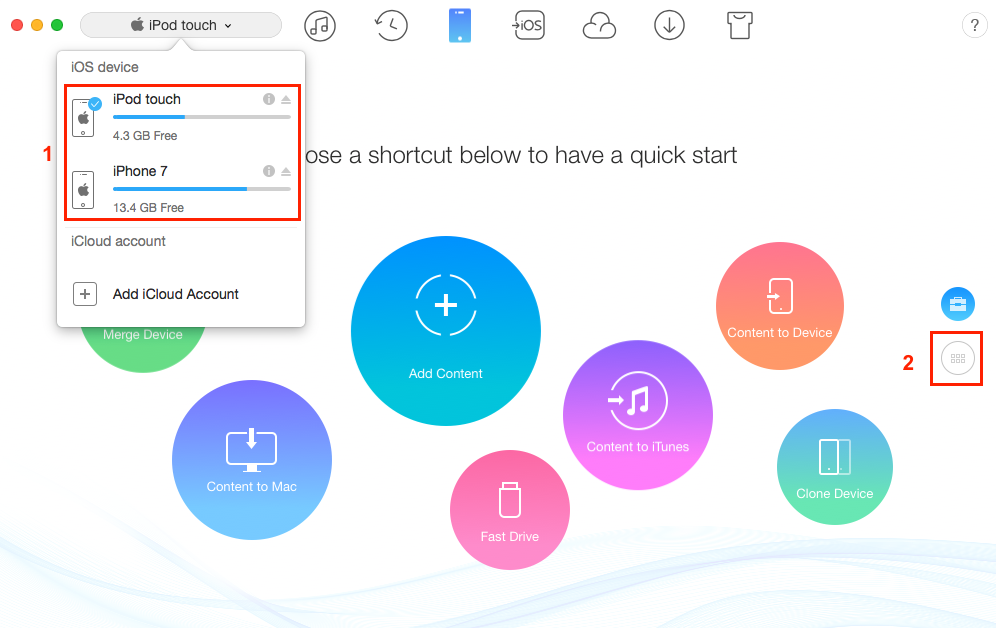 Sync Music to iPhone without Syncing Entire iTunes Library
Step 2. Click on Add Content tab and choose Music.
Step 3: Select the songs you need > Click Open to start syncing.
The Bottom Line
You can easily sync music to iPhone without syncing entire iTunes library. AnyTrans also lets you transfer other types of data from iPhone to your computer like photos, videos, contacts, books, and more. Now download AnyTrans to have a try.
More Related Articles You May Like
Share Your Thoughts With Us