Get to Know about iTunes - Page 2
Summary
Thanks to Jacqui Cheng at Arstechnica, now we are about to look back at 12 years of iTunes releases.
Download and take a tour of AnyTrans, so that you can make use of it after reading this iTunes WiKi page.
Through our survey, over 79% iPhone users rely iPhone / iTunes / iCloud to store their important personal data. In order to help you extract useful photos, messages, notes and more from your backup, we composed this 2016 iPhone Backup Extractor Software Review for your reference.
iTunes 7.0: Movies, movies, movies!
In September 2006, Apple introduced iTunes 7 as the "most significant enhancement to the world's most popular music jukebox and online music and video store." Indeed, this was the release where Cover Flow made its first appearance, and the iTunes Store began carrying a whopping 75 movies from studios like Disney, Pixar, Touchstone, and Miramax. The films could be synced with users' iPods for on-the-go viewing, or could be played via Apple's soon-to-be-released Apple TV (then nicknamed "iTV" by Apple). Between the release of iTunes 6 and 7, Apple had made the software into a universal binary so it could be run on both Intel and PowerPC Macs, and added support for Nike+iPod - Apple's fitness collaboration with Nike. iTunes 7 was also the first version of iTunes that allowed users to sync iTunes-purchased music back from their iPods onto an authorized computer.
iTunes 8.0: Genius time
iTunes 8 was released in September 2008, two full years after iTunes 7. The major new feature was Genius playlists - Apple's algorithm for generating playlists based on a single song, where the selected songs were supposed to "go great together." Then there was the Genius Sidebar, an opt-in service that sent your iTunes library data back to the iTunes Store so Apple could eventually refine exactly which songs went so great together. But that wasn't all. Apple had also begun adding HD TV shows to the iTunes Store, and previously, it had added support for iPhone activation (the iPhone was released a year and some months prior). You could also download your movie or TV purchases that you made from an Apple TV to your computer as well, allowing users to make a backup of the media they'd bought elsewhere.
iTunes 9.0: Sharing is caring
iTunes-Store-exclusive features, such as iTunes LP and iTunes Extras, became big with the release of iTunes 9 in September of 2009. Apple also added Genius Mixes along with a new Home Sharing feature, which allowed different iTunes account holders on the same network to see and share each other's DRM-free music through iTunes. Previously, users had to send around files to their loved ones; this was the first time Apple added file sharing capabilities directly into iTunes. Leading up to iTunes 9, Apple added support for the rental of HD movies, replaced Party Shuffle with iTunes DJ as a way for users to queue up music in a party environment, and stopped syncing with the Palm Pre. Also, with the release of iTunes 9, Apple made it possible for users to organize their iPhone apps directly from within iTunes, which would then be reflected on their iPhones without any extra steps.
iTunes 10: The Ping that gets no response
Apple's first attempt at integrating iTunes into a social network came in September of 2010. Dubbed "Ping," the network was meant as a sort of Facebook-mashed-with-iTunes offering that let users share what they were buying or listening to with friends. Users could also follow artist pages to get firsthand info from their favorite musicians, such as concert dates or other musings. With the release of iTunes 10, AirTunes officially became AirPlay, which Apple now uses to allow Macs and iOS devices to stream audio and video to AirPlay-compatible gadgets. iTunes Match also made its debut with this release, letting users who had ripped (or *cough* pirated) MP3s pay a fee to "match" that music with songs on the iTunes Store. iTunes Match users could then download and play that music on a plethora of iOS devices, though some users feared Apple would keep track of the iTunes Match data and report music pirates to the authorities.
iTunes 11: A fresh start
So what makes the next version of iTunes so great? For one, it has a revamped UI meant to provide a more themed experience when listening to albums. It also has better integration with iCloud, which now automatically downloads your iOS device purchases directly to your iTunes library on the computer. And finally, iTunes can pick up on a movie where you left off on your iPhone or iPad.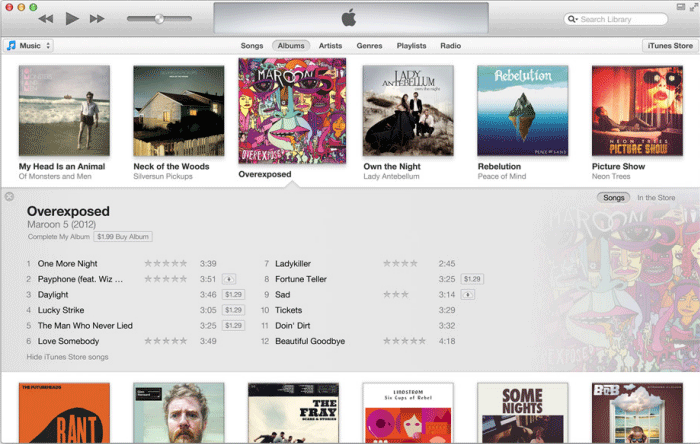 Latest iTunes Related Articles:
Create an iTunes Account without a Credit Card - On this iMobie Help page, we will show you how to create an iTunes account without a credit card?
Back Up iPod Music to iTunes - Any crash on iTunes library could be a disaster because this data base may contain a huge amount of media files. So How to back up and recover iTunes library from iPod?
Windows Media Player & iTunes - It would be a trouble that you did not put all music in the same place, especially when you have Apple iPhone, iPad, iPod, and also have Microsoft Zune.
Transfer iPod Music to iTunes Library - Have you make a backup plan to prevent crash on your computer? PodTrans Pro allows you transfer music from iPod to iTunes for saving media content in it.
Copy Music from Computer to iPod - Used to use Windows Media Player to listen to music and want to learn about how to transfer and copy music from computer to iPod without iTunes?
More Related Articles You May Like
Share Your Thoughts With Us