Summary
What can Android do that iPhone/iPad can't? Read on this guide to check the 6 awesome things Android can do that iOS can't.

#1 iOS & Android Data Recovery
This powerful iOS & Android data recovery tool can help you recover your lost data like photos, music, messages, etc. from Android phone and iOS devices without much hassle. Just give it a try now.

Free Download
Apple's iOS and Google's Android are two of the most popular operating systems widely used in smartphones and tablets around the globe. So nowadays, the smartphone users are mainly consist of Android lovers and iOS fans. But sometimes those two groups may have debates about which phone OS is better – Android or iOS.
There's no question that both Android and iOS are the clear leader in its operating systems with their own science & technology strengths. iOS is known for its security and refinement, but when it comes to customizable and flexible, Android is well ahead of iOS. And today in this article, we would like to discuss the top 6 awesome things Android can do that iOS can't. Let's check it now.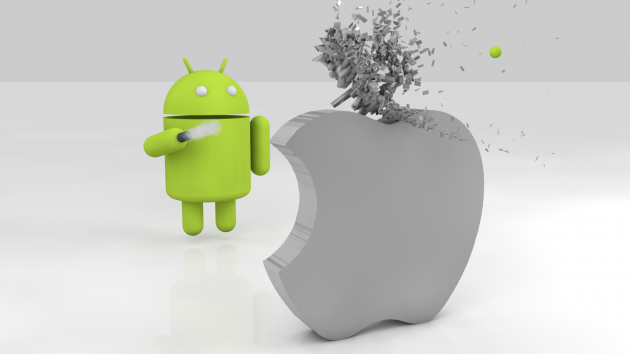 Part 1. Run Two Apps Side by Side
In Android 7.0 Nougat, Google released a new multi-window feature, which allows Android users to display two apps on the screen at the same time. But for iOS users, the function is only available on tablets. With this multi-window feature, the two apps will be divided into two windows so that you can keep multiple tasks in operation as you prefer. This can be very useful for those who need to work in spilt-screen. To be vivid, you can watch a video on Vimeo while chat with your friends on social networks. Before you can use this feature, ensure that it's activated on your device.
Part 2. Widgets
Android's use of widgets have been a key feature that iOS devices cannot deliver. It can be the major advantage for Android over iOS. Widgets on Android are an important aspect of home screen customization and you can access to it from the right of your home screen. It allows you to view the app data without needing to open the app. Apple announced its own version of widgets past year, but they are quite limited than Android counterparts.
Part 3. Multiple App Store
This can be one of the biggest differences between Android and iOS. Since Google Play Store allows developers to push apps directly into the market with no multifarious checking process, almost every Android mobile phone brand has designed its own corresponding app store. By contrast, Apple's App Store is the only supported place for iOS users to download apps. Besides downloading and installing apps from app store on Android, you are given even more freedom to download the desired apps from the website or any trusted source.
Part 4. More Free Apps & Games
Some users reported that the same apps that carried a price tag on App Store are free on Google Play Store. It can't be denied that Apple App Store offers fewer free apps than Google Play Store. Maybe the most important factor is that Apple has strict App Store guidelines while Google provide more freedom on this issue. More than anything, Google offers a two-hour grace period for users to free try on the paid app, supporting uninstall, and you will not be charged for the app you may unlike. What a user-friendly & excellent design.
Part 5. Record Phone Calls
Apple hasn't done this feature for users and doesn't allow developers to build their own apps to record users phone calls, for the purpose of preventing viruses and hacks. But sometimes we may really need to record our phone calls with our loved ones, friends, lovely kinds, family, etc. to keep these meaningful & sweet moments. If you resonate with these situation, then Android is the way to go.
Part 6. Smarter Files Manager
Android enables you to directly install any phone cleaner you trust on your device. This makes it quite accessible for users to make a point of thorough cleaning, and free up space as well as speed up their device in a more convenient way. However, for iOS user, they can do nothing but delete apps and clear cache to get more storage.
In addition, most of Android smartphones have a memory card slot, which you can insert an SD card to come with your needs for storing more new apps, high-resolution photos and videos, even music library.
There are many possible reasons could cause us lose our important and valuable data on our device, like mistakenly deletion, failed update, system crush, water damage, or even failed data transferring between different operating systems etc. Hope it doesn't happen to all of you.
But if you encounter such cases, don't panic, just turn to the #1 Android & iOS data recovery – PhoneRescue for help. It is highly recommended by both Android and iOS users for data recovery, as it can help you successfully recover all your deleted or lost files in minutes. It is Compatible with all kinds of iOS devices and Android mobiles.
The Bottom Line
You may have cleared the things Android can do that iOS can't with above article. Actually, it's hard to say which one is better, as Android and iOS not only have differences, but similarities, each one has advantages over the other. Both of them are winners in their own way.
More Related Articles You May Like
Join the Discussion on Things Android Can Do That iOS Can't
6 Awesome Things Android Can Do That iOS Can't