Quick Guide: Touch ID Wiki Page
Summary
This wiki page is all about Touch ID on iOS. Check this article to learn how to set up and use Touch ID on your iPhone, iPad and iPod touch easily.
Download AnyTrans on Your Mac/PC to transfer iPhone photos, music, messages from iOS devices to computer freely after this guide.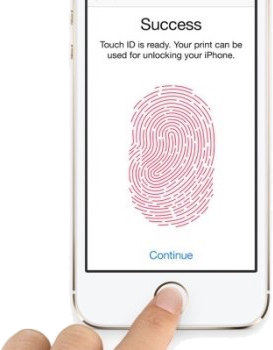 Touch ID Overview
Touch ID is a fingerprint recognition feature, designed and released by Apple Inc., and is currently available on the iPhone 5s, iPhone 6, iPhone 6 Plus, iPhone 6s, iPhone 6s Plus, iPhone SE, iPhone 7, iPhone 7 Plus, iPad Air 2, iPad mini 3, iPad mini 4, iPad Pro, and iPad Pro 9.7.
Apple says Touch ID is heavily integrated into iOS devices, allowing users to unlock their device, as well as make purchases in the various Apple digital media stores (iTunes Store, the App Store, iBook store), and to authenticate Apple Pay online or in apps. On announcing the feature, Apple made it clear that the fingerprint information is stored locally in a secure enclave on the Apple A7 and later chips, rather than stored remotely on Apple servers or in iCloud (Learn: how to access to iCloud backup), making it very difficult for external access.
Don't Miss: How to Access Contacts from iCloud
Set Up Touch ID on iOS
Make sure that the Home button and your finger are clean and dry.
1. Tap Settings > Touch ID & Passcode, then enter your passcode.
2. Tap Add a fingerprint and hold the device as you normally would when touching the Home button.
3. Touch the Home button with one finger - but don't press. Hold it there until you feel a quick vibration, or until you're asked to lift your finger.
4. Continue to lift and rest your finger slowly, making small adjustments to the position of your finger each time.
5. The next screen asks you to adjust your grip. Hold your device as you normally would when unlocking it, and touch the Home button with the outer areas of your fingertip, instead of the center portion that you scanned first.
You may like: How to Hide Files and Folders on Mac El Capitan / macOS Sierra
Make Purchases with Touch ID
Using Touch ID instead of Apple ID password to make purchases in the iTunes Store, App Store, and iBooks Store (Learn: how to transfer iBook from iPhone to computer). Just follow these steps:
1. Make sure iTunes & App Store is turned on under Settings > Touch ID & Passcode. If you can't turn it on, you might need to sign in with your Apple ID in Settings > iTunes & App Store.
2. Open the iTunes Store, App Store, or iBooks Store.
3. Tap something to buy. You'll see a Touch ID prompt.
4. To make a purchase lightly touch the Home button.
In addition, users can also use Touch ID on iPhone 6/6Plus or later to make Apple Pay purchases in stores. And with an iPad Pro, iPad Air 2 or iPad Mini 3 or later at hand, users can also use Touch ID for Apple Pay purchases within apps and on websites in Safari.
Read more: How to Retrieve Deleted Voicemails Messages on iPhone
How to Fix Touch ID Won't Work
Sometimes, apple users may need to use passcode or Apple ID instead of using Touch ID while meeting these situations like the fingerprints cannot be recognized five times in a row, the device hasn't been unlocked for more than 48 hours and more. If you need help to try using Touch ID again, check the following tips:
1. Keep the iOS device to the latest version of iOS (currently iOS 10).
2. Keep your finger and Home button are clean and dry.
3. Keep your finger cover the Home button fully, touching the surrounding metal ring.
4. Please make sure that the screen protector or case doesn't cover the Home button or the surrounding ring.
5. Go to Settings > Touch ID & Passcode and make sure that iPhone Unlock or iTunes & App Store is on, and that you've enrolled one or more fingerprints.
6. Try enrolling a different finger.
Related Articles You may be Interested
Share Your Thoughts With Us