How to Transfer App Games Save from Old iPhone to iPhone 5s
Summary
Worry about the loss of your app games save when you move your favorite games over to the fabulous iPhone 5s? This guide will drive all your anxieties away.
Download this application so that you can make use of it after reading this how to transfer app games save from old iPhone to iPhone 5s guide.
In this new round of "Upgrade to new iPhone", are you ready for upgrading your old iPhone to the new iPhone 7 / iPhone 7 Plus? If not yet, you can take a minute to read our comprehensive and detailed How to Transfer Data from Old iPhone to New iPhone tutorial.
Because of the A7 chip, M7 coprocessor and the touch ID, you may want to buy a new iPhone 5s to replace your current one. But if you've been playing a few games on the old iPhone and it has got all your valuable app games save, like high score, awards, and other game achievements (Players know the value of App games save since it prevents the loss of game progress), then you may hesitate to buy a new iPhone due to the worry of the loss of data saved on your old device.
Must Read: How to Transfer Photos from Old iPhone to New iPhone >
With AppTrans, there's no more worry about losing those data and you can benefit from these aspects.
All your app games, games save, and even the personal data and settings can be perfectly moved and preserved.
You can continue using the data from your apps and finish up those games.
You can enjoy the saved games on the most advanced iPhone!
Don't miss: How to Copy Music from iPhone to Computer >
How to Transfer App games save from Old iPhone to iPhone 5s
Step 1: Connect your old iPhone and iPhone 5s with your computer.
Step 2: Choose the targeted apps you want to copy from old iPhone to iPhone 5s.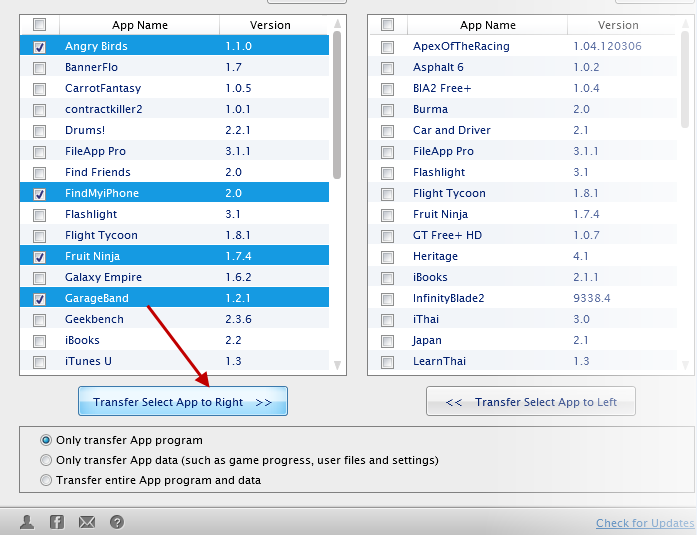 Step 3: Click relevant transfer button to get your games and its data will be transferred.
Hope you like it and add it to your Favorites.
More Related Articles You May Like
Share Your Thoughts With Us