How to Transfer Data from iPod to iPhone Easily
Summary
This post shows you the tutorial about how to transfer data from iPod to iPhone with AnyTrans and provides the supported data types and devices.
Download AnyTrans to selectively transfer songs, pictures, contacts, ringtones and other types of files from an iPod to an iPhone.
Are you ready for iPhone 7 – Apple's latest flagship smartphone, with upgraded cameras, water resistance and a longer battery life? To have a smooth and pleasant "Upgrade to new iPhone" journey, please have a check on this How Do I Transfer Everything from Old iPhone to New iPhone tutorial to have a quick start.
As one old iPod user, you may have downloaded and collected so many fantastic and classic songs on your device. And on iPod touch, some other types of files may be stored, such as photos, videos, games and apps.
These kinds of data on iPod or iPod touch may be something important and valuable. To save and backup these wonderful things before selling or giving away iPod, most of people choose to transfer them to another place, such as computer and external hard drive. And if they own one iPhone at the same time, it could be a good idea to directly transfer from iPod to iPhone. And in this post, we talk about how to transfer files from iPod to iPhone.
You May Like: Backup iPod Songs to Computer
Transfer Data from iPod to iPhone with iTunes/iCloud
Normally, you can transfer everything from iPod to iPhone by backing up iPod with iTunes/iCloud firstly and then restoring iPhone with the iPod backup.
However, this method will erase all contents on your iPhone, which is what you don't want, especially when there is some important info stored on your iPhone.
iPod to iPhone Transfer Tool without Erasing
AnyTrans is an easy-to-use transfer tool you can use to share data across your iPhone, iPad and iPod without erasing any data on your iOS devices. And below are some AnyTrans features you should know before using it to move data between iPod and iPhone.
1. Transfer from any iPod to any iPhone
This tool supports all iPod iPhone models in iOS 9/8/7/6/5. So no matter old iPod or new iPod, old iPhone or new iPhone, you will get a good transferring experience. And below are the iPod iPhone models Anytrans supported:
iPod Shuffle 1/2/3/4, etc.
iPod mini 1/2, etc.
iPod Nano 1/2/3/4/5/6/7, etc.
iPod Classic 4/5/6, etc.
iPod touch 3/4/5/6, etc.
iPhone 3G/3GS/4/4s/5/5s/5c/6/6s (Plus), etc.
2. Transfer 20+ types of files between iPod and iPhone.
AnyTrans help you transfer and merge more than 20 types of files from your iPod to your iPhone. And you can choose to transfer specific items or all of them.
By using transfer function of AnyTrans, you can transfer:
Audio: Music, Ringtones, Audiobooks, Voice Memos, Playlists.
Videos: Movies, Home Video, TV Shows, Music Videos.
Photos: Camera Roll, Photo Stream, Photo Library, Photo Share.
Safari: Safari Bookmarks.
Books: PDF, E-Pubs .
Apps (Only for iOS 8.2 and Earlier Version).
Podcasts and iTunes U.
Notes and Contacts
Related Tutorial: How to Transfer Music from iPod to iPhone
By using merge function, you can merge:
Music, Playlist, Ringtones, Movies, TV Shows, Music Videos, Voice Memos, Home Videos, Audio Books, Podcast and iTunes U.
Contacts, Messages, Books, Bookmarks, Notes, Calendar, Call History and Apps.
Related Tutorial: How to Transfer Messages from iPhone to iPhone
3. Transfer in a simple way – only 3 steps
It's very easy to transfer data between two iOS devices with AnyTrans, especially when you want to transfer some normal files, such as songs, pictures, contacts and voice memos. And merging data between iPod and iPhone may take you more times than transferring because AnyTrans will automatically backup your iPhone in case of data loss when merging.
Below we show you the steps and screenshots about how to transfer songs from iPod to iPhone, which needs you only 3 steps after you download AnyTrans and install it on your Mac/PC.
Step 1. Run AnyTrans and connect iPod and iPhone to computer by using USB cables.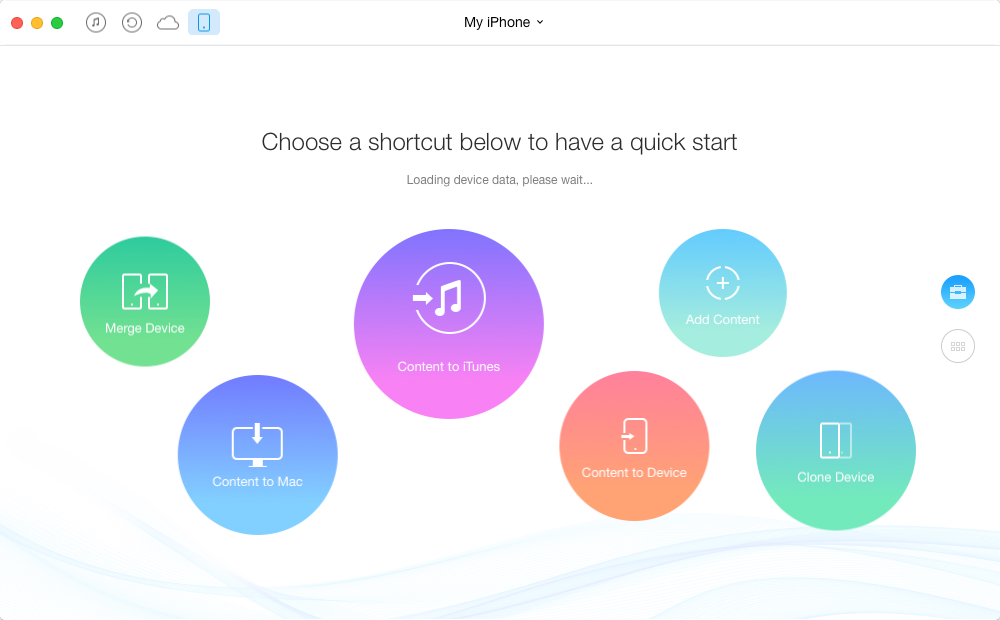 Transfer Data from iPod to iPhone – Step 1
Step 2. Scroll down on the homepage. On iPod page, click Audio > Music.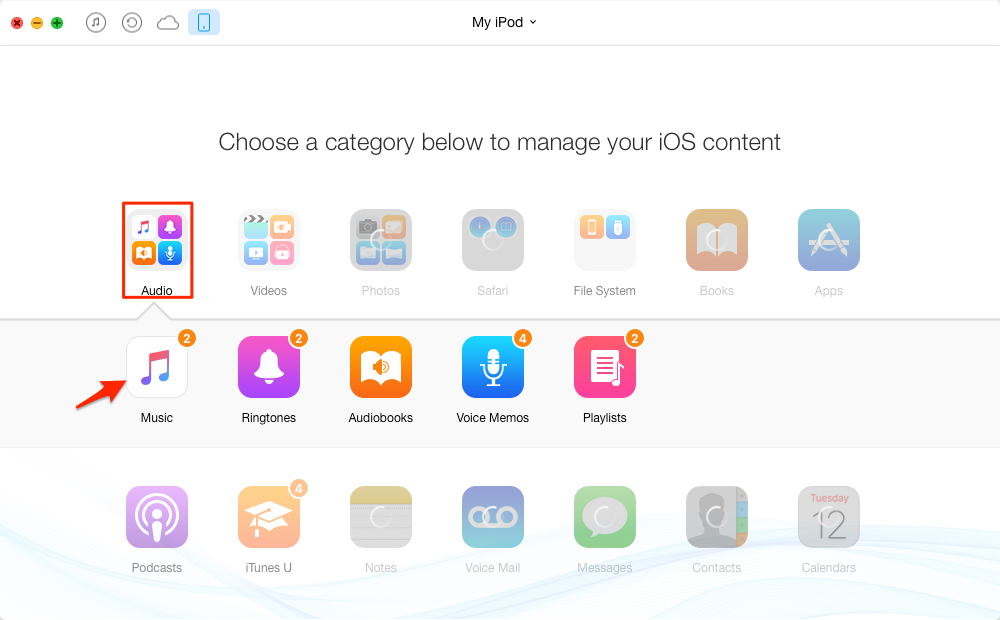 Transfer Data from iPod to iPhone – Step 2
Step 3. Select songs and transfer them to iPhone by click "To Device".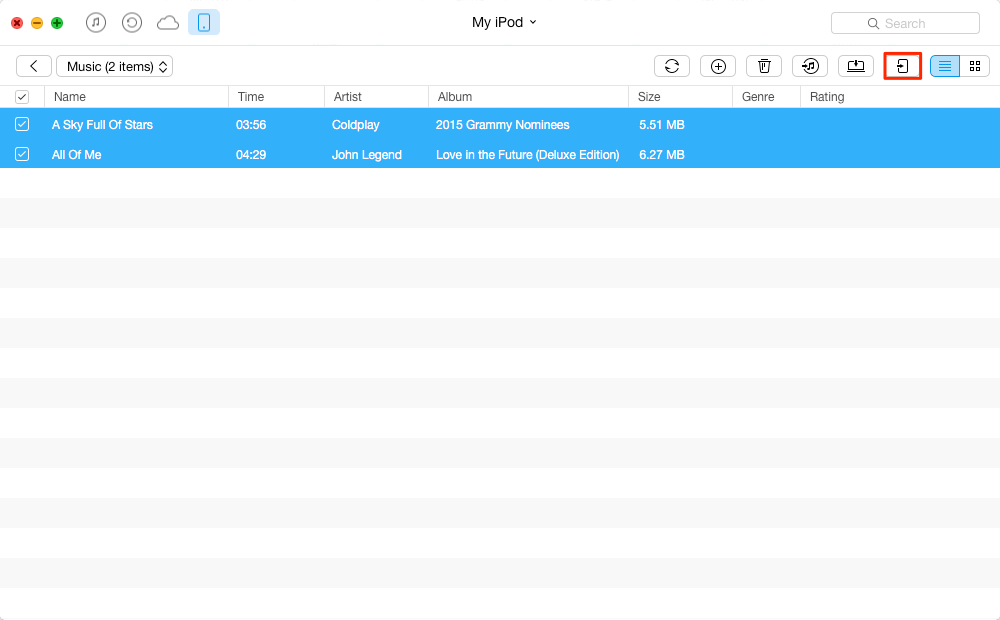 Transfer Data from iPod to iPhone – Step 3
By using the menu bar at the top-right corner of the above screenshot, you can manage your iPod Music by adding songs from computer, deleting songs, transferring songs to iTunes, to computer and to another device.
More Related Articles You May Like
Share Your Thoughts With Us