How to Transfer Files from iPad Air to Computer
Summary
Are there some music or videos you want to copy from your shining iPad Air to computer? If so, read on this article to find how to transfer files from iPad Air to computer.
Free download AnyTrans now so that you can better follow this tutorial on how to transfer files from iPad Air to computer.
Are you ready for iPhone 7 – Apple's latest flagship smartphone, with upgraded cameras, water resistance and a longer battery life? To have a smooth and pleasant "Upgrade to new iPhone" journey, please have a check on this How Do I Transfer Data from Old iPhone to New iPhone tutorial to have a quick start.
Are you looking for an intelligent transfer & management tool to offer better service to your lovely iPad Air. Do you want to get more fun from this thinner, lighter and more powerful gadget? If you truly love it, I believe your answer is YES. When you need to backup or transfer music, movies or other media files from iPad Air to computer, how can you do it?
Maybe the first solution came to your mind is iTunes. How easy it is to get music onto an iPod, iPhone, or iPad Air with the help of iTunes, but have you ever tried to get music off an iPhone or iPad onto a computer successfully? As it turns out, it's such a pity that transferring files from an iOS device computer isn't a feature that is supported in iTunes. Lucky you, here AnyTrans is highly recommended as, a fantastic iPad transfer tool to shoot your trouble easily.
Why Should you Choose AnyTrans
- Transfer music, movies, apps and other entertainment file directly on you Apple devices, including iPad Air, iPad mini 2, iPhone 5s and all Apple iDevices made since the original iPod and iPhone.
- Allow you to create, edit and remove playlists from iPods right back to the iTunes or the original devices such as you shiny, new iPad Air, iPad mini 2, and iPod touch 5.
- Fully support the latest iOS 7 and iTunes 11.1.2.
Curious to see more amazing features of AnyTrans? Please go here.
Step 1. Firstly, please make sure you've installed AnyTrans and connected your iPad Air to computer.
Step 2. Click Device icon and then tap One-Click Content Management and Content to PC.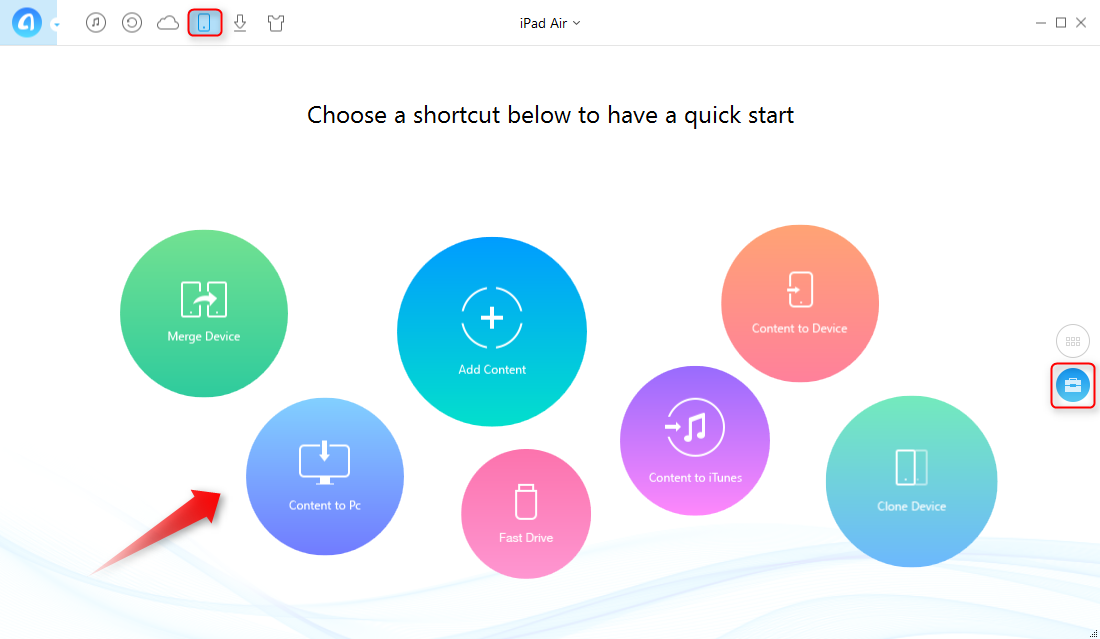 How to Transfer Files from iPad Air to Computer with AnyTrans - Step 2
Step 3. Check the boxes of files you want to transfer to your computer and then choose an export path. Click ">" to start transfer.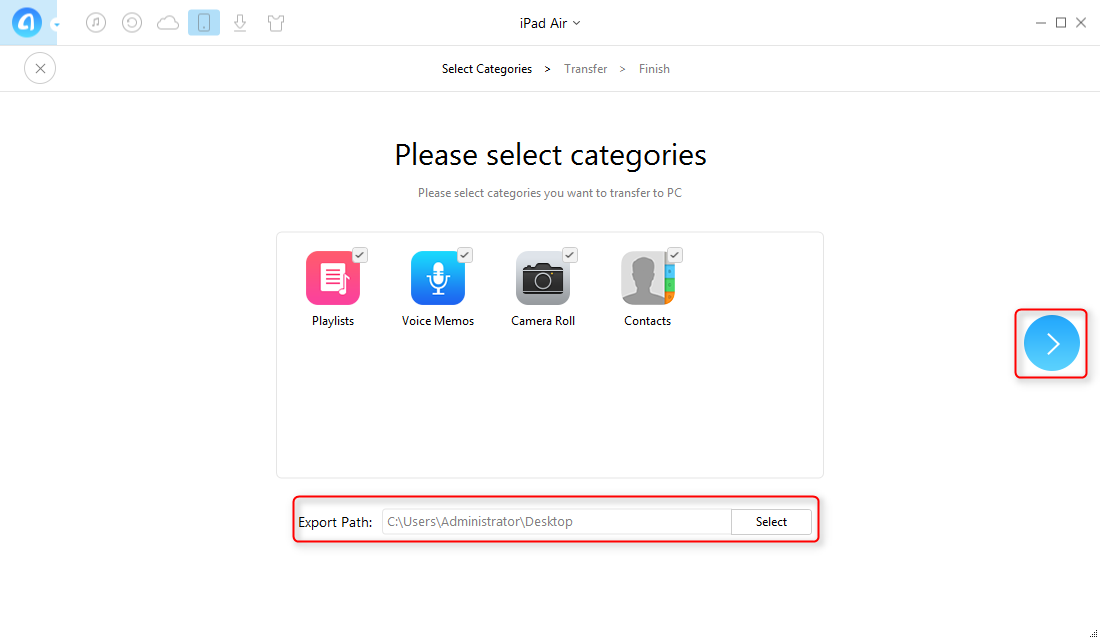 How to Transfer Files from iPad Air to Computer with AnyTrans - Step 3
Just with few clicks, now AnyTrans has settled your problem well. It's so easy! Can't you believe it? Just try it out yourself right now. If there's anything confusing you, you are always welcome to share your ideas with us in the comments section.
More Related Articles You May Like
Share Your Thoughts With Us