How to Transfer iTunes U from iPad to Mac/PC Computer Easily
Summary
Want to transfer iTunes U from iPad to computer but do not know how? Read this guide to get the easiest solution.
Get AnyTrans installed on computer to manage your iPad content after reading this guide on how to transfer iTunes U from iPad to computer.
Are you ready for iPhone 7 – Apple's latest flagship smartphone, with upgraded cameras, water resistance and a longer battery life? To have a smooth and pleasant "Upgrade to new iPhone" journey, please have a check on this How Do I Transfer Everything from Old iPhone to New iPhone tutorial to have a quick start.
iTunes U app enables us to have an access to various educational courses from more than three hundred universities and colleges all over the word. We can simply download interesting courses on iPad and watch the videos on the go. The newest iPad Pro or iPad mini 4 are both great video players that can let you enjoy the courses. But as time goes by, you may find that there are too many courses saved on your iPad and the device nearly run out of storage. At this moment, you have no choice but to delete some of them from the device.
But before removing them from your iPad, you may want to make a backup for them in case you will need them in the future. This article will show you the easiest way to make it. Just keep reading to get the solution.
Also Read: How to Transfer iTunes U from iPad to iTunes >
The Tool You Need
AnyTrans is a Mac/PC based iOS transfer tool that can help you have a better control of your iPad.
1. You can transfer all or selected iTunes U materials from iPad to computer in minutes.
2. AnyTrans also allows you to transfer iTunes U from iPad to iTunes /other iDevice, or add selected iTunes U from computer/iTunes to iPad without data loss.
3. AnyTrans also supports managing music, photos, videos, podcasts, contacts and more on your iPad.
How about give it a try? Get it installed on computer and follow us to transfer iPad iTunes U to Mac or PC in minutes.
How to Transfer iTunes U from iPad to Computer
Step 1: Launch AnyTrans > connect your iPad to computer > scroll down on the homepage and click iTunes U.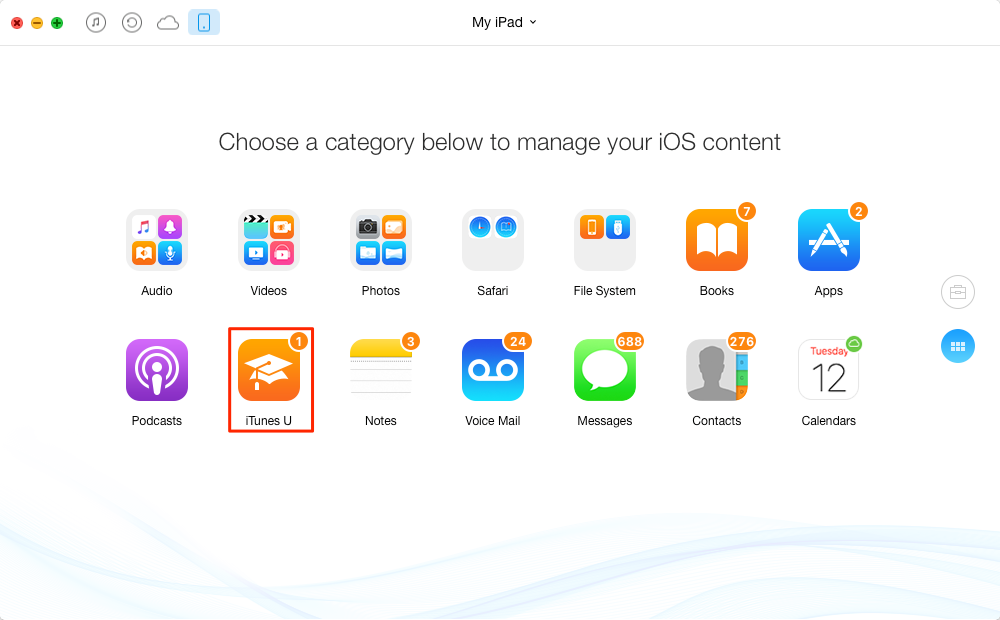 How to Transfer iTunes U from iPad to Computer – Step 1
Step 2: Select the items you want to transfer > Click on To Computer button.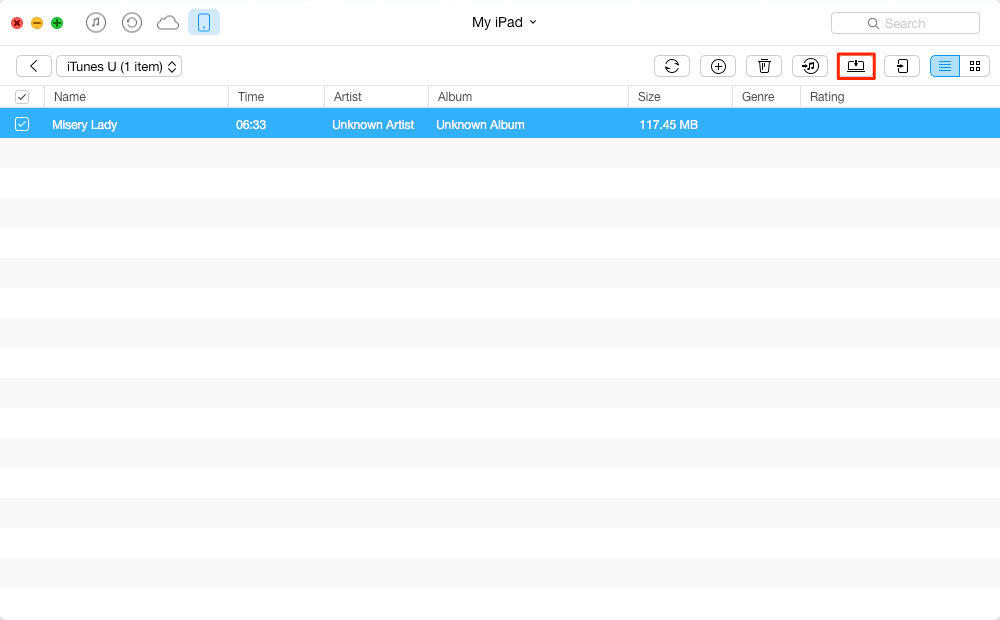 How to Transfer iTunes U from iPad to Computer – Step 2
The Bottom Line
AnyTrans is a powerful iTunes alternative that can let you have an overall control of your iPad/iPhone/iPod data. Take a tour with AnyTrans now >
More Related Articles You May Like
Share Your Thoughts With Us