How to Transfer iTunes U from iPhone to iTunes
Summary
Want to transfer iTunes U from iPhone to iTunes but do not know how? This guide will show you how to make it with a step-by-step tutorial.
Go to download AnyTrans to manage your iPhone data after reading this guide on how to transfer iTunes U from iPhone to iTunes.
Through our survey, over 79% iPhone users rely iPhone / iTunes / iCloud to store their important personal data. In order to help you extract useful photos, messages, notes and more from your backup, we composed this 2016 iPhone Backup Extractor Software Review for your reference.
With iTunes U app, we can download many educational courses on iPhone and then we can watch the lectures wherever and whenever we like. And now you just want to transfer some interesting lectures from your iPhone to iTunes as backup in case you will need them in the future. As is known to all, files cannot be transferred from iPhone to iTunes for the consideration of copyrights. Is there any other method to solve this problem? The answer is definitely Yes! In this case, you can rely on AnyTrans, a professional iOS data manager to help you make it. Let's first have a brief look at this tool you need.
Top Features of AnyTrans
AnyTrans is an easy-to-use iOS data transfer tool that can help you transfer iTunes U from iPhone to iTunes without effort. You can transfer all or selected iTunes U materials in minutes. Besides iTunes U, AnyTrans also makes it possible for you to transfer music, ringtones, podcasts, videos and more from iPhone to iTunes, you can easily restore your iTunes library. On the contrary, you can transfer selected contents from iTunes to iPhone instead of full sync.
Also Read: How to Transfer Podcasts from iTunes to iPhone >
Want to give it a try? Click here to download AnyTrans on computer and follow the steps below to transfer iTunes U from iPhone to iTunes in minutes.
How to Transfer iTunes U from iPhone to iTunes
Step 1: Launch AnyTrans > Connect your iPhone to computer > Scroll down and click on iTunes U.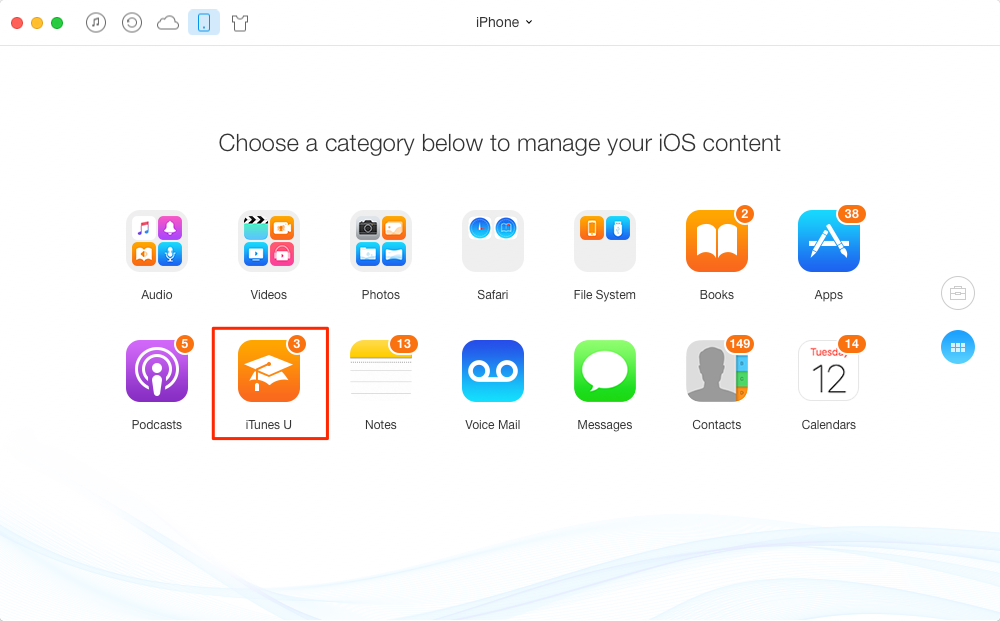 How to Transfer iTunes U from iPhone to iTunes – Step 1
Step 2: Select the items you need > Click on To iTunes button.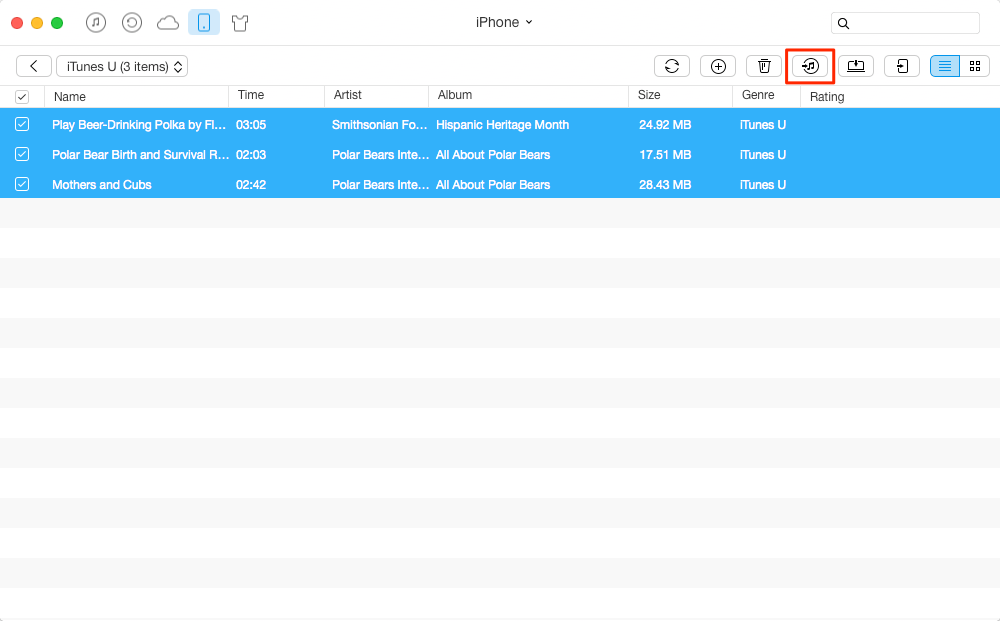 How to Transfer iTunes U from iPhone to iTunes – Step 2
Also Read: How to Transfer Non-purchased Music from iPhone/iPad to iTunes >
The Bottom Line
AnyTrans is expert in transferring iOS data from iDevice to iDevice, iDevice to computer/iTunes and vice versa. Always put your important data in the right place. Take a tour with AnyTrans now >
More Related Articles You May Like
Share Your Thoughts With Us