How to Transfer Music from iPad to iPhone
Summary
Get an iPhone 6s and want to transfer some songs from your iPad to the new iPhone? Read this quick tip to know how to transfer music from iPad to iPhone.
Download AnyTrans to transfer music and more to anywhere you like after reading this guide on how to transfer music from iPad to iPhone.
Question: "I have an iPad and recently purchased an iPhone. I'd like to sync music currently on the iPad onto the phone. How can I accomplish this?"
-- A User from Stackexchange
Apple has launched the fantastic iPhone 6s/6s Plus for few weeks, absolutely, there are a majority of users tend to get a new iPhone. Just like the above user, can't wait to transfer songs on your iPad to the new iPhone?
If you have the iPad songs stored in iTunes, then you can transfer them to your iPhone directly. If not, you need to transfer the purchases from iPad to iTunes, and then sync them to your iPhone. However, this is only worked for the purchased songs, not the non-purchased items. How can you transfer all music files from iPad to iPhone directly without tedious syncing procedure?
Actually, it's not difficult to transfer music from iPad (iPad Pro supported) to iPhone (iOS 9 included). In this guide, we will show you a simple & quick way to transfer iPad music to iPhone 4s/5/5s/6/6s.
You May Like: How to Sync Photos from iPhone to iPad >
What We Need to Transfer iPad Music to iPhone
AnyTrans is everything we need to accomplish this. It is an iOS transfer as well as data manager made for all iPhone, iPad and iPod models. AnyTrans makes your multiple iDevices work seamlessly by allowing you to transfer data between any two iDevices. Apart from transferring music from iPad to iPhone, it also allows you to transfer music from iPhone/iPad/iPod to iTunes, to PC/Mac, and vice versa. AnyTrans always keeps your music in the right place. Start taking a tour >
How to Transfer Music from iPad to iPhone 6/6s (Plus)
Step 1. Install AnyTrans on your PC/Mac, open it and connect your Pad and iPhone to the computer.
Step 2. On the iPad main page, click on Audio, and select Music.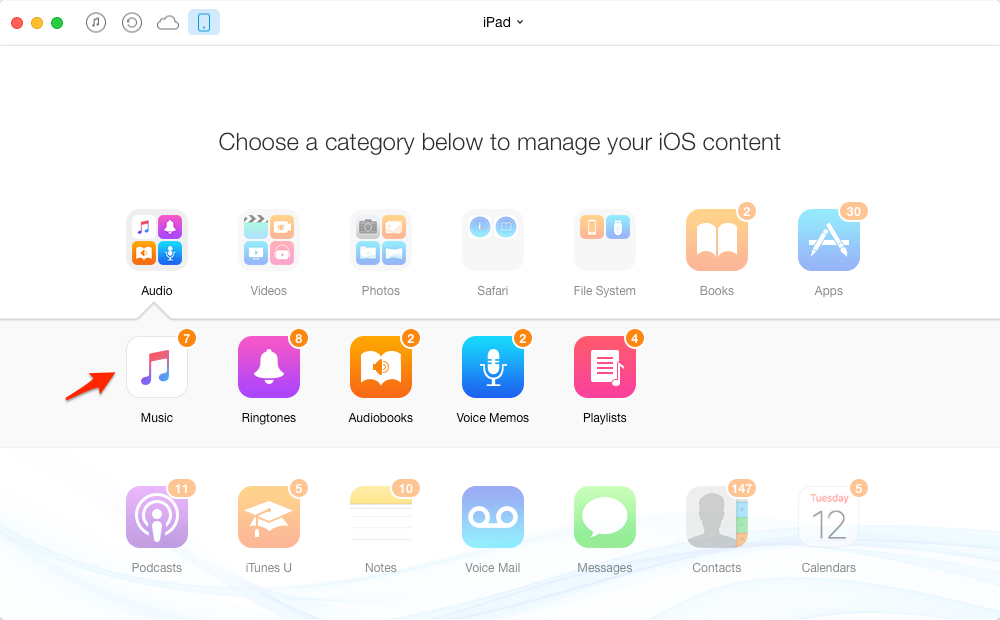 Transfer Music from iPad to iPhone 6/6s (Plus)
Step 3. Select the songs you want to move to iPhone, click the To Device button.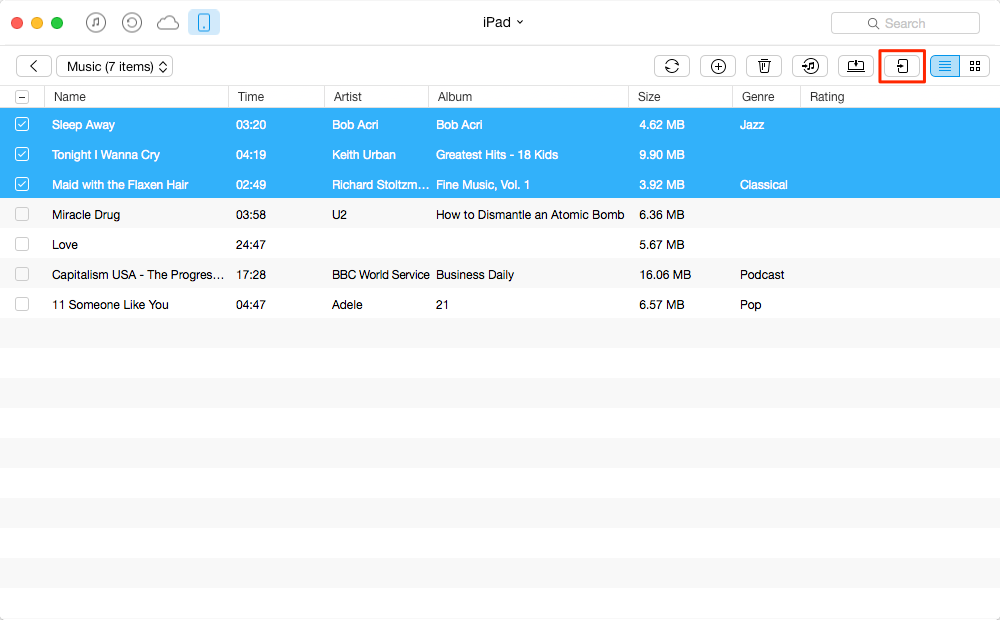 Transfer Music from iPad to iPhone 6/6s (Plus)
Also Read: How to Add Music to iPhone 7/6s/6/SE/5s/5/4s >
The Bottom Line
Besides music, AnyTrans also manages to transfer photos, videos, contacts, and more from iPad to iPhone and vice versa. Now download it to have a try. If you have any problem when using AnyTrans, please contact our support team via email.
More Related Articles You May Like
Share Your Thoughts With Us