More About iOS Notification Center Settings
Summary
There are some amazing tricks about iOS notification center settings users may never hear of. Why not follow this quick guide to find out.
AnyTrans is one of the most trustful iDevice transfer tool to move files. By using this powerful utility, playlist, app, media files, saved games, etc, can be easily transferred.
New Features in iOS 7 Notification Center
This settings option enables one to determine which apps function with Notification Center, plus it enables you to determine the other ways in which apps that generate alerts, alarms, or notification notify you.
Thanks to iOS 7, you can now customize additional content that's displayed in the Notification Center window, beyond just how alerts, alarms, and notifications are presented. It's now possible to toggle the appearance of the Today Summary, Tomorrow Summary, Calendar Day View, Reminders, Stocks (iPhone), and Next Destination (iPhone) options.
Displayed near the top of the Notification Center Window are 3 tabs: Today, All, and Missed. The Today tab displays a summary of the day's weather forecast, along with an overview of your appointments and tasks for the day that are stored in the Calendar and Reminders apps. The All tab reveals a listing of alerts and notifications generated by all the apps.
That Notification Center is monitoring. When you tap on the Missed tab, it displays a summary of alerts or notification Center is monitoring. When you tap on the Missed tab, it displays a summary of alerts or notifications you missed while the iPhone, this would include missed incoming calls.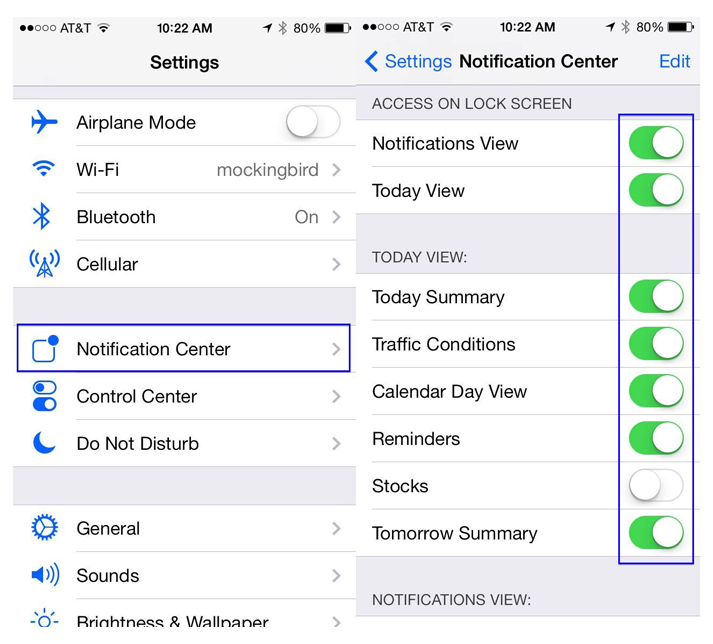 Notification Center Quick Tips
To avoid getting bombarded by excessive notifications from apps that aren't too important to you, manually set the capability of Notification Center to work with specific apps.
At the bottom of the Notification Center settings are two new features-AMBER alerts in your area or message is broadcast over the emergency broadcast system, an alert appears on your device. These features work only with iPhones.
To protect your privacy, you can set up Notification center to refrain from having alerts displayed on your lock screen. To do this, tap on each app under the include heading and turn off the Show On Lock Screen option.
As you customize how Notification Center displays notifications, the options available to you vary by app. For example, for the Messages app, you can assign Notification Center to repeat alerts between one and ten times, at tow-minute intervals, to get our attention. You also can opt ot priview an incoming message in alerts and banners and in the Notification Center window, plus decide whether you want to be alerted of all incoming messages or just messages from people who have entries in your Contacts database.
More Related Articles You May Like
Share Your Thoughts With Us