How to Turn on iCloud Drive App on iOS 9
Summary
If you want to find a simple way to manage your files stored in iCloud Drive, you can update your iDevices to the new iOS 9 and then set up your iDevices to enable the iCloud Drive app to use. In this guide, we will show you how to make it.
Download this award-winning software to manage your content on your iPhone/iPod/iPad after reading this guide about how to turn on the iCloud Drive App to Use on iOS 9.
It is not convenient for iOS devices users to access their iCloud Drive to manage their documents for a long time in iOS 8 via a third-party app. The good news is that the Apple provides users a brand new feature of iOS 9, which allows users to access their files stored in iCloud Drive via a standalone iCloud Drive app. Although it is hidden in the iOS 9 settings, we will show you how to enable the iCloud Drive app on iOS 9 to use.
You May Like: How to Download iCloud Backup to PC/Mac Computer >
How to Turn on the iCloud Drive App on iOS 9
Step 1. Open the Settings app on iOS device.
Step 2. Scroll down and navigate iCloud.
Step 3. Tap iCloud and then the iCloud Drive.
Step 4. Enable "Show on Home Screen" option.
Step 5. Press the Home button on device.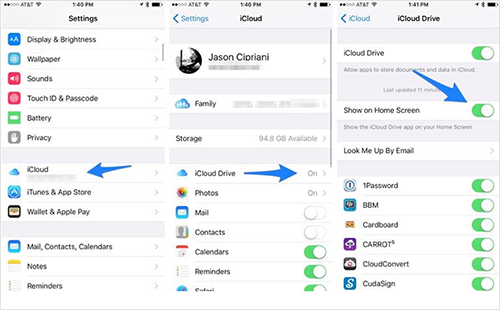 Image Credit: cnet.com
Also Read: How to Check Text Messages on iCloud >
The Bottom Line
After setting up your iPhone by following the steps mentioned above, then you find a new icon on your home screen for the iCloud Drive application. If you don't need it in the future on your home screen, you can turn off the Show on Home Screen to hide it. If you want to manage and transfer your content like notes, messages, photos, music, contacts and more data on your iOS device, you can use AnyTrans to give you a hand.
More Related Articles You May Like
Share Your Thoughts With Us