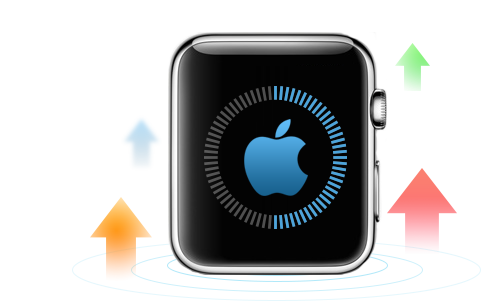 How to Update Your Apple Watch to the Latest Watch OS 1.0.1
[Last Updated on May 28, 2015]
Several days ago, Apple released the first update of Apple Watch operating system. Software updates are always vital, especially the Watch OS 1.0.1, which is the first update since the Apple Watch OS was released.
Update Apple Watch OS to 1.0.1
This Apple Watch OS update delivers improved performance for Siri, third-party apps, accessibility, measuring stand activity, distance and peace during outdoor walk and run workouts and calculating calories for indoor cycling and rowing workouts. And also adds more languages to supported range. Therefore, most of users will choose to update their Apple Watch to the latest Watch OS 1.0.1, but how to make it?
The update process for your Apple Watch is simple, but somewhat time-consuming. Here we will offer you a detailed tutorial about how to update Apple Watch operating system so that you can upgrade to Watch OS 1.0.1 as smoothly as possible.
Preparations: What Should You Do Before Update Apple Watch OS
Before starting upgrading your Apple Watch OS, you need to do the following things firstly:
1. Keep your iPhone close to your Apple Watch.
2. Make sure your Apple has at lease a 50% percent charge.
3. Connect your iPhone to a Wi-Fi network.
Then follow us to update iWatch OS with the following tutorial.
How to Update Apple Watch Operating System to 1.0.1
Step 1: Connect your Apple Watch to the power source, and keep it on charger until the update is complete.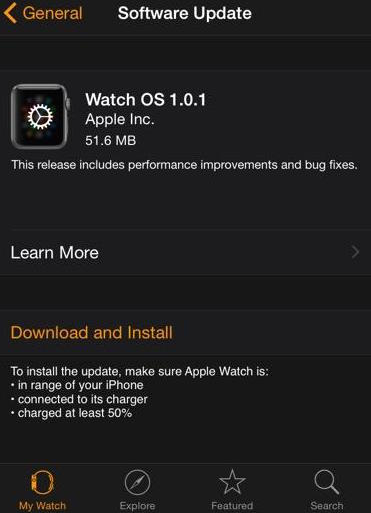 Update Apple Watch Operating System – Step 3
Step 2: On your iPhone, tap on Apple Watch app to open it, and then: My Watch > General > Software Update > Tap on Download and Install to download the latest Watch OS 1.0.1.
If your App doesn't find the update right away, and shows you a screen of the Watch OS 1.0 is current, back out and select Software Update again. However, if it shows Watch OS 1.0.1 is current, this means your Apple Watch is already working with the latest operating system.
Step 3: Enter the passcode if it requires.
Step 4: Tap Agree to the Terms and Conditions.
Step 5: Tap Install on your iPhone or your Apple Watch.
The Apple Watch OS Update will download and transfer to your Apple Watch, and your Apple Watch will restart to apply the update.
To make the most of your Apple Watch, iMobie prepares a series of articles, including how to set up and pair Apple Watch with your iPhone, how to download apps on Apple Watch, best apps for Apple Watch, and Apple Watch tips & tricks. Anyway, if you want to know more about Apple Watch, please visit: Start Using Apple Watch Now >
More Apple Watch Related Articles
Join the Discussion on Apple Watch