How to Use Apple Pay on Apple Watch
Summary
How to use Apple Pay on Apple Watch? Here is a detailed guide about how to set up and use Apple Pay on your span-new Apple Watch.
Download AnyTrans to have a try and manage your iPhone iPad data with ease. Now read this guide on how to use Apple Pay on Apple Watch.
Apple Watch has been lunched for two month, and Apple Pay is one of the best features of it. Apple Pay is very convenient to use, and the Apple Watch even makes it much more easier. Now your credit and debit cards are just on your wrist, and it's totally standalone and can be used even the watch isn't connected to your iPhone.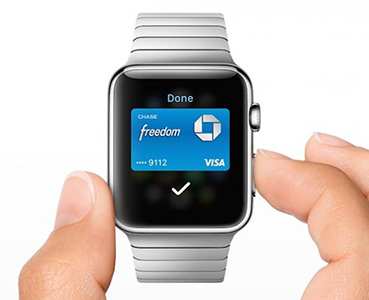 How to Use Apple Pay on Apple Watch
You May Like: How to Set up and Pair Apple Watch with Your iPhone >
Setting up or using Apple Pay with Apple Watch is not a tough task, here is how to make it. Firstly, you should make sure that:
Your Apple Watch paired with iPhone 5 or later.
Your iPhone is running iOS 8.2 or later.
Choose United States as your selected region.
Make sure you are logged in to iCloud on your iPhone and your Apple Watch.
Your credit or debit card is supported by a participating bank.
A passcode on your Apple Watch and Wrist Detection turned on.
Also Read: Top Apple Watch Tips and Tricks You Must Know >
Part 1. How to Set up Apple Pay with Your Apple Watch
To set up Apple Pay on your Apple Watch, you need to use Apple Watch app on iPhone.
Open the Apple Watch app on your iPhone and tap My Watch.
Scroll down and tap Passbook & Apple Pay.
Tap on Add Credit or Debit Card, then click Next.
If you have a supported credit or debit card on file with iTunes, enter the card's security code. Otherwise, you can use the camera to capture the info on the front of the card. Then fill in any additional information needed, including the card security code. Tap Next.
The Bank will verify your information. If they need more information, they'll ask you to provide additional verification.
After your card is verified, tap Next. You'll receive a notification on Apple Watch that your card is ready for Apple Pay.
Part 2. How to Use Apple Pay on Apple Watch
double-tap the side button, select the credit or debit card you would like to use.
You can change the cards by swiping left or right.
Hold the face of the watch to the payment terminal until you hear a beep and/or feel a vibration.
Don't forget your other Apple devices like your iPhone or iPad. To better manage the content on your iPhone or iPad, you can download AnyTrans to get help.
Related Reading: Top 8 Apps for Apple Watch >
The Bottom Line
For more Apple Watch related tips and tricks, please refer to An Entry Guide for Apple Watch Users. If you have any questions on this guide, please leave a comment in the below section.
More Related Articles You May Like
Share Your Thoughts With Us