How to Use External CD Drive from Another Computer on Mac
Summary
If your Mac has no CD/DVD driver, you can still use one from another computer on your Mac, this guide will show you how to set up on Mac.
To clean your Mac, download MacClean to help you after reading this guide about how to use external CD drive from another computer on Mac.
If your new Mac doesn't have a CD/DVD drive but you want to read or burn CDs and DVDs, the Remote Disc will allow you to share a CD/DVD drive from another computer to Mac, and run some software installers. In addition, you can't use Remote Disc to share files from audio CDS, Blu-ray or DVD movies, copy protected discs, recordable CDs or DVD that you want to burn, or Microsoft Windows installation discs. In this guide, we will show you how to share and access Remote Disc on your computer and Mac.
Note: Mac or Windows computer is on the same local area network as your new Mac.
You May Like: How to Clear Mac Hard Drive >
Part 1. Share a Remote Disc on Mac
Step 1. Go to the Mac with an optical drive attached (the Mac requires running OS X 10.4.11 or later).
Step 2. Click "System Preferences".
Step 3. Choose "Sharing".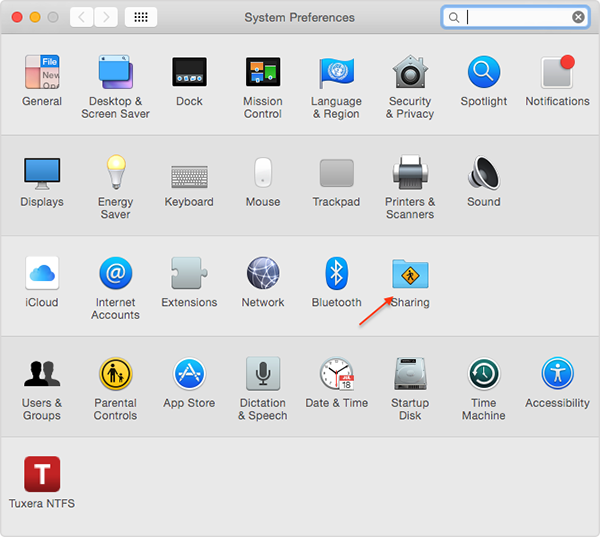 Share a Remote Disc on Mac
Step 4. Check the box that says DVD or CD Sharing.
Step 5. Restrict the users who have access optical drive by selecting "Ask me before allowing others to use my DVD drive."
Step 6. Close System Preferences.
Part 2. Share a Remote Disc on Windows PC.
Step 1. Download and install DVD or CD sharing Update 1.0 for windows (the Windows PC requires running Windows XP (SP2).
Step 2. Click on your Control pane on computer, and then click "Hardware and Sound".
Step 3. Click "DVD or CD Sharing Options."
Step 4. Select the checkbox for DVD or CD sharing.
Step 5. Check the option "Ask me before allowing others to use my DVD drive" to restrict the users who has access to your optical drive.
Part 3. Access Remote Disc from Mac
Step 1. Open Finder.
Step 2. Find the Remote Disc under Devices.
Step 3. See an icon for computer sharing its optical drive. If "Ask me before allowing" is on the host computer, click on "Ask to use".
Step 4.The host computer can accept or reject the request.
Step 5. Once accepted, click Connect to see the contents of the CD/ DVD available from that computer.
You can click on Disconnect to stop sharing the Remote Disc.
The Bottom Line
If you want to do some cleaning to clear your Mac, you can use MacClean to give you a hand. For any question, please contact our support team via Email. If you like this guide, don't forget to share it with your friends.
More Related Articles You May Like
Share Your Thoughts With Us