How to Use iPhone Maps App to Find Your Destination
Summary
In this post, you'll know how to use Maps app on your iPhone or iPad to help you find your destination, like addresses, contacts, businesses, point of interest, landmarks and so on. Please carefully read on this post.
Download AnyTrans and transfer iPhone, iPad apps to any iDevices before reading this how to use iPhone Maps app to find your destination guide.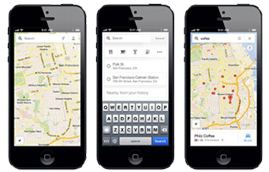 How to Use iPhone Maps App
Have you ever gone to a new city and had trouble in finding the way back or you want to find a restaurant for dinner that is highly recommended by your friends? Maps app will give you a helping hand.
Maps app is a vital app on iPhone and iPad, which you can find in the Applications folder. One of the other primary features of the iPhone Maps app is to help you find and explore addresses, contacts, businesses, points of interest, or landmarks on a map screen.
Can't Miss: How to Make iPhone Run Faster
How to Use iPhone Maps App to Find Your Destination
Firstly, tap on the My Location icon first. Then iPhone or iPad pinpoints your location > Type what you're looking for into the Search field. No city and state needs to be typed.
If you don't tap on the My Location icon first, you must enter what you're looking for followed by the city and the state to find local search results. Or the Maps app defaults to the last search location.
How to Use the Location Screen to Find More
If you want to find more information for a location on a map, tap on any push-pins. Then, on tap the left side of the information banner to get "Quick" turn-by-turn directions from your current location. Or tap on the Info icon on the right side of the listing to view an interactive location screen, like phone numbers, address, website URL, etc.
The information displayed depends upon whether it's a business, restaurant, landmark, point of interest or tourist attraction. If you look up information about a restaurant, the location screen includes Yelp!-related information, like the type of food served, the menu price range, the hours of operations and potentially a website link that you can view the restaurant's menu, and know whether this restaurant delivers or accepts reservations.
Moreover, when scroll down on the Location screen, you'll find a Directions To Here and Directions From Here option.
More iPhone and iPad tricks and tips, you can click here.
More Related Articles You May Like
Share Your Thoughts With Us